Last week was not a great showing for the featured quarterback in this column. It was so bad, in fact, that I refuse to even mention his name in this space. (Let's just say it rhymes with Shmett Shmundley.) But this is a new week with new names and new hope. In a week decimated with byes (Cardinals, Packers, Jaguars, Rams, Giants, Titans are all watching from home), it's more important than ever to look deep into that waiver wire to unearth some hidden gems.
Quarterback
Cam Newton, CAR (vs. TB)
Superman has died. Again. Cam Newton's career is starting to feel more and more like Zack Snyder's take on the Kryptonian: Dark, gritty, and with a few too many "redemption" arcs. Still there's reason to believe Newton can rise up again, at least for fantasy purposes.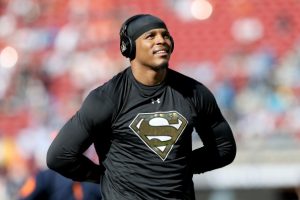 Jameis Winston and his Tampa Bay cohorts have put up some big numbers lately, forcing opponents to compete almost exclusively through the air. Luckily for Cam, the Bucs' can't even stop a bloody nose unless they have 12 men on it. They've allowed 11 passing touchdowns on the season and are the only team stuck in single digit sack numbers. Newton's proven he can rack up points so long as he's not hitting the dirt every other play, so this is a game where he could give the ball away three or four times and still come out the other end smelling like roses. I know it's hard to trust someone who's hurt you as many times as Cam Newton has, but you have to set aside your resentment, focus on the good times you had together, and take him back, at least for one more week.
Running Back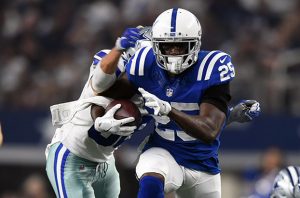 Marlon Mack, IND (vs. CIN)
We saw what happened with the Colts' backfield last week once the game started swirling down the toilet. Rookie runner Marlon Mack out-snapped undying veteran Frank Gore 32-22 and matched his touches with 9. Mack looks like the better player and is doing more with his opportunities, especially in the passing game. (He had 4 receptions for 40 yards.) Mack is clearly the Riggs to Gore's Murtaugh, so look for the brash, young hotshot to take over this week and become the lethal weapon Indianapolis needs in the backfield.
The Colts have a tough road matchup against the Bengals, though the optimist in me should point out that Cincy's defense has averaged almost 7 receptions per game to opposing tailbacks. That's a lot of meat on the bone in PPR leagues, and Mack's the one who could suck it dry on Sunday.
Wide Receiver
Kenny Golladay, DET (vs. PIT)
Oh Kenny, how we've missed you. You've been gone for so long I can't even picture how majestic you look reeling in a touchdown that should have sailed way over your head. Let's not ever spend that much time apart again, okay?
Golladay was on track to becoming a monster deep threat in Matthew Stafford's arsenal before he was sidelined with a hamstring injury. (He was targeted downfield more than anyone else on the team by a wide margin.) It's taken him a long while to recover, so monitor his status through the week. But if he plays -- and especially if Golden Tate doesn't -- Golladay should find his way into your lineup. His matchup with the Steelers' stingy pass defense isn't especially promising, but in a rough bye week, you shouldn't sneeze at the amount of volume that should be coming his way.
Tight End
Tyler Kroft, CIN (vs. IND)
Tyler Kroft is no Tyler Eifert, but as long as he continues absorbing those red zone targets, Tyler 2.0 should be in fine shape this week against a Colts' defense that treats tight ends with kid gloves. Indy has given up an average of 13.6 fantasy points to opposing TEs in PPR scoring, and without a clear No 2 receiver behind A.J. Green, Kroft's usage should remain very high. Even with a quarterback as skittish as Andy Dalton, I would plug Kroft into my lineup without hesitation this week.
If you've missed anything throughout the week, be sure to check out the rest of the site before setting your lineup. There is more exclusive content on the way daily via Fantasy Knuckleheads. Follow us on Twitter for some extra tidbits: @_knuckleheads and @JakeTrowbridge.