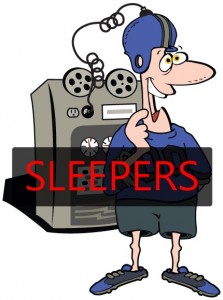 While we mostly focus on which superstar players we are going to draft first, players taken in the late rounds and picked up off the waiver wire many times decide the fate of a season. Anybody can make the sound decision to take Aaron Rodgers first in their draft, but not everybody has the ability to see hidden value in players no one else wants, referred to as sleeper picks. Here are a few players that could really help a fantasy lineup this upcoming season.
Quarterbacks:
Everybody wants Rodgers or maybe even Wilson, but not everyone can have an elite level quarterback. This is especially problematic if your league plays two QB's or you have an unfortunate bye week. Two quarterbacks that could help in a pinch this year are Joe Flacco and Ryan Tannehill. Despite some lackluster performances following his run to the super bowl three years ago, Joe Flacco of the Baltimore Ravens still possess the ability to have big games. As a tall quarterback with a powerful arm, Flacco has the ability to turn in a vintage performance against the right matchup. Another QB with potential, is Ryan Tannehill of the Miami Dolphins. Converted to QB from WR in college, Tannehill recently garnered the support of the Dolphins front-office, with a big contract extension. Additionally, Tannehill has showed steady improvement over the course of his three year career. He could be ready to take a step-forward and become a major contributor on any fantasy team.
Running backs:
The first running back with sleeper potential is running back Brandon Oliver of the San Diego Chargers. Oliver, who was a late round draft pick, earned a spot on the 53 man roster last season, and turned in a productive rookie campaign behind starter Ryan Mathews. Oliver has looked good so far this summer, and the chargers have a role planned for him. Although Mathews has since departed, the Chargers took Melvin Gordon in the first round of the draft. While he figures to get a lot of carries, he is a different type of runner than Oliver. Gordon does possess more skill as a power runner, but Oliver's strengths have shown to be his quickness and elusiveness. Oliver could be a big weapon out of the backfield this season, especially with all the experience gained in his first season. While the Chargers backfield is crowded, Oliver will be a factor at some point this season. With the way RB's sustain injuries he will be needed, especially if Gordon doesn't work out like they plan. Another RB with potential for a great year is Darren McFadden, who recently signed with the Dallas Cowboys. As a top draft pick, McFadden has dealt with injuries throughout his career, however he steps in to fill the void left by last year's top rusher, DeMarco Murray. With an offensive line as strong as Dallas', McFadden could be primed to make good on his potential to be an elite runner in the NFL.
Wide Receivers:
Last season saw the emergence of some really productive rookie wide-outs in Kelvin Benjamin, Brandin Cooks, and Sammy Watkins Jr.; this year could see more of the same. Kevin White of the Chicago Bears, possess the size and speed to make an impact right away. Additionally, he will immediately see playing-time opposite elite receiver Alshon Jeffery. With defenses focused on stopping Jeffery, White should see one-on-one coverage early, and that could spell bad news for defenses.
Another receiver that could have a break-out year, is John Brown of the Arizona Cardinals. While Brown struggled early, he began to play more consistently near the end of the season. In addition, last season was one where the Cardinals had no stability at the quarterback position, which no doubt had an effect on the play of Arizona's offense. Another tall receiver that can go up and get the ball, Brown should thrive by playing opposite Larry Fitzgerald, and having more familiarity with his quarterback.