Your choices are Alfred Morris, Darren McFadden and Rod Smith. Spoiler alert: I only like Smith #CowboysNation. Which one of these running backs will fill-in for Ezekiel Elliott and will any of them become a RB market share leader in Dallas? On the surface this is looking like a running back by committee but I'm thinking one of these three backs has a legit shot at becoming a major contributor. In order to paint you a picture I'll look at how things unfolded prior to Dallas drafting Elliott and what was said and done thereafter.
The year before Dallas signed Ezekiel Elliott, Darren McFadden rushed for 1089 yards and 3 touchdowns (2015). Dallas clearly wasn't impressed and signed and drafted two more running backs. During the off-season they signed Alfred Morris to a 2 year deal worth up to 5.5 million dollars. Per NFL.com "his (McFadden's) injury history necessitates depth at the position. Cowboys owner Jerry Jones confirmed that notion, telling NFL Media's Judy Battista Tuesday that McFadden will be the No. 1 tailback".  Then they drafted Elliott and everything shifted, obviously. In 2016 McFadden appeared in four games and rattled off 87 yards sporting a 3.66 ypc with no touchdowns. Morris played a great deal more behind Elliott but didn't impress on 69 carries averaging 3.52 ypc and 2 touchdowns. Yawn. Both McFadden and Morris look washed up, period.
Enter Rob Smith, a major speculative pick-up and the guy I'm targeting in any league where I need help at running back. He is younger, faster, stronger.. wait playerprofiler.com has this guy looking like a slug. But that's got to be due to lack of combine results. He isn't a scat back or even that fast but he has patience and vision. See the video's below. Don't sleep on Rob Smith, he currently holds the SAC conference career rushing record of 6,625 yards and 66 touchdowns.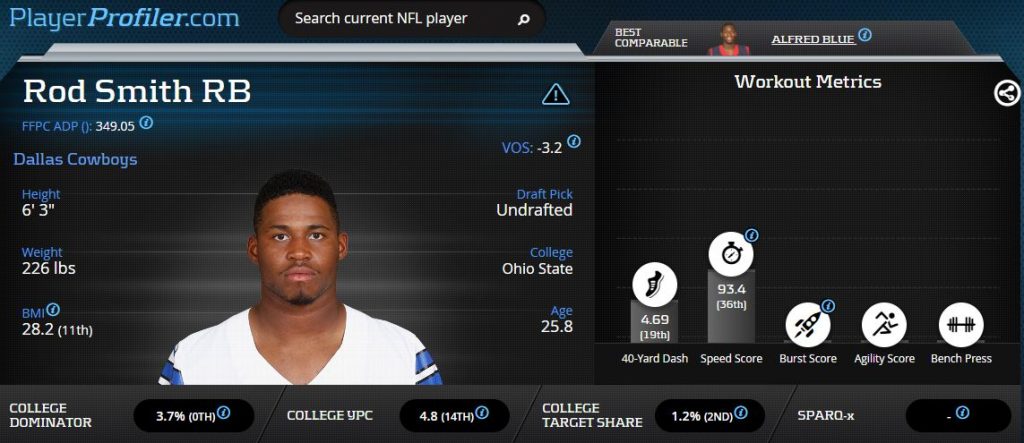 How about Alfred Morris? After one solid season he just hasn't looked the same in a full time role, failing to produce big plays down the stretch.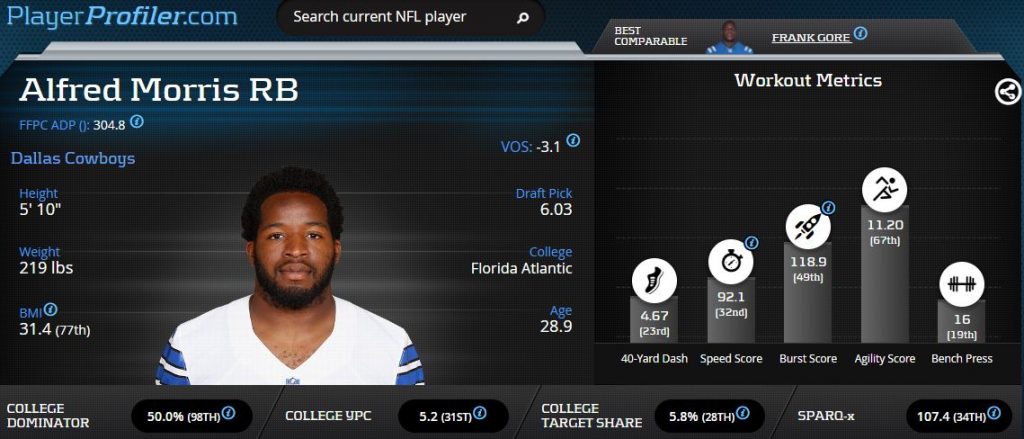 And your boy Darren McFadden? These stats are long gone. He has more than lost a step and hasn't produced at a high level in many, many years.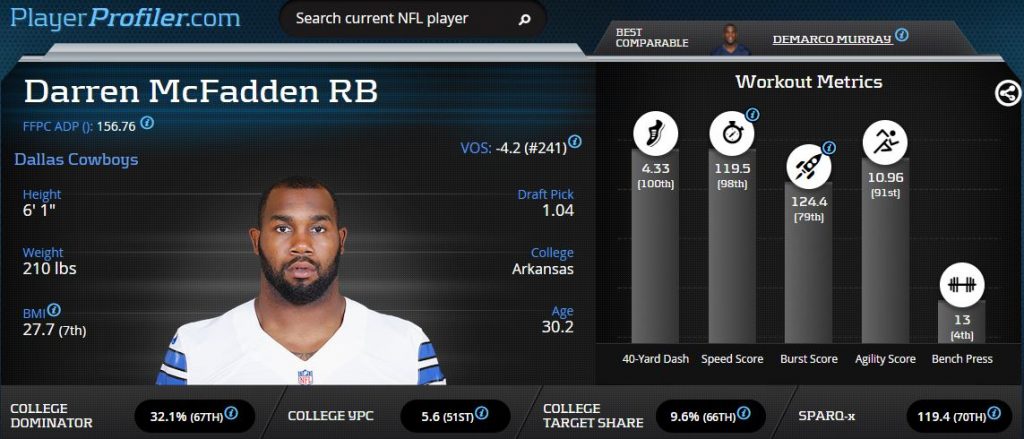 What Makes Him A Sleeper Worthy of a Waiver Claim
So why is Rod Smith a sleeper? Don't guys need to have some sort of upside to even be called a sleeper? Listen, there are plenty of guys I trust saying good things about Rod, way before we even knew Elliot could be suspended. Bryan Broaddus @ dallascowboys.com stated "The more I study Rod Smith during these practices, the more I get the feeling that the front office and coaching staff is becoming comfortable with him being the third running back on this team. Smith is young, in great shape and plays on special teams -- which is a big deal. He has shown a physical side carrying the ball and a feel for how to create space for such a large man. Alfred Morris is a proven veteran, but the phrase "teaching an old dog new tricks" comes to mind with him."
Bryan Broaddus also liked Smith when Dallas first picked him up in 2015. Stating in his scouting report that "New RB Smith looks like a good scheme fit for Dallas" and that "Smith's size helps in pass protection".
Rod Smith Was Hidden In College
So why didn't he shine in college? For starters he played behind Carlos Hyde and Elliott. He failed a drug test and had issues with his grades, this kept him from performing. But there is light for this SAC conference rushing leader, check out the feel good story below.
I'll leave you with some highlights, you know, only the good plays that are very misleading. But they do show his hands and vision when running. And remember, don't pickup Rod Smith if you're dropping a player you may need in an up-coming bye-week. I'd only make space for him if you're really hurting at RB. And I'm not starting him unless he outproduces both McFadden and Morris and he has got to look solid in pass protection. Pay attention to these things and you'll know what to do the following week. I believe if he does all of these things the first week Elliot is out, he is going to get a chance to lead this RBBC by a fairly large margin.
Rod Smith 45 yard run versus horrible run defense.
Rod Smith makes impressive catch versus Green Bay.