Vikings quarterback Teddy Bridgewater ended his rookie season on a roll of sorts, racking up statistics good enough to place him in the top-ten of fantasy football rankings over the course of the last several weeks of the 2014 regular season. Even better, his numbers placed him as the owner of the third-best completion percentage (64.4%) and seventh-best passer rating (85.2%) in NFL history amongst rookie quarterbacks.
Bridgewater began the season as the Vikes' number two passer behind Matt Cassel, but an injury sustained against the New Orleans Saints in week 3 sent the latter to the sidelines, and thrust the former right into the wolf's den. The 22-year-old went on to start 12 of Minnesota's next 13 games, finishing his rookie year with a sturdy 2,919 yards, 14 touchdowns and 12 interceptions in an offense that faced a myriad of issues from the start of the season to the finish.
The Vikings were forced to play without star RB Adrian Peterson, athletic TE Kyle Rudolph and dealt with a number of injuries across the offensive line. Nevertheless, Birdgewater managed to make steady week-to-week progress and helped the undermanned Vikes compete deep into games. Impressive to almost everyone, except Bridgewater, himself.
"I wasn't impressed," Bridgewater said in an interview last week. "Yes, we did some good things as a team, but we could have been much better finishing games. That's what separates championship teams and determining whether you're playing games in January or watching games in January."
With a new slate ahead in 2015 and a full year of NFL seasoning in his locker, Bridgewater has the makings of a sophomore sleeper in 2015. While Peterson's status with the team remains up in the air following his legal issues last season, most signs point towards Bridgewater making the next step in his progression as a big league signal-caller with or without the services of his backfield mate.
First, and foremost, the ex-Louisville man not only enters his second season as a pro, but heads into year two of offensive coordinator Norv Turner's system. Turner, one of the more highly-regarded quarterback teachers in the game over the last twenty-plus years, has overseen some impressive second year leaps in his system. Both young and experienced quarterbacks such as Kerry Collins, Troy Aikman, Gus Frerotte, and Philip Rivers all saw their passing yards, touchdowns and quarterback ratings increase from year 1 to year 2 in Turner's system, while the latter three all increased their completion percentages as well. Head coach Mike Zimmerman, a defensive alchemist, gives Turner full autonomy when it comes to the offensive side of the ball, and the former Redskins, Raiders and Chargers head coach has a tight relationship with his quarterback.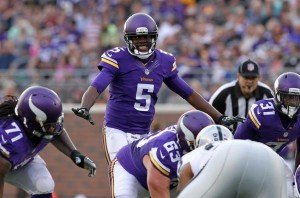 The injuries that occurred up front to the likes of Matt Kalil, Phil Loadholt and Brandon Fusco, with Rudolph also ailing throughout the year, minimized young Bridgewater's ability to stand in the pocket and make prototype throws, but he was able to compensate with his athleticism and mobility. A healthy front, a fit-again tight end, and a stable of receivers that includes the upside-dripping tandem of Charles Johnson and Cordarrelle Patterson, Rudolph and recently-acquired Mike Wallace gives Bridgewater the targets he needs to take advantage of his unflappability and poise. Minnesota has also been linked with the idea of using a high draft pick on an offensive lineman to further bolster that group, with Iowa's Brandon Scherff and LSU's La'el Collins two popular potential prospects.
Whether Peterson suits up for them in 2015 or not, the Vikes can still turn to veteran Matt Asiata and Bridgewater's fellow rising sophomore Jerick McKinnon to generate production on the ground. McKinnon showed flashes of being a capable starting back before being shut down with an injury late in the year.
While his teammates and coaches had to like what they saw over the course of his 13 appearances, opposing personnel men throughout the league also took notice of Bridgewater's development.
"He's very poised and never gets rattled," said one NFL coach. "He has enough mobility to avoid pressure in the pocket."
In addition to his mental development, Bridgewater is making strides on the physical side. The Vikings are hoping he can add some extra girth to his frame to help increase the velocity on his deep ball and assist his ability to make the most of his open-field scampers. Having rushed for 209 yards and an additional touchdown in his rookie year, Minnesota would be prudent not to discourage a more durable Bridgewater to abandon his natural playmaking skills as a runner.
The Vikings will play the 2015 season outdoors at TCF Bank Stadium, but a move indoors beckons in 2016 with the New Minnesota Stadium expected to be ready for business in a year's time. Historical data suggests that quarterbacks not only perform better, in general, when playing outdoors, but they also tend to throw the ball at a more productive rate in warmer weather. That being said, the young gun saved some of his best work for last in cold weather situations, completing nearly 72 % of his passes over the last four weeks, including a couple of 300-plus yard performances. Bridgewater will get another year of outdoor seasoning in 2015 before making the move to the new stadium, and that should only help strengthen his mettle when facing games at venues such as Lambeau and Soldier Field each year.
While Turner is recognized as an Air Coryell disciple, he has shown a willingness and ability to adapt to his players -especially his quarterbacks- over the years. Surrounding their quarterback with a viable running game and capable playmakers in a system suited to his skills gives Bridgewater every chance to make that leap towards bringing the Vikings' offense to the next level and subsequent low-end QB1 status. In the meantime, he possesses some lean and legitimate QB2 value.
When it comes time to choose that QB2 on draft day, don't sleep on Teddy Bridgewater. He's got upside, value, physical and mental tools, and the foundation has been set for him to produce in year two of his NFL journey. He is obviously not be in the same discussion as fellow NFC North quarterback Aaron Rodgers, but he's aiming for that next tier where Matthew Stafford and Jay Cutler lie.
From waiver wire fodder to QB2, the next natural progressions to QB1 and bona fide NFL starter are firmly within view for Teddy Bridgewater.