Within our 2018 fantasy football strength of schedule ratings we've included individual defense player (IDP) positions such as DE, LB, DT, CB, and S. No strength of schedule would be complete without the QB, RB, WR, TE, K and team defense. In order to calculate fantasy football strength of schedule we use fantasy points allowed per position. This method has worked for me for years and is most certainly meaningful, as I'll explain later.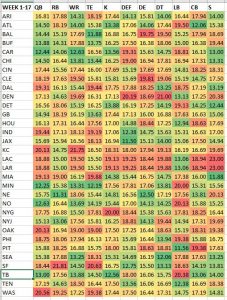 You can download all of my strength of schedule data in excel, which you can massage in many ways. The green indicates the easiest schedule and a red indicates the hardest schedule. This is the same way we identify a positions strength of schedule in our customized cheat sheets. Except in our cheat sheets the strength of schedule is listed next to each players name, which is very handy when drafting. If you prefer building your own cheat sheets, I've put together a nice excel cheat sheet template you can download.
Real Strength of Schedule Versus Fantasy Strength of Schedule
"The correlation between strength of schedule and teams making the playoffs has been extreme in the last five seasons. Teams with a Top 5 toughest strength of schedule in that span have made the playoffs 24.1 percent of the time. Teams with a Top 5 easiest strength of schedule have more than doubled that percentage, making the playoffs 50.0 percent of the time." Source: NFL.com
What the NFL has found to be true in "real football" also holds true in fantasy football. For example, in 2011 we projected Seattle to have the easiest strength of schedule at running back. Lynch went on to have the best year of his career (at the time), posting 1204 rushing yards and 12 rushing touchdowns. We also projected Detroit to have the easiest strength of schedule at quarterback. Matthew Stafford posted record numbers (for the Lions) in his first full season. The Eagles had the third easiest SOS at RB, McCoy posted 17 rushing touch downs and 1309 rushing yards. Year after year strength of schedule plays a factor in fantasy football. It's not something you build your entire team around but it does play a role in projections and coin toss scenarios.
Strength of Schedule For All Positions
Positions included are the common positions used in fantasy football including: quarterback, wide receiver, tight end, running back, kicker, defensive back, defensive lineman, linebacker, safety and team defense. Usually, I only bump a players projection up a notch if they have the 1st or 2nd easiest schedule. I use the same simple logic when moving a player down a few spots if they have the 31st or 32nd hardest. In the table below, the number "1" indicates the easiest schedule and a number "32" indicates the hardest schedule.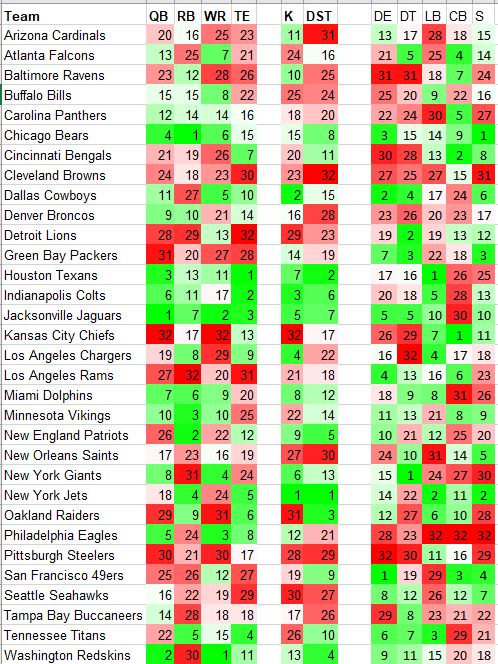 Drafting and Strength of Schedule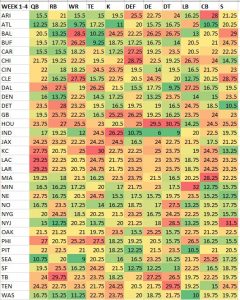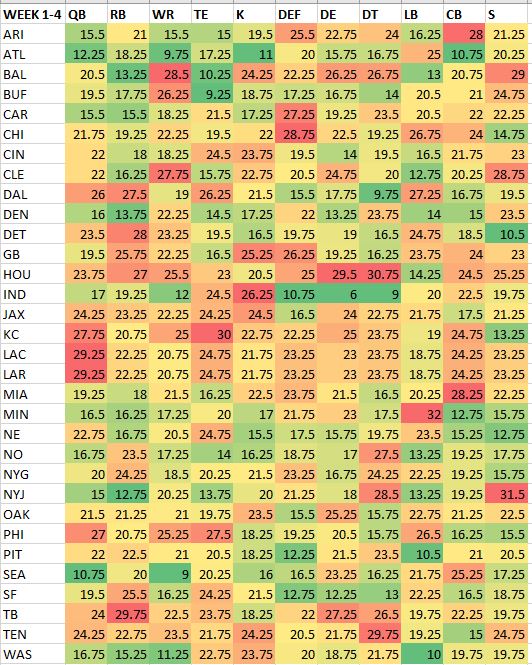 You can get strength of schedule listed next to each players name in our online cheat sheet and draft guide. I've ran the numbers and know for a fact that when good players face easy schedules you usually benefit if you draft them. This is by far a game changer during the draft. I use strength of schedule and other indicators within our cheat sheet which help me make quick decisions when I'm on the clock during the draft. You can use strength of schedule to help create projections and rankings. Strength of schedule can be the tie breaker for you when comparing similar players. I like to highlight players ahead of time to identify them as "targets" for your draft. Most of all, I recommend bumping up a player a spot or two when their strength of schedule is ranked 1, 2, or 3.