The Tampa Bay Buccaneers select Jameis Winston in the 2015 NFL Draft. Here's some analysis, highlights videos and fantasy spin. Could Jameis Winston be the next A. Luck? I'll tell you this right now, Winston will be blessed with the largest WR core in the league and an experiences coaching staff to make it all work out, if he's got it, which many believe he does. With a solid WR core at his side he could be a valuable QB2 in two QB fantasy football leagues but he won't thrive until his 3rd or 4th year in the NFL.
Highlights
Analysis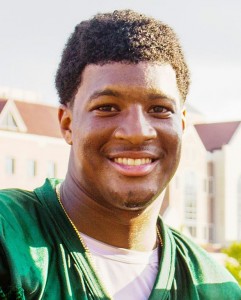 STRENGTHS Considered by scouting community to be advanced in ability to scan field and get through progressions. Has natural feel for throwing windows and anticipates openings that other college quarterbacks don't see. Has height to see over offensive line and thickness of build to withstand NFL hits. Big arm by NFL standards. Gets full extension and follow through into throws with ability to drive ball into the seam in front of safeties. Can make all of the field-side throws teams need. Most teammates very trusting and protective of him, according to regional scouts. Aware in pocket, but not overly jittery. Good feel for edge pressure and steps up into pocket while continuing his scan. When pressure mounts, so does his focus. Shows faith in his wide receivers and willing to go right back to them after a drop. Strong lower body and able to shake free of some would-be sacks and get rid of the ball. Fierce competitor and unafraid of mistakes. Shows above-average football character. Will make throws and take chances others won't, which can be a special trait if properly harnessed.
WEAKNESSES Decision making not consistent with his football intelligence. Will throw into impossible windows rather than taking safe throw underneath. Elongated windup and release allows instinctive defenders to close on throws. Was too easily baited into dangerous throws. Struggled with intermediate passing game in 2014, completing 56.8 percent of his passes with FBS-leading 11 interceptions in that range. Still learning nuances of position and how to move and hold defenders with his eyes. Would sleepwalk through first half of many games. Inconsistent footwork and weight transfer caused balls to sail. Prone to emotional outbursts on field. Quality of decision-making drops off substantially when pocket becomes turbulent and he's forced to leave it. Lacks athleticism to extend plays for very long outside of the pocket. Off-the-field character and ability to lead on NFL level are his primary obstacles, according to NFL evaluators.