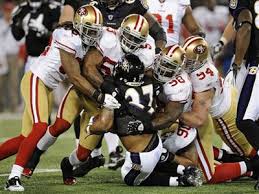 For as long as I can remember I've waited till the end of the draft to select my team defense. Once the season began I'd leverage the waiver wire to grab a streamer week to week based on match-up, this is called streaming. But you know some people prefer to draft one of the top rated defenses and lean on them most of the season possibly waiting really late in the draft and pick a second defenses, this is a committee approach. A committee approach will cost you a higher draft pick but is easier to manage. Streaming will allow you to seek value at an offensive position and still net decent team defense stats during the season by steaming them based on match-up. Today I'm going to talk about some team defense pairings that make sense in 2016 based on the teams strength of schedule. We will look at the committee approach as well as streaming.
Committee versus Streaming
A committee is when you have two team defenses and lean on them based on match-up. Usually one of the team defenses is very solid, drafted in the mid to mid-late rounds. Strategically best used in deep leagues with lots of bench spots. Also depends on how the other team managers play, as in, do they hoard defenses?
Streaming means you use your waiver wire each week for the best team defense based on match-up, harder to do in large leagues or leagues with a lot (5 or more) of bench slots. This strategy is easier to accomplish in 10 to 12 team leagues with a light bench.
The Best Committees in 2016
Based on ADP (average draft position) you should be able to snag these defenses toward the end of your draft and have a positive return on investment throughout the 2015 season. Only draft based on committee if you think the waiver wire will be very thin at team defense which kills the better option of streaming.
Committee #1 - Houston and Oakland look like a great committee for 2016. Houston is a solid overall team defense and Oakland has been building a formidable defense and have a solid strength of schedule.
Committee #2 - Don't reach for the Texan defense, you should be able to grab Oakland without any issue much later than Houston. In this case, you'll run with Oakland and Jacksonville. This is a riskier option than committee #1 but hey that's what the waiver wire is for!
The Best Streaming Options in 2016
I based this on strength of schedule and previous years performances. I also used our 2016 team defense rankings to help sort them out.
Week 1 though 5 streaming options are the Raiders, Washington, Jacksonville and the Colts.
Week 6 through 10 streaming options are the Texans, Packers and Titans.
Week 11 through 15 streaming options are the Texans and Bills
Based on what I'm seeing here, you could try to nab Houston late and use the waiver wire to stream about 30 percent of the other games. Houston is just a solid option for week 6 through the fantasy playoffs.