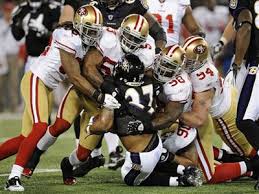 You've probably heard more than once that you should wait until the end of your draft to select your team defense. Once the season begins you can leverage the waiver wire to grab a streamer week to week based on match-up, this is called streaming. On the flip side you can take a committee approach. A committee approach is easier to manage but will require you draft a top 5 defense. Today I'm going to talk about some team defense pairings that make sense in 2018 based on the teams strength of schedule. We will look at the committee approach as well as streaming.
Committee versus Streaming
A committee is when you have two team defenses and lean on them based on match-up. Usually one of the team defenses is stong, drafted in the mid-late rounds. The other defense usually changes every 3 or 4 weeks based on your "strong" defenses match-up.
Streaming means you use your waiver wire to find the best team defense based on match-up. Usually picking up 2 defenses that will be solid for about 4 weeks before picking up a new pair.
The Best Committees in 2018
Based on ADP (average draft position) you should be able to snag these defenses toward the end of your draft and have a positive return on investment throughout the 2018 season. Only draft based on committee if you think the waiver wire will be very thin at team defense which kills the better option of streaming. Drafting any of the following pairs should work out fine for the entire season based on today's expectations: LAC:WAS, PIT:SEA, OAK:PHI and OAK:LAR. You should be able to take one of the top defenses a couple rounds before the end of your draft and the other with your last or second to last pick.
The Best Streaming Options in 2018
Analysis credit: David Hess with Fantasy Knuckleheads
Green=Good, Orange=Okay, Red=Bad matchup.
Weeks 1-4:
Seattle Seahawks-

DEN

,

CHI

,

DAL

,

ARI

Pittsburgh Steelers-

CLE

,

KC

,

TB

,

BAL

Carolina Panthers-

DAL

,

ATL

,

CIN

, bye

Washington Redskins-

ARI

,

IND

,

GB

, bye
Weeks 5-8
New England-

IND

,

KC

,

CHI

,

BUF

Carolina Panthers-

NYG

,

WAS

,

PHI

,

BAL

Atlanta Falcons-

PIT

,

TB

,

NYG

, bye

Chicago Bears-

bye,

MIA

,

NE

,

NYJ
Weeks 9-12
Kansas City-

Cle

,

ARI

,

LAR

, bye

Buffalo Bills-

CHI

,

NYJ

, bye,

JAC

San Francisco-

OAK

,

NYG

, bye,

TB

New York Jets-

MIA

,

BUF

, bye,

NE
Weeks 13-16
Indianapolis-

JAC

,

HOU

,

Dal

,

NYG

Washington Redskins-

PHI

,

NYG

,

JAX

,

Ten

New York Giants-

CHI

,

WAS

,

TEN

,

IND

Green Bay Packers-

ARI

,

ATL

,

CHI

,

NYJ
Based on this list you're drafting PIT and SEA DST to get you through the first 4 weeks. After week 4 you need to re-evaluate and add 1 or 2 team defenses to stream. You're going to be looking for weak rookie quarterbacks and/or offensive lines giving up a lot of pressure. Simply put, you want bad offenses versus any above average defense.