Tennessee selects Marcus Mariota QB and shocks the world, not really. Here's our analysis and some highlights. Nothing to see here, sorry Titans fans but you lack everything required for Mariota to flourish. And honestly I don't think the guy has what it takes to be a difference maker / championship / franchise QB. For example, put Manning on any NFL, or Rodgers, they would make that team an instant contender. Mariota is a gimmick QB with lightning speed but you can't take hits running full speed at the QB position like Vick did back in the day, it just don't work out long term. With that said, I don't make millions like the staff in Tennessee does, they know more than me... just from the outside looking in... this pick screams BUST. Unlike Seattle and San Fran the Titans don't have a strong defense or rushing attack to support Mariota.
Highlights
Analysis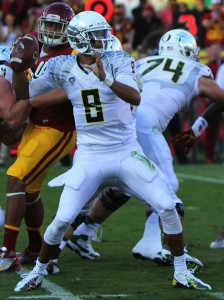 STRENGTHS Quick-twitch quarterback. Rare straight-line speed for the position. Defenses must account for ability outside the pocket. Asked to handle more each season by Ducks coaches and delivered consistent production. Stands tall in pocket with three-quarter delivery and quiet release. Keen sense of where trouble lurks and almost never gets baited into a dangerous throw. Threw multiple interceptions in a game just three times over 41 career starts. Adequate accuracy and ball placement from the pocket. Able to make off-balance, difficult throws. Can uncork throws quickly and without resetting feet when necessary. Can climb the pocket and deliver strikes when he trusts the edges of his protection. Silky smooth when asked to roll out and delivers on time with sound mechanics. Has balance and feet to escape collapsing pocket and will look to strike through the air rather than just bolting as a runner. Size, speed and enough skill to eat in the red zone. Considered extremely coachable by scouts, who also love his willingness to play hurt. Very humble and leads by example. Family and heritage are extremely important to him.
WEAKNESSES Benefits from an offense that is predicated on simplified reads. Offense able to create wide-open receivers after busted coverages at times. Needs to improve resetting feet when maneuvering pocket to improve accuracy and power. Tends to "see" pass rush too often. Will drop eyes and look to escape pocket rather than stepping to available pocket space. Frequent trips outside pocket increase opportunity for injury. Pocket feel is very average. Stepped into sacks he had no business taking. Didn't have to throw to tight windows often. Average processor on field. Still learning when to get rid of the ball and move to next play. Slow to make anticipatory throws and can improve patience in allowing combo routes to mature rather than rushing the read. Missed obvious pre-snap blitzes. Drive accuracy needs work. When cutting it loose, ball tends to sail on him a bit. Arm strength is adequate but inconsistent to field side. Needs to bring hips through throws to increase zip into tight windows in NFL. Fumbled 27 times during his career.