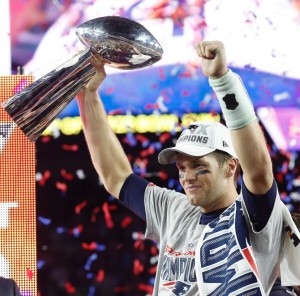 Second and goal.  26 seconds left.  Down 28-24.  Inches away from back to back Super Bowl wins.  Russell Wilson drops back.  He throws the ball, right into a Patriots' arms.
Game over.
Against all odds: "Spygate", "Deflategate", a two-game Super Bowl losing streak, a "He did what" bobbling reception shades of the infamous "Helmet Catch" seven years ago in the same building, the New England Patriots held on with an amazing goal line stand as rookie cornerback Malcolm Butler picked off Russell Wilson in the endzone.
This might go down as the most exciting Super Bowl ever.  But the entire sports world is asking the same question; "Why throw the ball?"
We can only imagine how horrible Marshawn Lynch feels when they decided to not feed the beast on the one yard line, especially after he nearly scored on first and goal with a four yard gain.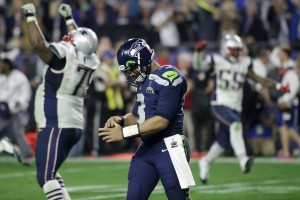 Taking away your own best player when you need it most just doesn't make sense.  Coach Pete Carroll gambled putting the ball in the air, and the rest is history.
NFL analysts and players all are calling it the worst call in sports, ever.
This could be a play, rather questionable playcall that divides the Seattle Seahawks.  Especially, after Pete Carroll responded to the media rather stubbornly as he stands by his poor decision.
"We didn't want to run against their goal line group," said Carroll.  "We were playing for third and fourth down."
First of all, why?  You have the best back in the league.  Who cares if they have their heavy package on the field.  It's goal line.  Why would they play dime defense?  There are reasons why running the ball is not only smart and safe.  What's the worst thing to happen with a handoff, a fumble, not likely with Beast Mode sniffing the endzone.  And they had a timeout in their pocket in case they wouldn't make it on second down.  To say they were playing for third and fourth down indicates they weren't thinking of winning now.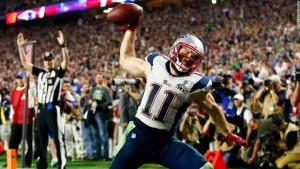 Many speculated that the Patriots might have even let them run it in to preserve time for a comeback of their own.  But the world will never know.
Seahawks quarterback Russell Wilson joked in the postgame press conference, "Just an inch or two off".
Offensive coordinator Darrell Bevell admitted to calling the pass play, but then added a stab at the intended receiver, "We could have done a better job staying strong on the ball" referring to Ricardo Lockette, a receiver who caught 18 balls in his career.
No one seems to take actual responsibility for giving the game away.  There are shady efforts, but the Seahawks can't mask their ego.  Nobody ever wins the blame game.  As that locker room looks back to Super Bowl XLIX, there is no good reason to have thrown that ball.  In the end, whatever they say in Seattle won't help them sleep at night.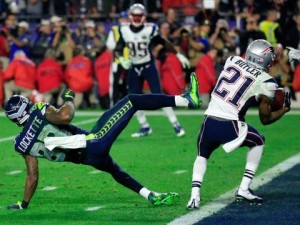 But, let's give credit where it's due.  This was truly a never say never moment for the books.  The worst Super Bowl call ever, is also one of the greatest Super Bowl plays ever.
Malcolm Butler, undrafted rookie free agent, went from unknown to hero.  With 26 seconds left in the game, backed up in their own endzone, Butler read the route pefectly, drove on the ball like an All-Pro, banged the Seahawk to the ground while catching the game winning interception.
Defense does still win championships.
Even still, Seattle had a chance to save their season as the Patriots were pinned on their own one yard line.  Stranger things have happened, as the Legion of Boom crowded the line looking to force a safety or bad snap.  But to clinch the victory, Tom Brady's triple head bob got them to jump offsides leading to a free five yards and easy series of kneel downs.  And the clock ticked away, towards a fourth Lombardi Trophy.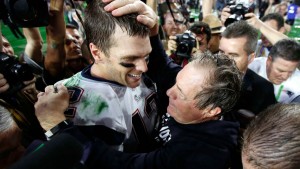 Tom Brady, now three-time Super Bowl MVP, with his four touchdowns, jumped for joy as he saw it all happen on the jumbotron.  The win also puts Brady in company with his boyhood idol, Joe Montana, and Terry Bradshaw, as the only quarterbacks with four rings.
Pats fans can shovel their snow with a smile on their face.  The Brady Belichick legacy added another Lombardi Trophy to their dynasty.
Congrats to the New England Patriots, world champs, again.