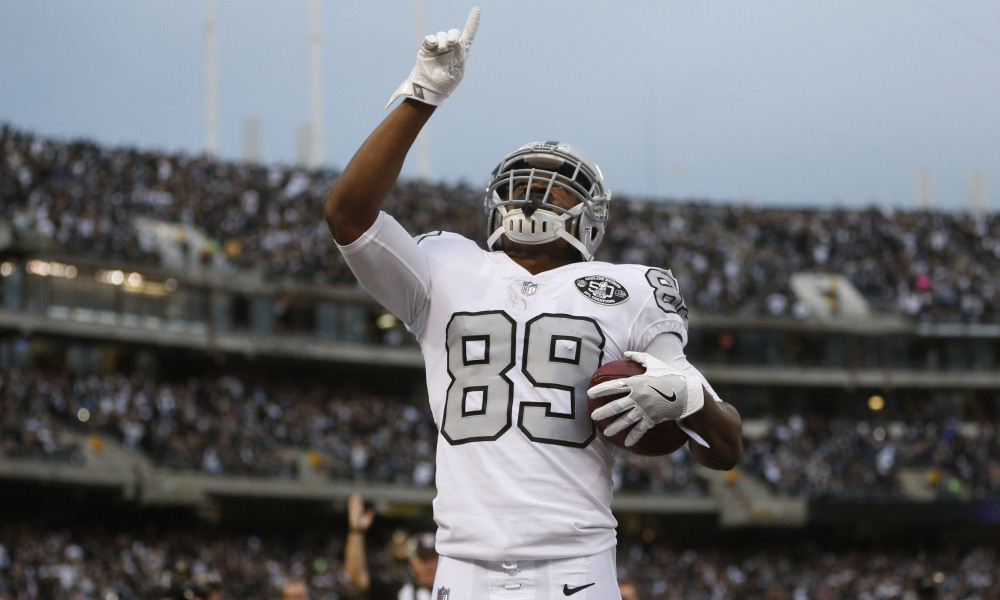 There are questions aplenty surrounding the Raiders offense this year. How will Jon Gruden's old school play-calling translate to the stat sheet? Can Marshawn Lynch hold onto any of his beastliness at age 32? Can Amari Cooper get back to being a top tier wide receiver?
I don't have all the answers to those questions, but I do have one. You should absolutely consider Amari Cooper a WR1 going into 2018, and you should draft him accordingly.
And look, I know how this sounds. I'm like an ex who's been hurt over and over again, only to get swept up in reliving the good times in our relationship, all the while blocking out those single reception games and missed red zone opportunities. I know that what I'm about to say doesn't divert from that analogy...but I really believe things will be different this time.
A Disappointing 2017
2017 was not kind to owners who invested high draft picks in Cooper. Registering his first season with fewer than 50 receptions and 1,000 yards, the 23-year-old wideout often looked like an afterthought in the passing attack, and was quickly usurped by Michael Crabtree as the primary target. If you remove his insane 210-yard game against Kansas City, Cooper ended the season with just 470 receiving yards. Ouch.
If you're looking for the silver lining, at least Cooper notched a career high mark of 7 touchdowns despite playing only 14 games. So at least he had that going for him.
A Bright 2018
So what's going to change in 2018 that will once again make Amari Cooper a reliable fantasy asset? For starters, Gruden has outright stated that the offense will run through Cooper. If you're someone who buys into this type of rah-rah narrative, you'll love these tag lines the new coach offered for the Raiders 2018 season:
"He'll be the focal point of our pass offense."

"He likes the bright lights and he'll be the headliner in our offense."

"He reminds me of a young Tim Brown."
Keep in mind, this was all said before Oakland cut Crabtree, who was by far Cooper's biggest statistical nemesis the last 3 seasons. Sure, they added former Packers superstar Jordy Nelson and former Steelers deep threat Martavis Bryant, but there's no way the coaching staff views either of them as their main guy. Nelson will likely spend most of his time in the slot, while Bryant's big play ability should help keep defenders from doubling up on Cooper.
Add in the improved health of Derek Carr, who played through a back injury last season and seemed to lose the strength and accuracy we were used to seeing, and all should be right with Oakland's top receiver.
The Gruden Effect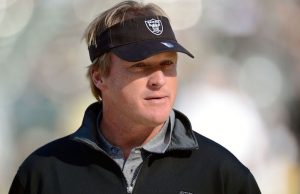 A lot of analysts are worried that Coach Gruden's vow to "throw the game back to 1998" will suppress Cooper's ceiling. It's assumed that the new offense will lean heavily on Marshawn Lynch and Doug Martin, leaving Oakland's receivers grasping for yards.
But let's look at how Gruden's old school No 1 receivers have fared over the years:
[table id=3 /]
Not a single season with less than 1,000 yards in the bunch. Gruden's top guy gets the ball, and he gets it often, regardless of who it is. Looking at those stats, there's nowhere to go but up, as literally every stat line on that list looks markedly better than what we got from Cooper this past season.
Brown's numbers from 1998 would have made Cooper the WR6 in standard leagues and WR8 in full PPR leagues in 2017. So if Gruden wants to take his raiders back to '98, I'll happily jump in his Delorean and scoop up Cooper in the back of the 3rd round, where his current ADP has him listed in Standard leagues. Granted, Tim Brown is in the NFL Hall of Fame, and is very likely a better receiver than Cooper, but what about Michael Clayton? Or Joey Galloway?
Antonio Bryant -- who, coincidentally, is the main reason Jon Gruden's head nearly exploded when calling Steelers' games in the booth -- had by far his most productive season with Gruden's Bucs, finishing with career high marks in targets, receptions, yards, touchdowns, and catch percentage. The year before, he put up numbers that looked quite...Cooper-esque.
Where Should You Draft Him?
On paper, Cooper looks to be in a prime spot to retain his status as a true WR1 in all formats. In Standard leagues, if he's available when you go on the clock in the 3rd Round, TAKE HIM. Depending on how you choose to structure your team, I'd even advise taking him over guys like Joe Mixon and Derrick Henry, both of whom are currently going at the start of Round 3.
In PPR leagues, he's going a few spots later. Given the information we have about how Gruden hyper-targets one guy, you should once again absolutely take him in the 3rd, regardless of your draft position.
The long and short of it is this: Jon Gruden believes in Amari Cooper. I believe in Amari Cooper. And you should too.