The biggest challenge in this year's fantasy drafts, like most years, is finding quality running back depth after the first 4 rounds. Looking at the ADP boards, the first round is basically all running backs outside of Antonio Brown and Deandre Hopkins. But once we inch toward the middle rounds, unearthing quality running backs is tough. Luckily, Chris Thompson is sitting there like a shiny diamond that everyone has mistaken for a shard of broken glass.
Thompson is currently sitting at 7.04 in PPR leagues, making him the 34th running back off the board, behind the likes of Marshawn Lynch and Kerryon Johnson. And yet, he has the ability to finish any given week as an RB1 as he proved last year. Obviously, the fantasy community needs a pep talk. So allow me to make my case for drafting Chris Thompson in 2018.
2017 Numbers
I suppose you could consider 2016 Chris Thompson's breakout year, but his numbers really skyrocketed last season, proving that he was no fluke. Here are a few key stats that stood out:
Yards per reception: 13.1 -- the most of any running back.
Yards per carry: 4.6 -- tied for 9th most with Alex Collins.
Targets per game: 5.4 -- the 7th most for running backs.
Receiving yards per game: 51 -- the 3rd most behind only Todd Gurley and Alvin Kamara.
On a points per game basis, Thompson ranked RB11 in PPR formats and RB12 in standard. When Thompson is on the field, he's a locked and loaded stud. And you're basically getting him as your RB3 in the 7th round. The only potential problem is figuring out how many games he's going to play this year.
He's Hot When He's Healthy
Unfortunately, Thompson's magnificent numbers from 2017 were dwarfed by his late-season injury. He missed 6 games with a broken fibula, and injury that has unfairly piled onto that most unpleasant "injury prone" designation in the fantasy community.
But fracturing a bone isn't comparable to tearing a ligament, and should not get you lumped in with the Eddie Lacys of the world. The Redskins' 3rd down ace in the hole should play mostly unaffected by last year's injury.
Granted, Thompson also had a string of injuries in college -- including a nasty broken vertebrae and a torn ACL -- but by all measures appears to be fully recovered from those. There needs to be an expiration date on injuries of that sort, especially as it pertains to a player's fantasy outlook.
Besides, Thompson follows what we'll call the Jordan Reed Rule: If he's healthy, YOU PLAY HIM. No question. The headache of tracking the Sunday morning injury reports is worth the points he'll get your fantasy team if he suits up. He's simply too dynamic to keep on your bench so long as he's available by kickoff.
Where's The Competition?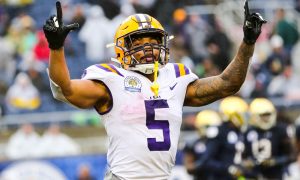 The other, non-health related worry about Thompson is that Washington spent a 2nd round pick on Derrius Guice, who projects as the immediate starter. But anyone who watched Guice pummel opposing defenses at LSU knows his running style couldn't be any different than Thompson's.
Guice is masterful at getting those hard-earned yards after contact, but averaged just 10.5 receptions per season in college. Washington didn't draft him for his hands. The only Redskins' running backs who should be concerned about Guice's arrival are Samaje Perine and Rob Kelley, both of whom will be fighting for backup duties this summer.
Thompson is far too good of a pass-catcher -- with too much big play ability -- to take him off the field on 3rd downs. It would be like The Avengers telling Hulk to go take a nap right before their big battle with Thanos. It's simply not done!
Nobody else on the team can do what he does, so Thompson should continue to be the hot hand in passing situations.
Where Should You Draft Him?
Not only should you target Chris Thompson this year in all formats, I encourage you to reach for him as early as the 5th round if your roster construction allows for it. No other back going in that section of the draft -- outside of maybe Dion Lewis or Tarik Cohen, depending on how their situations unfold -- can provide as many week-winning performances as Thompson. (Which is why I have him much higher in our Running Back Rankings than my cohorts.)
Who would you rather have, an average running back with a low ceiling and a respectable floor, who is likely to finish as a low-end RB3 every week for 16 weeks? Or Thompson, who has the ability to win your matchup for 10-12 weeks as an all-star flex play before maybe getting injured again? Because that's essentially the choice you're making between Thompson and the guys getting drafted around him.
And what if he actually stays healthy the whole year like he did in 2016? Well then you just nabbed yourself a bonafide stud at a bargain price. I'll be drafting Chris Thompson in every league this year.