Four weeks of NFL sauciness are in the books, which means your fantasy season is between a quarter and a third of the way finished, depending on whether you're lucky/skilled/morally corrupt enough to bribe your commissioner to make it into the playoffs. As always, nothing has gone exactly as we thought it would during the offseason when we fantasy analysts were crafting our projections.
The biggest takeaway from the season so far? Despite a greater emphasis on player safety football is still a dangerous sport, and injuries are a real bitch. Unless you've been extremely lucky, you've been forced to scour the waiver wire for fill-ins. Some of the studs you drafted almost certainly have gone down with a knee/foot/shoulder injury. Maybe you even needed fill-ins for those fill-ins, because the fantasy football gods hate you that much.
Between the injury epidemic and underdog sensations making some big splashes, it's safe to say most people's draft rankings would look pretty different than they did at the beginning of September. Wonder what the perfect draft would look like? We've got you covered!
Note: For our purposes, we'll use standard league scoring, as well as a "safe" lineup, which includes a backup QB and TE, four RBs, 6 WRs, a Kicker and a Defense. (Yes, we're still pretending you have to draft those positions. Sorry.)
Quarterback
Tom Brady
Brady's presence in the No 1 spot is the exact opposite of a shocker. That's why he was the 2nd QB taken off the board behind Aaron Rodgers. The only concern about the 40-year-old was that his age would catch up with him a la Peyton Manning. That trepidation may have felt validated after a shaky Week 1 performance. In that week TB12 was bested by the likes of Sam Bradford, Trevor Siemian, DeShone Kizer, and Mike "I'm Not Competent Enough To Be The Bears Starter" Glennon. Since then, Brady's been absolutely electrifying, and has singlehandedly won his owners multiple games. We'll see if he can keep it up down the stretch. If not, teams rostering Brady may have to settle for that reliable starter on their bench...
Backup QB
Alex Smith
Enter the ultimate "game manager" Alex Smith. Brady's reign at the top is business as usual. Smith's sudden fantasy breakout 13 years into his career is something straight out of a movie. The guy has only cracked the Top 15 at the position twice in his lengthy career. Both times he just barely poked his head in, but this year feels different. Maybe it's because he's fending off the hot rookie prospect, or  he knows he's auditioning for a spot on another roster come next year. Either way, whatever's motivating Smith right now, he needs to bottle it.
Running Back
RB1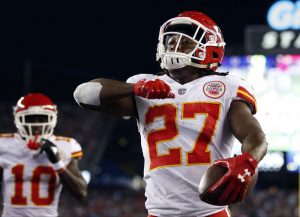 Kareem Hunt
Of all the rookie running backs perceived to be immediate contributors if not outright studs straight out of the gate, Kareem Hunt is the guy who flew under everyone's radar. Most suspected he'd be part of a committee at best, so imagine their surprise when he opened the season as the starter, racking up 246 scrimmage yards and 3 TDs in his first NFL appearance. Hunt hasn't since matched his point total from Week 1, but he's proved to be an undisputed workhorse who's guaranteed plenty of touches and a very high floor each week.
RB2 
Todd Gurley
Gurley was supposed to be finished, at least as far as his fantasy relevance was concerned. His yards per carry and yards before contact were a major concern, as was his limited use in the passing game. (Well, if you can call what the Rams had last year a "passing game".) But Gurley's sophomore slump proved to be just that, and with Sean McVay calling the shots, he's on pace to destroy his first year totals in every category. Anyone daring enough to take him in the 1st round -- or reasonable enough to take him in the 2nd -- can proceed to pat themselves on the back.
(Tied) RB3
Devonta Freeman
We knew Freeman would be a stud in PPR formats this year, so long as new offensive coordinator Steve Sarkisian didn't try to reinvent the wheel in Atlanta. He didn't. Freeman hasn't been quite as involved as a pass-catcher thus far, but he's made up for it ability to crack explosive run after explosive run, which makes him a
(Tied) RB3
Leonard Fournette
Unlike Hunt, we all anticipated Fournette's rise to fantasy stardom from the get-go. Still, considering that Fournette is averaging a modest 3.5 yards per carry, it's somewhat surprising how many points the dude has racked up. That speaks to the Jaguars offensive mindset, and it corroborates Doug Marrone's well-publicized quote from the offseason: "I like to run the ball every play." Fournette owners like that too, Doug.
Wide Receiver
WR1
Stefon Diggs
I was abnormally high on Diggs' potential this year -- to the point where friends probably suspected I was a paid advertiser for the guy -- but even I didn't expect the 3rd year receiver to explode like this. With an ADP of WR27, you could have easily grabbed Diggs in the 5th round of your draft. And although questions around Minnesota's revolving quarterback situation may have caused a lot of his owners to bench him for a couple of weeks, they surely view him as a must-start from here on out. He's a target hog on a team with a solid defense.
WR2
Jordy Nelson
The connection Aaron Rodgers has with Jordy Nelson is special. Together, they make magic seem real. Sure, random Packers receivers like Geronimo Allison or Jeff Janis may ball out for a game or two, but it always comes back to Nelson sooner or later. Change may be the only constant in life, but Jordy Nelson is the only constant in fantasy football.
(Tied) WR3
Chris Hogan
"Too many mouths to feed," they said. "Never fall in love with a Bill Belichick player not named Brady or Gronk," they said. Those warning us to stay away from New England receivers this year greatly underestimated how superior Belichick's offense looks when it's clicking on all cylinders. Brandin Cooks is on pace for almost 1,200 yards, while last year's standout Chris Hogan has been a touchdown machine these last few games.
(Tied) WR3
Antonio Brown
Even with Big Ben snubbing his best receiver in Week 4, Brown posted so many points in the first three weeks that he sits calmly near the top of the heap. Gatorade jug pummelings notwithstanding, AB is as consistent as ever, as he currently ranks second in the league in targets. So long as Roethlisberger can let go of the grudge he seems to be holding against his teammate, Brown is pretty much a lock to finish in the Top 5 this season.
WR5
A.J. Green
The Red Rocket has taken to force-feeding his No 1 receiver again, and boy does it feel good. For whatever reason, Green was consistently undervalued coming into this season. Some were probably scared away by last season's hamstring injury. When you consider that Green almost topped 1,000 yards despite missing 6 games, his place on this list seems inevitable.
WR6
DeAndre Hopkins
The Tom Savage Experiment didn't last long in Houston, and THANK GOD. He may have been an upgrade over Brock Osweiler -- however slight -- but there's no way Hopkins makes this list if the Texans leave their rookie quarterback on the bench. The feeling last year was that Nuk could be a superstar if he had even a semi-decent QB throwing his way, and the addition of DeShaun Watson has so far confirmed that.
Tight End
TE1
Rob Gronkowski
Surprise, surprise, Gronk is a great tight end. The consensus No 1 tight end on draft boards has thus far lived up to his billing, which happens when your quarterback is Tom Brady and loves force-feeding his gigantic targets. Gronk should continue to be a beast for your team so as long as he can stay healthy for once.
TE2
Travis Kelce
Is it a coincidence that Tom Brady and Alex Smith's tight ends are also presiding over the top 2 spots at their position? Probably not. Baby Gronk rightfully takes his place below the real deal. He just barely nudges out Zach Ertz for the No 2 spot. See, sometimes pre-draft analysis actually does hold up! Speaking of which, the tight end position is the only one that represents pre-season ADP with 100 percent accuracy...for whatever that's worth.
Kicker
Greg Zuerlein
Perhaps the most overlooked feature of Sean McVay's shiny new Rams offense is Zuerlein's magical leg. The kicker hasn't missed a single field goal or extra point in the first quarter of the season. He's a perfect 14-for-14 in both categories and accounted for 21 of the Rams' 35 points in Week 4. Zuerlein didn't even crack the Top 20 for kickers going into most drafts. This just proves you're sometimes better off letting your 6-year-old nephew pick this position for you.
Defense
Detroit Lions/Jacksonville Jaguars
Those who went against the grain and bought into the hype coming out of Jacksonville surrounding their defensive makeover have been rewarded handsomely to this point. The Jags defense had an ADP of 17 coming into the season. Meanwhile, the Lions were so far down the list you were liable to get a finger sprain from all the scrolling you had to do to find their name. Both teams are tied at the No 1 spot so far with 65 points each.
If anyone out there actually has a roster even close to this, we'd love to hear from you.