Dallas Cowboys quarterback Tony Romo will be out up to 8 weeks after sustaining an injury to his left collarbone during Sunday's win over the Philadelphia Eagles.
Romo, 35, was favoring his left arm and remained on the ground after taking a sack in the third quarter. He was taken into the locker room for x-rays. On his way to be examined, he appeared to mouth the words "it's broken." Romo then reappeared on the sidelines with his arm in a sling, and confirmed the nature of his injury in a postgame interview with Fox's Erin Andrews. Romo was 18 for 27 and 195 yards before being injured. He was replaced by Brandon Weeden as Dallas went on to record a scrappy 20-10 win over their division rivals.
This is the second injury Romo has endured to his left collarbone, having missed several games in 2010 when he broke the same bone that year. He was replaced by Jon Kitna then, and Weeden is now likely to take over for the Cowboys, who are already set to be without receiver Dez Bryant for the next 4-8 weeks.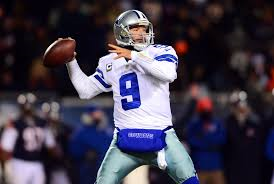 Romo will be re-evaluated over the next 48 hours, though Dallas is already bracing to be without their signal-caller for the next several weeks. It has not yet been determined if he will need to undergo surgery, or if the injury can stabilize and heal on its own, as was the case with Aaron Rodgers in 2013. Rodgers' injury took the better part of two months to heal, and according to reports, Romo is facing a similar recovery timetable. Rodgers was able to return in time for the Packers' season finale that year.
Dallas will need to bring in a backup quarterback behind Weeden, who showed promise Sunday as he finished the game a perfect 7-7 for 73 yards. The team could look to promote one or both of practice squad quarterbacks Kellen Moore and Jameill Showers, as they only carried two quarterbacks on their roster, Romo and Weeden, as of week 2. Former backup Kyle Orton retired this offseason after spending 2014 with the Buffalo Bills and is among an uninspiring market of unsigned quarterbacks which also includes former Bronco and New York Jet Tim Tebow, who was released by the Eagles after preseason. Texas native Matt Flynn is also available. Dallas could also look to explore the trade market.
If Romo does go on to miss the next 8 weeks, he would be unable to play in games against the Falcons, Saints, Patriots, Seahawks, Eagles, and Buccanneers. His earliest return date could come in week 11 against the Miami Dolphins. The team's open date falls in week 6.
The loss of Tony Romo is a difficult pill for the Dallas Cowboys to swallow, and puts quite a damper on their 2-0 start. Last year's edition of the Cowboys would have been better-equipped to handle such a situation given the team's ground attack which was built around DeMarco Murray, now with the Eagles. The team's defense, however, has shown early signs of improvement, and the run game will need to continue to gel with Joseph Randle, Darren McFadden and Lance Dunbar carrying the football. The team totalled 109 net rushing yards Sunday, and many triple digit ground efforts will be needed to support Weeden over the course of the next several weeks.
Dallas has started the 2015 season with two big wins over two fierce rivals: the Giants and Eagles. However, both wins have come at a major cost, with Bryant and Romo out for the forseeable future. How Dallas manages to cope will go a long way in determining how this season plays out, with the Cowboys fostering high ambitions for 2015 after reaching the playoffs for a season ago.