Performance enhancement supplements play a major role in all professional sports, like the NFL. Many athletes have been lifting weights for numerous years, encounter countless collisions, and when they push their body in its fatigued state that causes damage to the body which it may or may not be able to recover from. This requires professional athletes to embrace some type of nutrition plan in order to accomplish various goals such as:
Faster recovery times (pre/post workout and injury recovery)
To Have more energy
Maintain proper body mass index
Maintain stamina throughout their grueling season
As a New Orleans Saints fan I watched an over the hill TE Tony Gonzalez demolish my favorite team for five full NFL seasons, he retired at age 37. Prior to his five year stint with Atlanta he was with the Kansas City Chiefs for 12 years. Gonzalez had an amazing 17 year NFL career and to what does he attribute his success? Proper nutrition plans containing a balance of healthy food and legal supplements. Kevin Gray reported in this issue of Men's Journal that "he follows what nutritionists call an 80/20 diet – 80 percent plant-based food and 20 percent fish or chicken."
Popular Supplements
BCAAs or Branched Chain Amino Acids are an essential pre-workout supplement for athletes. BCAAs are building blocks of protein and have numerous functions related to muscle growth, recovery and energy production. Quality BCAAs prevent the breaking down of muscle tissue during training and increase overall performance.
Omega 3 Fatty Acids (Fish Oil) are one of the most commonly used supplements because of the documented improvement in cardiovascular health, lower triglycerides, mental acuity, and its anti-inflammatory properties.
Protein is one of the main focuses of nutritional planning as it provides energy, repairs tissues and reduces muscle soreness. Protein should be taken throughout the day not to exceed .8-1.4 grams of protein per 1 kg of lean mass each. There are many types of proteins available on the market such as whey protein, soy protein, casein proteins and vegan proteins. Each has a unique profile which should be research for your unique goals and body type.
Top 5 JACKED Fantasy Prospects
This following list was narrowed down from the top 25 "most jacked" athletes in the NFL. "Most Jacked" means they are ripped and have superior power and strength in comparison to their NFL counterparts. Since the goal of Fantasy Knuckleheads is to help you dominate your fantasy league I've extracts the top 5 most jacked players that could benefit your fantasy team based purely on their athletic ability.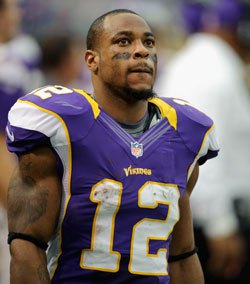 Percy Harvin
Wide Receiver
College: Florida
Height: 5-11 Weight: 184
Jacked Factor: 40 yard dash: 4.41, 225lb Bench Press: 19 reps
Fantasy Factor: Harvin comes with risk as he has only shown us one truly productive fantasy football season. Now with the Buffalo Bills Harvin has found his ADP drop to the lower rounds of the fantasy draft. An exceptional risk/reward pick in this years draft.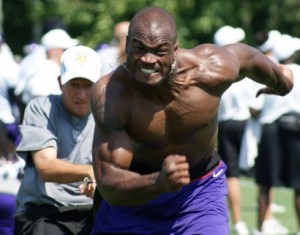 Adrian Peterson
Running Back
College: Oklahoma
Height: 6'2? Weight: 217
Jacked Factor: 40 yard dash: 4.4, 38 inch vertical jump, Bench Press: 345, Squat: 540
Fantasy Factor: Peterson unsuccessfully tried to force his way out of Minnesota but that didn't work out. He might not come to work a happy camper but his workhorse role and vastly improved Vikings offense should put an end to his whining.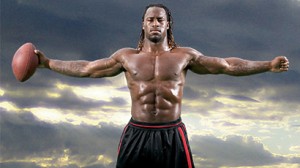 Vernon Davis
Tight End
College: Maryland
Height: 6'3? Weight: 254
Jacked Factor: 40 yard dash: 4.38, 225 lb bench press – 33 reps, 42 inch vertical jump
Fantasy Factor: Davis didn't report to OTA's last year and it showed on the field as he slumped his way toward a 26/245/2 line. Look for Davis to bounce back in his contract year with the 49'ers.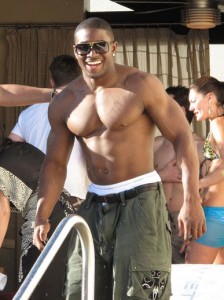 Reggie Bush
Running Back
College: USC
Height: 6? Weight: 203
Beast Factor: 40 yard dash: 4.38, 225lb Bench Press: 24 reps, 41 inch vertical jump
Fantasy Factor: Bush is a sneaky PPR pick with the 49ers and if Hyde gets hurt his value will soar.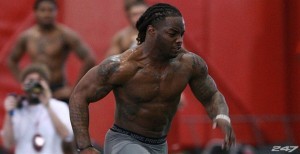 Trent Richardson
Running Back
College: Alabama
Height: 5'9? Weight: 228
Beast Factor: He reportedly benches over 475 lbs, more than 2 times his body weight! He also squats 600lbs and power cleans over 365 lbs.
Fantasy Factor: Richardson is behind the enigma known as Latavius Murray. He falls to five on this list as a very, very ,very long shot to produce this year. He belongs on your waiver wire however, if Murray goes down he belongs on your roster because, well, you never know! He has the "beast factor" for sure and his production in Indy could have been due to scheme.