After the initial Big 6 at the position -- Gronk, Kelce, Reed, Olsen, Walker, and Graham -- the tight end situation starts to look a little grim. Like ninth season of Scrubs grim. (Oh it's suddenly a teaching hospital and 90 percent of the original cast is gone? No thank you.) But if you dig a little deeper, you'll find a few reasons you can confidently wait on a tight end until the later rounds and come out the other end smiling.
These are the players to target if don't want to potentially waste a pick in the 2nd, 3rd, or 4th rounds -- when you may want to load up on quality running backs and sud receivers -- on a top flight tight end that still won't match the point totals of most 2nd tier RBs by season's end. Especially considering how injury-prone some of those top tier TEs are.
Note: For our purposes, any player being taken in the 8th round and beyond qualifies as a fantasy sleeper.
He Learned From One of the Best
Hunter Henry (LAC) - If every fantasy expert and FF player with a Twitter account is hyping a player as a sleeper...does he still qualify as a sleeper? In the case of Chargers' tight end Hunter Henry, yes. Yes he does. Despite throngs of analysts projecting 2017 as Henry's breakout year, his current ADP is incredibly appealing at 108 Overall, coming off the board as the 10th TE.
Henry recorded the most TDs (8) at his position last season, despite being a rookie who recorded just 36 receptions throughout the season. They obviously love Henry in the red zone, and he should usurp Antonio Gates as the No 1 tight end on the roster this year. Remember back in December when Gates said he was "leaning toward" finishing out his contract this year? That's not the statement of a guy ready to go to work. Henry will be on the field a lot more this year, and could easily post 60 receptions and another 8 TDs.
Best Catch Rate Sleeper
Jack Doyle (IND) - Throughout his first three seasons in the NFL, Jack Doyle barely clung to the Colts' roster as their third-string tight end. But once Coby Fleener left the building and headed to New Orleans, Doyle exploded like a bright and shiny metaphor in a Katy Perry song. Yes, the guy was a firework in his fourth season.
Doyle came in just below Antonio Gates in points among tight ends last year, and he was still sharing the workload with Dwayne Allen. Now that Allen's trying to score a Super Bowl ring in New England, Doyle is the undisputed top dog on a Colts roster that still has plenty of use for a reliable target in the middle of the field. He finished the season with the best catch rate at the position, and with the Colts still housing a questionable offensive line, Andrew Luck needs someone with sure hands he can dump the ball off to.
Long Overdue Breakout
Eric Ebron (DET) - How many times can a man dub Eric Ebron as a breakout player before he starts to look clinically insane? Ebron has put a lot of fantasy experts in that situation, because despite possessing all the measurables you look for in a pass-catching tight end, he has yet to put it all together over the last three seasons. (Only one of those years did he post multiple TDs, for instance.)
The silver lining? Despite playing just 13 games last year, Ebron racked up 711 yards, which was good enough for 8th at the position. Now that Anquan Boldin, aka Matthew Stafford's "other" security blanket, is gone, a healthy Ebron should absorb a bunch of those targets and get more work in the red zone. If you have the patience to trust in his raw talent just once more, you could be rewarded handsomely.
A Match Made In Heaven
Julius Thomas (MIA) - Reunited and it feels so fantasy relevant. Julius Thomas and Adam Gase are back together in Miami, and the table appears set for a career resurrection for the recently-maligned tight end. The hyperbole has been flowing like honey from a busted beehive all offseason about how important Thomas will be to Miami's offense, and this is the rare occasion you should open your mouth and let some drip into your mouth.
During the two seasons Gase and Thomas worked together in Denver, Thomas put up 12 TDs both years. Granted, he had Peyton Manning throwing to him, but there's reason to believe Thomas can reach double-digit touchdowns again. For starters, he enjoyed a 53 percent touchdown rate inside the red zone with Gase and Jay Cutler at the helm. He should be looking for his big, new weapon fast and often. As long as Thomas can stay even remotely healthy, he has Top 10 potential, and you can have him in the last rounds.
Value Pick Sleeper
 Cameron Brate (TB)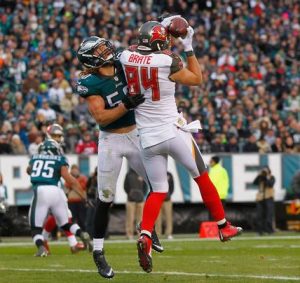 It's a bit absurd that Tampa Bay touchdown hog Cameron Brate has to be listed as a sleeper after he finished as the TE6 last season, but mock drafters won't touch him with a 100-yard pole this year. This comes down to a simple misunderstanding of the offensive weapons the team added this offseason. The Buccaneers' passing attack should zing even more this year with DeSean Jackson there to take the top off defenses. Although DJax can't be trusted for weekly production, he can be trusted to take the pressure off his teammates. Brate will be gifted plenty of space to operate in the middle of the field.
Worried about OJ Howard stealing snaps? Don't be. Rookie tight ends rarely make an immediate impact, and even someone like Tyler Eifert -- who was viewed as the second-coming of Rob Gronkowski in 2013 -- only notched 415 yards and 2 touchdowns. Sure, it's likely Brate sees some regression from last year, as this year's 1st round pick will surely be given some opportunities, but with a questionable backfield once again, there should be plenty of targets to share. Tampa Bay's brass certainly has faith in Brate, and you should too.