Fantasy Starter Potential
Dion Lewis TEN
After being hyped up going into 2018, Dion Lewis has been largely forgotten in fantasy drafts this year. This makes sense amidst the huge buzz about Derrick Henry, but the Titans can support two viable backs. They are one of the most run heavy teams in the league and Lewis also factors into the passing game. You won't get a sneaky bellcow back here, but the numbers will quite possibly support Lewis as a weekly starter, particularly in PPR. You cannot ask for much more than that at an ADP of 133 (RB46).
Backup With Big Value
Justice Hill BAL
The Ravens have stocked their cupboards with explosive athletes and Hill part of that crop. The rookie running back is part of a crowded backfield with Mark Ingram and Gus Edwards along with the fragile Kenneth Dixon. So far, Hill has been flashing in a big way this preseason. His highlights often appear to have been sped up due to his amazing burst and quickness.
While he does not have an easy path to workhorse status, Hill is very likely to get some touches right out of the gate. His physical gifts should give him immediate value even with limited touches. If and when Hill comes into a larger role, his value is going to skyrocket. Right now he is a bargain at an ADP of 163 (RB58).
Alexander Mattison MIN
The Vikings got a very talented back in the rookie out of Boise State. He has flashed in preseason and appears to have all but locked up the backup slot behind Dalvin Cook. There is no doubt that Cook has been dynamic when he is healthy; there is also no doubt that he has not been healthy very often. Last season, Latavius Murray had at least 11 touches in nine games. He was slotted into the role that Mattison now occupies.
Predicting time missed for injury is a dangerous game, but history tells us that Mattison has a better than average chance at getting quite a few touches this season. Beyond his obvious skill set, the Vikes have the 5th easiest schedule versus the run. This sets Mattison up with some big potential at his ADP of 150 (RB54).
More Players To Target Later In Drafts
Hold And Hope
Brian Hill ATL
One of the most pervasive topics in fantasy this season is the predicted resurgence of Devonta Freeman. Back at full health, the Falcons top back is expected to do great things in 2019. Just keep in mind that even at his best, Freeman was splitting time with Tevin Coleman. The Falcons use two running backs and that should be expected to continue.
Given the choices to spell Freeman, I think that there is a very good chance that Hill works his way up to the immediate backup role. Ito Smith has been uninspiring when given the opportunity and Qadree Ollison is a rookie in a complicated offense. Meanwhile, Hill has improved vastly as a pass catcher and is playing with a visible hunger to make an impact. There is a very good chance that he fills the lucrative second spot alongside Devonta Freeman in 2019. Pick him up at an ADP of 347 (RB98).
Darwin Thompson KC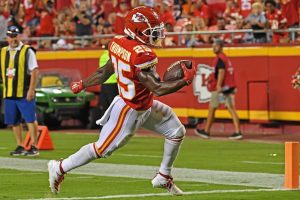 It is common knowledge that Damien Williams is the unquestioned starter for the Chiefs heading into the season. Despite this, Williams has never handled triple digit touches in his career and has been dinged up during the preseason. The most likely scenario if Williams misses time is to have Carlos Hyde fill in, but Hyde's upside is limited at this point in his career.
On the other hand, Thompson seems to have limitless upside if he can work his way onto the field. With a similar build to Devonta Freeman, there is a good chance that Thompson can hold up to an NFL workload and he has flashed in a big way this preseason. If you want a piece of the Chiefs running game without paying a premium, stash Darwin Thompson as a cheap lottery ticket. His current ADP is 178 (RB60).
If The Star Sits...
Tony Pollard DAL
One of the biggest stories this offseason has been the contract dispute between Ezekiel Elliott and the Dallas Cowboys. The most likely scenario is that Zeke gets paid and everything proceeds as expected. All it takes is a look back to Le'Veon Bell last season to see how things can spiral out of control, though. If that should happen, the Cowboys are likely looking at a committee approach to filling in for Zeke.
The signing of Alfred Morris points to Dallas preparing for a holdout of some length, even just a couple of games. If this happens, Tony Pollard is best equipped to handle the majority of the load. Morris has slowed down considerably and rookie Mike Weber is not an every down back. If Pollard gets his chance to play, he could pay off some major dividends behind a premium offensive line. His current ADP is 179 (RB61).
Malcolm Brown LAR
A year or two ago it would have seemed crazy to say that Todd Gurley's backup was someone to target as more than a handcuff. A truckload of carries and an arthritic knee later and everyone is trying to decide who will play if Gurley misses time. The hot name during rookie drafts was Darrell Henderson and he is certainly worth drafting. Malcolm Brown has become a bit of a forgotten man though, and he has been in this offense for longer.
Brown is likely the immediate backup to Gurley and would be an amazing value if he is pressed into starting duty. Last season, C.J. Anderson proved that you don't need to be a superstar to put up top tier numbers in the Rams' offense. Grab Brown at a huge discount and reap the rewards if Gurley sits. The current ADP for Brown is 205 (RB65).
Check back soon for additional insight into sleepers at WR and TE for 2019. In addition, bookmark fantasyknuckleheads.com for all of your waiver wire needs in season. Follow me @brendancole16 on Twitter for extra analysis and questions answered.