The name of the game come draft day is finding value as it presents itself.  While I will never advise anybody to shy away from "their guy", it is also essential to be open to opportunity as it reveals itself.  Drafts are fluid and in most cases assume a unique form created by the managers participating in them.  Because fantasy drafts become narratives of our opinions, often Average Draft Position becomes skewed compared to our pre-draft expectations.
Pre Draft Trend To Take Note Of
Even the most casual Fantasy manager will at the very least, glance at and familiarize themselves with where players are commonly being aqcuired.  The question most deservant of our contemplation is, "What else can be done to give myself an edge?".
What I have found to be invaluable, is taking note of players who I have seen commonly devalued in relation to their ADP.  Sometimes these are high risk/high reward players.  Often players dubbed "injury prone" fall victim to this trend.  In some cases these guys just aren't really being talked about. They have fallen wayside amid players receiving deafening offseason hype, leaving them ripe for the picking come draft day.
Why Is Identifying Value So Important?
You cannot and will not always get "your guy"!  The nature of snake drafts especially limits our ability to target specific players.  I love Saquon Barkley and Nick Chubb.  I would take that first 2 round combo in every draft if I could.  Unfortunately that is a dream scenario and realistically probably not attainable.
To be able to consistently put together a competitive roster I HAVE to identify other players and know their potential range of contributions to a fantasy roster.
One Undervalued Target Per Round (1 - 10)
For your consumption I have put together a list of one player per round (through the first ten rounds) I have seen fall after their ADP (Fantasy Football Calculator, .5 PPR).  These are players I view as capable of packing tremendous punch at or below their ADP.
Round 1 - Pick 1.08
Le'veon Bell (RB, New York Jets) - 1.08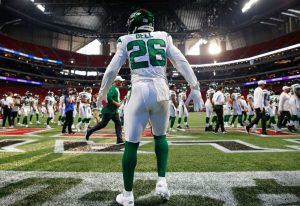 To be fully transparent, I think 1.08 is about dead nosed accurate for Lev's draft stock.  While you will find takes on both sides of the fence, managers will be able to seize value generated by the risk factor's associated with Bell.
I understand the fears.  Gase runs a notoriously slow paced offense.  Bell hasn't played football for over a year.  The Jets' offensive line is a downgrade from the crew that created holes for him in Pittsburgh.
To counter...
The Jets have a new Offensive Line Coach (Frank Pollack), added a former pro bowl guard in FA (Kelechi Osemele), drafted USC product Chuma Edoga (Tackle), and signed a veteran presence at center in Ryan Kalil.  This unit should be much improved from 2018 and to be blunt, Bell is much more capable of hitting openings quickly than Isaiah Crowell (NYJ's leading rusher from last season).
Excluding Bell's rookie year, every season that he has played over 12 games in, has yielded a top 5 finish at RB.  In 2017, he was number 2 and has not added any wear and tear to his body since that point.
In 2015, with Adam Gase as his OC, Matt Forte finished 9th at the RB position... in 13 games.  Everybody assumes Gase is a death sentence for his primary rusher but there is evidence to the contrary.  Last season Kenyan Drake finished as a top 20 running back on 173 touches.  Bell assuredly, is in line for a much higher volume of work on what I believe is a more talented roster.
With Darnold and the Jets poised to make a leap in production, Le'Veon Bell is a plus pick at number 8 overall in fantasy drafts.  Pull the trigger with confidence on a proven top producer at the position.
Round 2 - Pick 2.12
Damien Williams (RB, Kansas City Chiefs)
Williams has been a much debated topic in the fantasy community for the past few months.  His ADP has pin-balled anywhere from the mid 4th round to as early as the first few picks in the second.
Nursing a sore hammy in training camp has not provided any clarity on the situation.  For the most part, it seems as if the fantasy community is either a staunch advocate of, or greatly opposed to D Will as an early round commodity in drafts.  Seeing his price tag at the back of the second round and often slipping to the third, has me all in on targeting William's services for the 2019 season.
Damien Williams was an efficiency monster with his opportunities in 2018.  He averaged 1.46 PPR points per touch (better than Kareem Hunt), averaged 5 YPC, was elusive to the tune of a 34.2% juke rate, and did not drop one catch-able pass.
"But Carlos Hyde would do even better!", is the ballad being sung by D Will pessimists.  Unfortunately history has shown that Hyde, really never does better...
Hyde YPC average with SF in 2017: 3.9
Matt Breida: 4.4
Hyde YPC average with CLE in 2018: 3.3
Nick Chubb: 5.2
Hyde YPC average with JAC in 2018: 3.3
TJ Yeldon: 4.0
Are we seeing a pattern?  Every time Carlos Hyde has a chance to prove his worth, he has consistently shown out to be a less efficient runner.
Yes, Darwin Thompson has been great.  Still, lets not get ahead of ourselves.  Reality is that Williams will be receiving the bulk of the work in the potent KC offense.  Buy the man who's 2018 stats spread out to a full 16 game season would have been good for the 5th highest scoring RB in fantasy football.
Round 3 - Pick 3.04
TY Hilton (WR, Indianapolis Colts) - 3.04
2019 will mark Hilton's 8th season in the NFL.  Do you know how many times he has failed to rank as a top 25 receiver?  ZERO.  This includes a Luck-less 2017 campaign.
Do you know how many games he has missed in his 7 professional seasons?  FOUR.  Hilton is tough as nails.
Hilton is a forgotten king of consistency and high level producer.  Now, I dont particularly have a problem with him at 3.04.  Often though, I see him being passed up amid RB runs and falling towards the back half of the 3rd.
For anybody looking for consistency and solid floor play.  Perhaps after drafting a couple swing for the fence, volatile players in the first couple of rounds.  Hilton is the man who can ground your roster in the early stage of the draft.
I would also be optimistic for upside.  For most of his career, Hilton has been the go to guy guy in Indy.  As a result, he has commonly attracted the most apt defensive coverage at the opposing team's disposal.  With the additions of Devin Funchess and Parris Campbell, Deon Cain healthy, a platoon of proficient pass catching TE's, and a promising Marlon Mack in the Colt's arsenal... that should be much less the case in 2019.
Round 4 - Pick 4.11
Kenny Golladay (WR, Detroit Lions)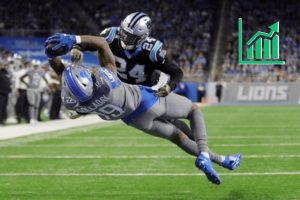 In a league where "the 3rd year breakout WR" is a consistently discussed topic, how are more people not screaming KG's name?
Matt Patricia (HC) and Darrell Bevell (OC) are touting a run heavy philosophy and especially in Bevell's case, history would affirm that sentiment.  Lets be clear though,  there are some significant differences from the Seahawks teams we associate Bevell with and the current Detroit Lions.
Perhaps most glaring of those differences is the Lions standing in the NFC North versus the Seahawks position in the NFC West during Bevell's tenure.  Seattle was in 2 Super Bowls (1 victory, 1 loss), held the Division Champion title 3 times, and enjoyed the "Legion of Boom" defense during the Bevell OC era.
Detroit on the other hand is coming off a 6 win season which put them at dead last in their division.  It's one thing to put out the preseason "we are a run first offense" rhetoric and another to stay true to it when you are the underdog playing from behind in a division filled with tough teams.
2018 was Matthew Stafford's least productive season of his career, likely in large part to him playing through a back injury.  It was the first time in 7 seasons Stafford failed to throw for over 4,000 yards.  Still, Golladay was able to post a 70 reception, 1,063 yard, and 5 TD line.  Look for KG to improve upon these numbers as a healthy Stafford's #1 target.
Round 5 - Pick 5.06
Tyler Boyd (WR, Cincinnati Bengals)
Boyd left the 2018 season ranked 17th at the WR position.  As a result, he is somehow currently barely being drafted inside the top 25.  Seems like counter intuitive thought process.
AJ Green is already going to miss a couple of games and it would be savvy to at least not count on him to be productive on the field for the first 4 games of the NFL season.  2017 first round pick John Ross is also dealing with injuries and a dubious prospect to be healthy for the season.
This leaves Tyler Boyd as the number one target in new offensive minded HC Zac Taylor's system.  Joe Mixon will likely be the offensive piece second in targets behind Boyd.  That is how void this offense currently is of receiving options.  Boyd will be contending with the likes of Cody Core, Josh Malone, Auden Tate, and Alex Erickson for looks.  At this juncture we do not even know who of that group will be lining up where or at what amount of snap share.
Even while missing the final 2 games of the season, Boyd was able to post a productive 76 catch, 1,028 yard, 7 TD season.  With a more creative HC, Andy Dalton back at the helm, and the prospect of an enormous target share ( Boyd was at a 21% - 22% target share with or without Green on the field in 2018) it should be a fairly easy sell for an increase in production.
Round 6 - Pick 6.09
Robby Anderson (WR, New York Jets) - 6.09
Alshon Jeffery, Jarvis Landry, Mike Williams, and Christian Kirk are some of the names going in Robby's vicinity of ADP.  While all listed names certainly have upside attached to them, there is one huge difference working in Anderson's favor. He is the only bonafide #1 receiving option out of that group on his respective team.
After coming off of a promising 2017 stat line, its fair to say his end season output of 50 receptions, 752 yards, and 6 TD's was a little disappointing.  Do not let that discourage you.  As the season progressed Sam Darnold started throwing with swag.  Anderson ended the season as Darnold's clear cut favorite receiving option.
Through the last 4 games of the season Anderson was targeted on average 9.75 times per contest, yielding 18.65 PPR points per contest.  Those numbers left Robby as the #1 receiver through the fantasy playoffs.
As you read in my Le'Veon Bell excerpt, the stigma that Gase is a wet blanket to his player's production is over dramatized.  In 2015, in only 9 contests Alshon Jeffrey was good for a 54/807/4 season and Brandon Marshall went bonkers with 109/1,502/14.  History has proven that when Gase has talent to work with (something Miami was clearly lacking in), it shines through the clouds of criticism.
Round 7 - Pick 7.06
Derrius Guice (RB, Washington Redskins) - 7.06
The key for my attraction to Guice is that I have often seen him fall far past this point in drafts.  Sure, Guice comes with baggage coming off of a 2018 preseason ACL tear.  He is also coated in potential that could carry your team to fantasy glory.
It is amazing that we can forget how coveted a player once was post injury.  Guice was the the 6th running back off the board taken in the 2nd round of the 2018 NFL Draft.  This actually was a sleight as many analysts had him pegged as a first round talent.
In his final 2 years as an LSU Tiger, Guice played two full 12 game seasons tallying 420 carries, 2,638 yards rushing, and 26 Touchdowns.  Guice consistently displayed upper echelon vision accompanied by scary power in his days as an SEC halfback, giving opposing defenders fits.
Likely the season will start as a time share between Guice and Adrian Peterson, with Chris Thompson being mixed in as the go to satellite back.  At 34 years of age, Peterson should cede touches as the season progresses to a hungry, talented, young runner.  Guice should be a staple for those managers choosing to attack their draft with a Zero RB approach.
Round 8 - Pick 8.12
Cam Newton (QB, Carolina Panthers) - 8.12
Crushing on Cam Newton has been a consistent offseason theme for this fantasy enthusiast.  After resuming throwing the ball in July, Cam has had positive videos and reports coming out of camp.  It would appear as if the powder is back in the cannon.  He looks to have fully recovered from the shoulder ailment that hampered his production in the second half of the 2018 season.
Hitting prime age for prolific Quarterbacks, Newton has already posted top 6 fantasy seasons 5 times in his career.  He has only rushed for under 500 yards twice and scored less than 5 rushing TD's on only one occasion.
Last year through the first 8 games, Cam was paced only behind Patrick Mahomes in fantasy points!  Some will discredit this finding with the "injury prone" label.  The truth is, that in 8 seasons Newton has failed to start in only 5 contests.  These days we are much to quick to designate a player with this red flag in what is a modern day sport for gladiators.
With the best receiving back in the league in Christian McCaffrey. A high upside 2018 1st round pick DJ Moore. The perpetually hyped Curtis Samuel, and a healthy Greg Olsen, the sky is the limit for Cam's 2019 prospects.  His current status as the 8th QB being taken in fantasy drafts will yield massive profits for those willing to invest.
Round 9 - Pick 9.01
Sammy Watkins (WR, Kansas City Chiefs) - 9.01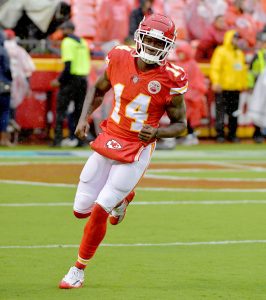 I've felt like a broken record in saying, "It is absurd Sammy is going this late!!!".  He is the second receiver on the Patrick Mahomes lead Kansas City offense!  He is having his first injury free training camp since 2015!  Did I mention he is the second receiver in the Patrick Mahomes lead Kansas City offense!?
Anybody that has played in fantasy over the years has been burned by Sammy Watkins.  This includes yours truly.  Regardless, his ADP sliding to this point is pure criminal.
Watkins was targeted over 5 times in 7 contests last season (he was only on the field for 11 total games).  In those 12 games he posted an average of 16.5 PPR points per contest.  That puts him slightly ahead of Keenan Allen's 13th overall pace.
Even if we were to only add the line of the departed (and vastly less talented) WR Chris Conley.  Watkins end season totals would have been 72/853/8.  This would be 20.1 more points on the season than the 25th ranked WR, Chris Godwin.
Even with some new additions to the defense, teams should still be able to put points up against the Chiefs.  A revitalized Watkins has all the pieces in place to be in the conversation for a top 20 WR season.
Round 10 - Pick 10.01
Emmanuel Sanders (WR, Denver Broncos) - 10.01
Of the 46 NFL players who have suffered a torn achilles injury, 24 of them never played again.  8 months after falling victim to an achilles tear, Sanders made a return to NFL action.  In Denver's Monday Night preseason game Sanders was loud.  Emmanuel rushed for 19 on an end around and had a 45 yard pass negated by penalty.  What the 10 year NFL veteran is doing, is nothing short of amazing. Surrounded by a young unproven Denver receiving corps, Sanders should become Flacco's safety net.
At this juncture in his career, Flacco's abilities could fairly be compared to those of the 2018 Denver QB Case Keenum.  Through 12 games last year Sander's was on track to finish the season with 95 receptions, 1,157 yards, and 5 TD's.  This would have counted for a 13th highest finish at the WR position over TY Hilton.  Sander's above listed ADP has him going as the 44th receiver.
Pounce while you can as his Monday Night preseason performance will likely have fantasy managers keen to acquire his services in earlier rounds.