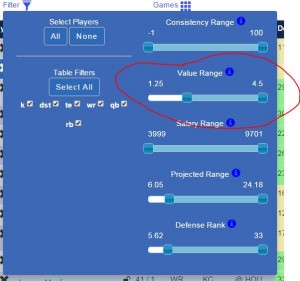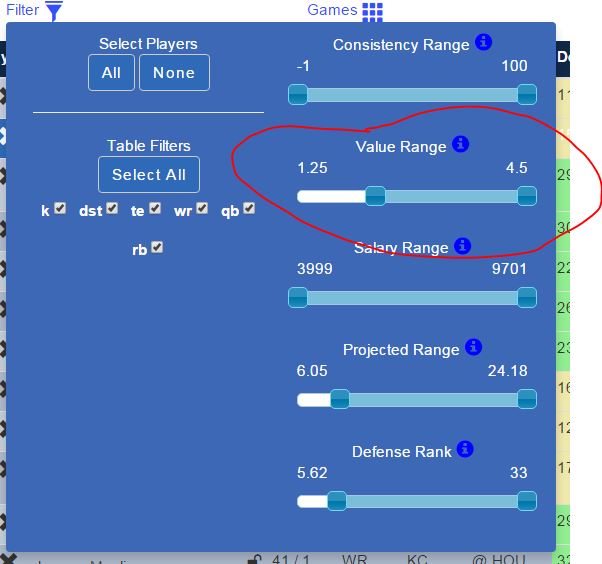 Sliding into week 9 we're going to look at the top value picks on FanDuel and DraftKings. Comparing the salary changes between Fanduel and DraftKings can help you find some other bargain candidates and Kurt's Recommended Picks and Matchups to Exploit is updated every Friday with players you'll want to consider. Before we get into our week 9 value picks, let's talk about the man versus machine exercise. Last week, in a barn burner, I emerged victorious in the Man vs. Machine ultimate death-match! Let's have a look at the scores:
Machine
QB P. Rivers
RB T. Gurley
RB C. Ivory
WR L. Fitzgerald
WR B. Marshall
WR S. Diggs
TE E. Ebron
FLEX M. Crabtree
DST Rams
171.04
Human Adjusted
QB P. Rivers
RB T. Gurley
RB D. McFadden
WR S. Diggs
WR K. Allen
WR D. Hopkins
TE ASJ pivot C. Gillmore
FLEX A. Jeffery
DST Broncos
178.14
To be fair, I had literally every advantage. First, I didn't "adjust" the optimizer to help it zone in on players with positive matchups. I went solely with the stock lineup, which, if you've read anything Kurt or I have suggested you'll of course recognize the optimizer was not made to simply click "go." It's a tool, use it as one. Second, I was also able to see the optimizer's choices and "correct" the mistakes I felt it made. This is critical, and precisely how you can maximize the benefit of the tool. Whatever adjustments you make, ultimately you should also scrutinize and modify the eventual lineups it spits out. You need to avoid obvious errors, such as lack of lineup diversity or overlooking players in new situations. Here's some tips for cash games and GPP tournaments that goes into this subject a little deeper.
Alright, on to the value picks!
Quarterback Value Picks
David Carr - OAK DK: 5500 FD: 7000
Carr has been consistently productive and comes off a week in which he just tossed four TDs against the respectable Jets defense. Amari Cooper and Michael Crabtree have proven to be a potent 1-2 punch and hey, he's only 5500! I mean the case makes itself. Rests itself? The case rests. The defense rests. But not when they're playing Carr. No resting on D, then!
Tyrod Taylor - BUF DK: 5300 FD: 7200
FanDuel prices move up and down much more slowly than Draftkings and as such, I love Taylor on Draftkings (and still have no issue using him on Fanduel). When Taylor has played, he's been studly. I think Miami is a much improved team compared to what they were at the beginning of the season, but they certainly aren't world-beaters. Now at home and with a clean bill of health, Taylor should easily justify a starting spot.
Running Back Value Picks
Jeremy Langford - CHI DK: 4000 FD: 6400
He's the workhorse. He's talented. The Chargers can be run on. Deeper analysis? Ok. The Bears are a time of possession, control the clock, long drives sort of team. That requires a lot of running. The depth chart behind Langford isn't awe-inspiring. So, a guy who's getting all the work in a high-volume, competent rush offense? Yeah. Sign me up.
CJ Spiller - NO DK: 3100 FD: 5500
I'd like to give better analysis, but it comes down to this: no Khiry Robinson. Spiller is a dynamic player and a competent pass catcher. I (and many fantasy owners) have been excited to see what happens if and when Spiller finally gets a larger opportunity in the Saints backfield, and week 9 could finally give way to our first glimpse at precisely that scenario.
Wide Receiver Value Picks
Willie Snead - NO DK: 4800 FD: 6100
After Drew Brees' massive week 8 explosion, it seemed as if he had finally and officially overcome his early season injury issues - news, of course, which bodes well for all of the Saints receiving corps. Snead is a legitimate top-20 receiver and his price is still low enough to provide value in your lineup. Use him!
Stevie Johnson - SD DK: 3200 FD: 5400
The unfortunate season-ending kidney injury to Keenan Allen has thrust Stevie Johnson into the spotlight of one of the NFL's highest-volume passing offenses. While I don't expect Johnson to slide right in and immediately consume all of Allen's target-monster-ness, I do think a healthy share of Philip Rivers' gunslinging will be directed his way. At 3200, he's a steal.
Brandon LaFell - NE DK: 3200 FD: 5200
LaFell's usage has gone up from week to week since his return from injury and this is the matchup I've been waiting for. The Patriots game plan for specific opponents and the Redskins, already horrible against the pass, now have a banged up secondary, to boot. Anyone on the field with Tom Brady 80% of the time is worth a spot in your lineup and against a bottom-5 defense, LaFell has a chance to explode.
Tight End Value Picks
Austin Sefarian-Jenkins - TB FD: 2800 DK: 5200
Just another reminder: if he's active, you use him. The Giants just gave up 9 receptions for 147 yards and a score to Benjamin Watson, and ASJ is significantly more talented. Keep an eye on the practice reports, but this could be the week he's back in action.
Heath Miller - PIT DK: 2700 FD: 5800
Ben Roethlisberger is back and oh, yeah, he's playing the Raiders. League-worst against the tight end position. Do it.
DFS Team Defense
If they can do it against the Packers they can do it against anyone. The Broncos D/ST should be in your lineup every week. For week 9 really like the Falcons D/ST against the San Francisco Blaine Gabberts and the Saints D/ST against the Titans is also a very reasonable low-cost option.
Best of luck! As always you can tweet me @pkaragianis