Fantasy football teams are mostly drafted at this point, but it isn't too late to make a change. If you had a bad draft, do not let your pride get in the way of being proactive. Even great teams can often benefit from a waiver wire tweak. This is the time of year to find difference makers for next to nothing.
(All players mentioned in this article are owned in less than 50% of Yahoo leagues.)
Quarterback
Blake Bortles JAC Owned – 34%
First of all, I realize that Bortles is not a very good real life quarterback. Luckily there are no points awarded for pretty throws or smart decisions made. When it comes to yards and touchdowns, this guy manages to pile them up every season. He has been a top 15 quarterback in each of the past three seasons. I admit that I would not feel comfortable if Bortles was my only option to start at QB, but he is a very nice matchup based option. The nicest part is that he can be had for next to nothing.
Eli Manning NYG Owned – 28%
Last year Manning fell off the map, despite previously being a yearly lock for passable statistics. This season, the Giants have an amazing array of weapons at the disposal of the wily veteran QB. If he cannot make something happen with OBJ, Saquon Barkley, Sterling Shepard and Evan Engram then Eli is washed up. I think that there is a good possibility that turns out to be the case. For zero investment why not find out, though? Give the old timer a couple of weeks and he could be a pleasant surprise for fantasy owners.
Running Backs
Plenty Of Reps
James White NE 48% Owned
In competitive leagues, particularly PPR, White is not going to be available. He is going to be one of the go to guys for Brady while Edelman is out. The Patriots offense can be tough to decipher at times, but James White gets his touches more often than not. Among running backs, White was ninth in targets and tenth in catches last season. If he is out there, get him on your team right away.
Matt Breida SF 47% Owned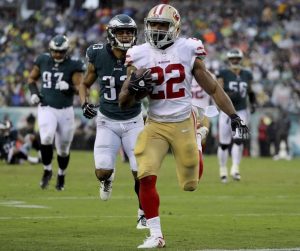 This listing would be for Alfred Morris, but he is almost 70% owned already. I believe that Morris will be the back to own in San Francisco, but Breida will be a solid contributor as well. Since Morris is not much of a pass catcher, Breida will fill that role while also taking some rushing plays. If not for his diminutive size, he would be a nice bet to take over the lead role. He had a superlative SPARQ score and has flashed on the field at times. You could do much worse than stashing Breida in a bench spot.
Jordan Wilkins IND 28% Owned
This might be the best chance at finding an immediate starter on the waiver wire. Marlon Mack has never been effective and now he is hurt on top of that. Nyheim Hines has amazing ability, but it has not shown through in the preseason. Of the three, Wilkins is built the most like an every down back and it looks like he will get a shot. Despite little running room in the preseason, Wilkins made some things happen in the passing game with five catches (on 5 targets) for 57 yards.
Just In Case
James Conner PIT 35% Owned
Le'Veon Bell has not reported yet for the Steelers and nobody is sure what will happen. It seems most likely that Bell comes in after training camp is done and plays week 1. If he continues to hold out for a deal, however, Conner becomes extremely valuable. I have grabbed the backup in several leagues just in case and I advise the same to anyone with bench space. Even if Bell reports, Conner may play quite a bit in week 1 while the Steelers' star gets up to game speed.
Wide Receivers
Solid Chance At Success
Allen Hurns DAL 36% Owned
There is a solid chance that Allen Hurns will end up being the top wide receiver on the Cowboys this season. That could end up like being the nicest car in the junkyard, but even spare parts have value. In the past Hurns has been a 1,000 yard receiver with Jacksonville. He should see a good volume of targets and may flirt with that mark once again. I think that Gallup may be the most talented receiver in Dallas, but I am not ready to bet on a rookie. Take a shot with Hurns; I think his floor is a very cheap WR3.
John Ross CIN 21% Owned
Everyone knows that Ross can fly, but can he play wide receiver? His first round pedigree and preseason highlights suggest that perhaps he can. There is little reason to be sold on a breakout season yet, but the potential is enormous. Playing across from A.J. Green is going to free up a lot of real estate for this young speedster. As a waiver pickup, he is solid gold (particularly in standard leagues).
John Brown BAL 18% Owned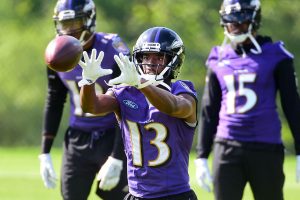 Here is a guy with the tantalizing credentials of both of my first two picks. Brown has had a 1,000 yard season in the NFL and he is also a flat-out burner. His problem has always been health and, for the moment, he is looking strong. While Joe Flacco is always a question mark, Brown could be ready for a big season at zero cost to fantasy owners.
Insane Value
Quincy Enunwa NYJ 4% Owned
The Jets' offense is going to surprise some people this year. There will be bumps due to the rookie quarterback, but that receiving corps is very good. Robby Anderson has the talent of a number one receiver, although sometimes he seems like a head case. Jermaine Kearse is solid and reliable and Enunwa is a big physical presence in the middle.
Considering the fact that the Jets do not have a good pass catching tight end, Enunwa should see a lot of looks this years. He can move the chains and play in the red zone so Darnold may quickly come to lean on him. Almost nobody is drafting this guy so go grab him and enjoy.
Tight End
Ben Watson NO 41% Owned
Conventional wisdom would tell you that drafting a tight end that is closer to 40 years old than 30 is a bad plan. Watson seems to defy convention however, putting together a strong season (TE11) at age 37.
Drew Brees has apparently shared the fountain of youth with Watson and there is a solid chance that he replicates his performance this year. Being the top tight end in the Saints offense is a nice place to be, so Watson could be a TE1 this year. Grab him if he's out there.
Ricky Seals-Jones ARI 26% Owned
One of the trendy waiver wire tight ends over the past year or so has been Seals-Jones. He came out of nowhere to start producing for the Cardinals and now he has the starting job. There is zero chance that he is going to win you a fantasy league, but he should be startable. If you would prefer to invest your picks/auction budget elsewhere, Seals-Jones is a cheap option to man the tight end position.
The season starts on Thursday so get your acquisitions made and lineups set. If you have questions or want some extra content, follow me on Twitter: @brendancole16.