With the 5th pick in the 2015 NFL Draft the Washington Reskins selected Brandon Scherff, Gaurd. Here's our analysis and some video highlights of Brandon Scherff. Brandon is a serious run blocker but needs to improve his pass protection. Washington is wise to build from the inside out, going with a top 5 pick for your interior is always a good call.
Highlights
Analysis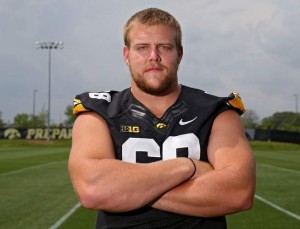 STRENGTHS Weight-room star who can lift a house. Powerful run blocker with exceptional power in hips and legs. Moves well laterally and rarely allows defensive ends to set edge against him. Consistently gets push. Rolls hips under him at contact and will bring feet with him. Recognizes twists and delayed blitzes. Gets into set position with flat back when delivering punch. Respectable change of direction in pass pro and on second level. Shows second effort and recovery ability in pass pro. Able to hit moving targets in space. Swings hips into position in cut-off blocks. Improved cut-off blocking from junior to senior year. Exhibits composed, efficient movement.
WEAKNESSES Will default to sumo-style power push rather than leg churning at times. Not a grab-and-control pass protector. Opens the gate earlier than you would like against edge rushers offering two-way goes. Tightly wound lower body with average bend. Sometimes gives one-shot effort on second-level blocks, allowing his man back into the play. Has dominant finishing traits, but not a consistent finisher of blocks. Would love to see more fiery play demeanor from him.