How excited are you that week 1 of the 2016 NFL season is finally upon us? As usual I'm cranking out my optimal lineups for Fanduel, DraftKings and Yahoo. These optimal lineups are for cash games, 50/50s and head to head games. Enter head to head slates if you're a high volume player. Enter 50/50 slates if you're low volume. Let's take a look at the math behind this concept. If you enter 10x 50/50s with a lineup that finished in the top 50 percent you would win all 10. Conversely, if you entered 10x 50/50s and finished in the bottom half, you would lose all of your 50/50s. But that same bottom half lineup entered into 10x head to heads could return you a hand full of wins. So what's the bottom-line? There is more risk in low volume head to heads than low volume 50/50s. There is more risk in high volume 50/50's than head to heads. Here's a good guideline for you to start the season:
10 games or less: 50/50's are fine.
11 games or more: Head to heads start to make more sense.
Both rules apply when playing multiple slates with the same lineup. If you vary your lineup throw this concept out the window. We could talk for days about this topic but I digress.
Man, I sure can get long winded and off topic, sorry about that! Let's talk about my workflow then look at the optimal lineups for DraftKings, Fanduel and Yahoo.
My Cash Game Lineup Workflow
When constructing optimal cash game lineups I use our optimal lineup builder. I go through a series of steps to ensure I have the best cash game lineup. Those steps are as follows:
Sort by consistency (ascending - lowest first) and remove most of the players rated 20 or lower, use your judgement for each removal.
Sort by points (ascending) and remove all positions projected for less than: QB - 18, WR - 15, TE - 9, RB - 16. Again, use your judgement based on the pool.
Sort by FPAR (fantasy points allowed ranking) and remove players facing a top 5 defense, excluding some studs, use your judgement.
Sort by Vegas and remove the lowest over under (OU) games (flip this for defense). I'll leave some mid range OU games when the spread is favorable for the position. For example, 45/-7 is fine on DraftKings for WR because playing from behind means more pass attempts ergo more receptions.
Use your judgement. This means recent information (injuries etc) can impact your gut call. For example, Spencer Ware and Christine Michael are projected starters in week 1 but the projections/stats don't fully reflect that estimation. You can pour over NFL stats too, anything to get an edge.
RADV and PADV are discussed here and used as an aid when estimating game-flow.
Pay up for wide receiver and don't stack QB/WR for cash games. Stacking is risky because if the QB suffers so does your WR.
FanDuel Optimal Cash Game Lineup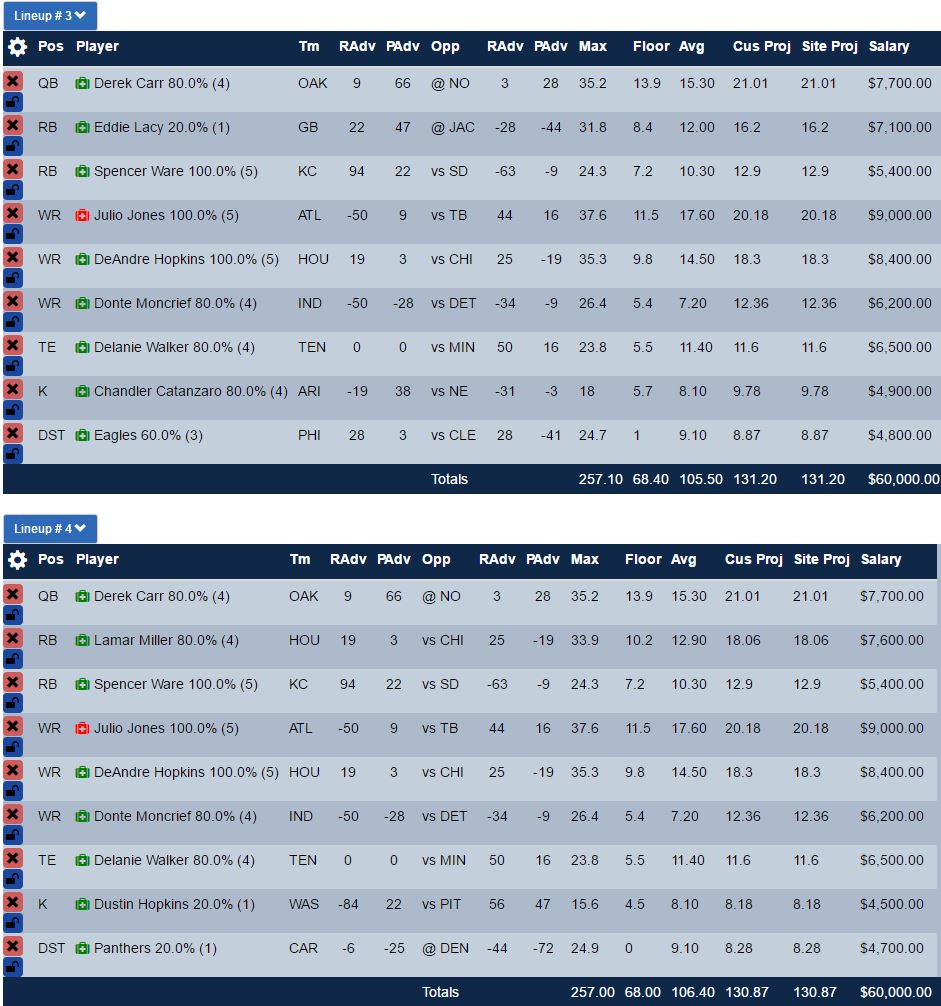 These cash game lineups for FanDuel nets us around 130 projected points. This is my target for cash games on FanDuel. Ware, Miller and Lacy are some gut check picks where I stepped outside the box and ignored my workflow. Both players should do well and be playing with a lead therefore running more. At defense we have the Panthers versus who at QB and the Eagles versus the horrid Browns. Because of our workflow, the optimal lineup tool did a good job focusing on high priced wide receivers and players in plus match-ups.
DraftKings Optimal Cash Game Lineup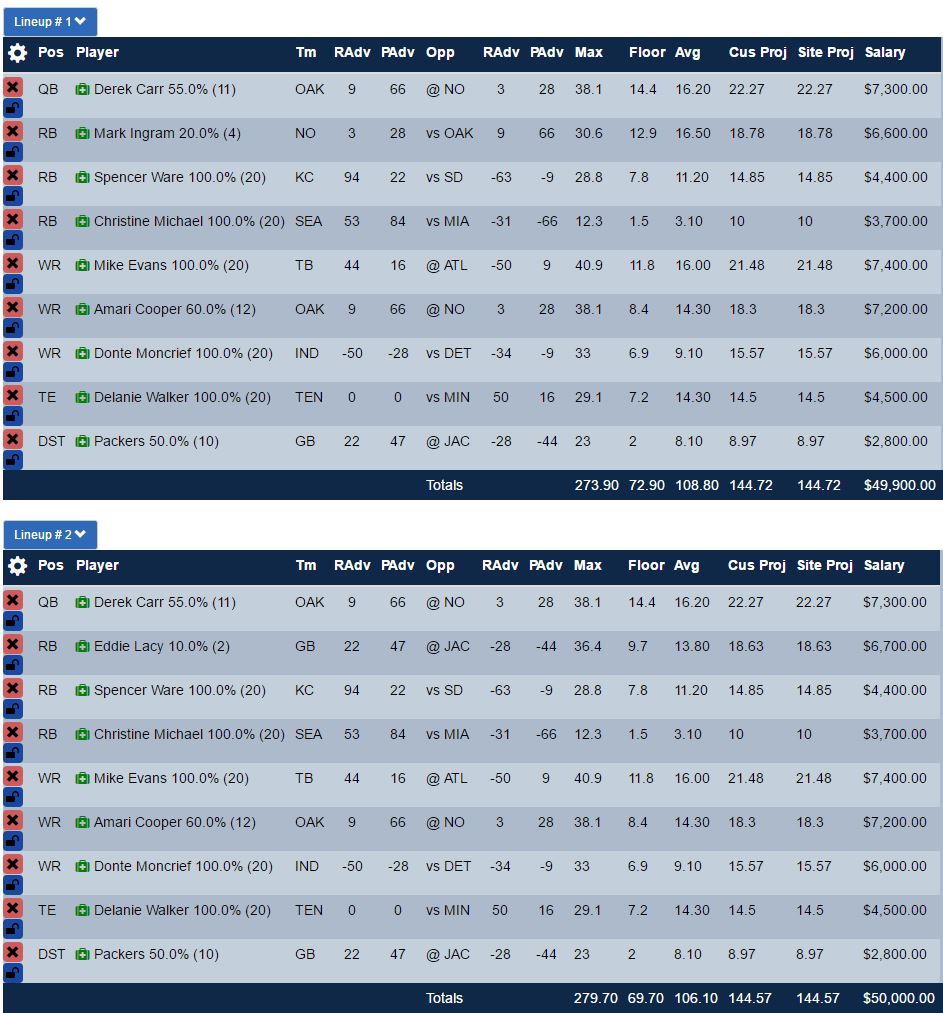 It's sounding more like Rawls may play. I'm going to update the DK lineup to remove Christine Michael, way to risky at this point for a cash game.
Ware, Michael and Lacy are some gut check picks where I stepped outside the box and ignored my workflow. Doug Martin and Deangelo Williams would be solid cheaper replacements. Don't punt on RB (like a 3rd down back) because if the game flow doesn't go as planned you're screwed. Save the punt plays for GPP tournaments.
Yahoo Optimal Cash Game Lineup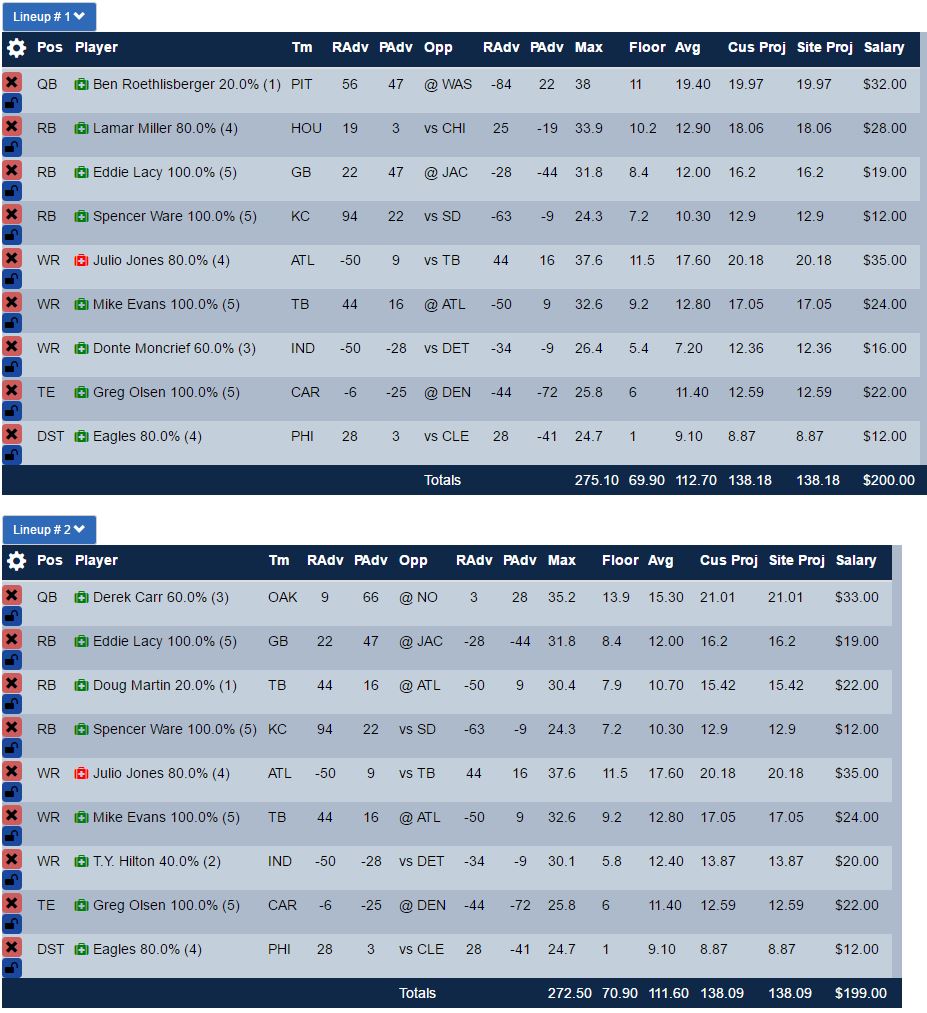 Yahoo DFS doesn't get a lot of fan fair but their interface and slates are all above board. You can even sneak in some low ownership tournaments from time to time. I also feel there are some gaps in pricing that can be taken advantage of. Use our salary differential report to compare weekly price swings. Just like before I'm getting a little risky at RB, no big deal it's my money. Again I'm looking to some Colts receivers for major production because the Lion's should shred their secondary (it's depleted like NO) enough to make this a high scoring affair.
Bonus: For those of you trying to "safely" save some cash here's some of my top low price picks this week. If you use two or more (please no) of these guys you may as well hit the triple ups!!
Dak Prescott, Dal, QB
Spencer Ware, KC, RB (probably the safest in this group of knuckleheads)
James White, NE, RB
Christine Michael, SEA, RB
Marvin Jones, Det, WR
Corey Coleman, Cle, WR
Will Fuller, Hou, WR
Jesse James, PIT, TE