One more week of games in the books and one more reminder that football is an extremely volatile sport played by full-sized men who get paid to pancake each other into the ground. We had three -- count em' three -- separate brawls go down on the gridiron this past weekend, the most outlandish of which featured the famously easygoing A.J. Green, who straight up MMA-ed Jaguars cornerback Jalen Ramsey in the middle of the field.
That altercation highlighted how even the most level-headed players can make extremely poor choices when they let their frustrations get the best of them. Green's Bengals are currently 3-5 and have little hope of reaching the playoffs.
And maybe right now you're feeling a lot like A.J. Green. Maybe your fantasy team is also 3-5 and you're trying to claw your way into playoff contention. If that's the case...go Green on the rest of your season. Put it in a rear chokehold, ground-and-pound it, and then go back for seconds.
Your season's not over. Keep fighting. And keep looking for the hidden nuggets that will take you to a championship.
Quarterback
Ryan Fitzpatrick, TB (vs. NYJ)
Hey look, a Ryan Fitzpatrick revenge game! (Then again, what game on the schedule doesn't qualify as a "revenge game" for the league's ultimate journeyman?) Does the former Jet still some Fitzmagic left in his Fitzpocket?
The emotions mean less than the stats here, however, as it's the Jets' woeful secondary and Fitzpatrick's big arm that secures his spot on this list. Expect this to be a high-scoring affair, as both defenses are downright abysmal and will give up big plays by the bunch. The Jets defense has given up more touchdowns through the air than any other team, and their pass rush is nothing special. The one thing working against Fitzspastic is his uncanny ability to throw interceptions in the most impossible situations, and the Jets defense -- who currently rank 3rd in total takeaways -- might be able to exploit that. Still, he should make up for it with sheer yardage and TDs, even without the aid of Mike Evans, who will serve his suspension this week.
Running Back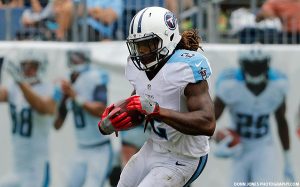 Derrick Henry, TEN (vs. CIN)
While many likely feel that Derrick Henry's presence in the Titans' backfield has been a thorn in the paw of Demarco Murray's fantasy owners, the reverse is also true. These two just can't get out of each other's way to make it easy on us poor fantasy football souls. They're nearly identical in terms of carries (Henry has 40 to Murray's 39), but the younger back has out-gained the veteran by more than 50 yards and a touchdown.
And now it seems Murray's ridiculous injury history is finally catching up with him, which should force him into a limited role this Sunday. This might finally be the week that Derrick Henry's preseason hype starts to catch up to his actual role.
Wide Receiver
Robert Woods, LAR (vs. HOU)
If Robert Woods isn't owned in your league, you pick him up! You pick him up right now! Owned in just 53% of ESPN leagues, Woods has become THE name in consistency at the wide receiver position. Although he's only posted 100+ yards once this year, he's had 6 games with at least 50 yards and 3 receptions.
His red zone target share is also trending upward just in time for a matchup with the banged-up Houston defense that just gave T.Y.  Hilton his best game of the year. Jared Goff spreads it around more than Jacoby Brissett, but Woods still has tremendous flex value this week.
Tight End
Ed Dickson, CAR (vs. MIA)
The countdown to Greg Olsen's return keeps on ticking down, and the jettisoning of Kelvin Benjamin freed up a handful of big man targets. This week against a Miami defense that's given up the 5th-most fantasy points to tight ends, Dickson is in his best spot of the season. Teammate Curtis Samuel flashed a little last week when trying to fill Benjamin's role, but he's not quite there yet. Grab Dickson at the peak of his fantasy relevance and don't look back.