Fantasy football is well into the second half of the regular season and teams are still losing stars. For those of you who picked up Dion Lewis earlier in the season, you now have a hole to fill on your roster. There are fewer options than in the early weeks, but opportunities still exist on the waiver wire. Read on and find out how you can bolster your team for the playoff push.
Week 8 Recap (Standard League Points)
• Deangelo Williams PIT - 34 pts
• Karlos Williams BUF - 23 pts
• David Cobb TEN - DNP
• Recommend Against: 49ers Running Backs - Draughn: 8 pts
Deangelo Williams was a no brainer and should be a stud from here out, although the uncertainty around Roethlisberger hurts him. Karlos Williams was huge as LeSean McCoy left with an injury. Long term Williams is viable, but Thursday night against the Jets he has no business in lineups. Cobb will be added to the 53 man roster next week versus Carolina; wait a week to start him. The Niners were less terrible than expected but still avoid them.
Teams On A Bye Week 10: Atlanta, Indianapolis, San Diego, San Francisco
Week 10 Waiver Wire Picks: Quarterback And Tight End / Wide Receiver
Week 10 Picks
James Starks GB
I recommended Starks two week ago, suggesting that he could be the Packers running back to own. I am going to stand by that statement as Lacy has repeatedly failed to produce and is losing reps at an alarming pace. Starks played well against one of the best defenses in the league and should be a weekly play as a RB2 or Flex. I really do not have any good answers for Lacy owners as far as what to do with him. My only recommendation is to keep him out of your lineup if you have any viable alternative.
James White NE
Standout running back Dion Lewis was lost for the season in week 9 and someone is going to need to step up as a pass catcher out of the backfield. The consensus at the moment is that White is the most likely player to step into this role and that makes him worth a pickup, particularly in PPR leagues. LeGarrette Blount is obviously the back to own in New England, but he does not catch passes so there will be some volume of plays for someone else. Grab White and see how his playing time pans out before relying on him.
Ahmad Bradshaw IND
The Colts are on a bye and Bradshaw does not have a huge role in this offense at the moment. As Indy gets their offense in gear, it appears that Bradshaw should see his role as a passing down back increase. He has historically been productive, even in time shares and is worth a roster spot in most leagues. If Gore were to be injured, Bradshaw immediately becomes a must own, but for the moment he is a flex play.
Drop Him: Alfred Morris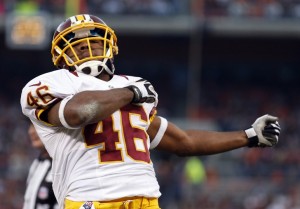 WAS
I cannot fathom why Morris is still owned in almost 60 percent of leagues right now. He is a secondary or tertiary option in a terrible run game. The last time he scored double digit points was week 1 and he has scored one or zero points four times. I know it is hard to accept the immediate dropoff, but your roster spot would be better spent to hold onto a backup kicker.