The battle of attrition that is the NFL season has ground out a lot of stars. Some fantasy teams are looking the and the week 10 waiver picks are here with help. Some positions are looking very thin, but other spots still have a lot to offer. Check out the full waiver page here for previous week's picks as well.
Quarterback
10 Team Leagues
Josh McCown NYJ 35.9% owned
It has been a subpar season for the Jets, but it might as well be a Super Bowl run compared to expectations. Many people thought that Gang Green might not win a game all year. Instead, they are mathematically in the hunt for a playoff spot. A large part of that success has been the play of Josh McCown. He has only had two bad games all year and his fantasy scoring is extremely steady. A juicy matchup with Tampa Bay makes him a great start for week 10. As thin as quarterback is this season, McCown may even be worth holding on the bench through his bye week.
12 Team Leagues
Ryan Fitzpatrick TB 0.6% owned
As a real-life quarterback, Ryan Fitzpatrick has repeatedly proven that he is not the man for the job. In fantasy, he is a capable thrower that has big time targets and will always be behind. That makes for a very lucrative fantasy starter, when he can remember which color jersey to throw at. Turnovers are going to be a problem, but the volume of throws and quality of receivers should keep Fitzmagic in the black.
Running Back
10 Team Leagues
Damien Williams MIA 23.8% owned
It was clear in the first game after Jay Ajayi was traded that Kenyan Drake is the early down back. Williams still works in on rushing downs and handles nearly all passing down work, though. There should be enough work for both backs to get touches, but the offense is not as good as they looked in week 9. It will probably be a toss-up which back has a better stat line weekly. For a team that plays from behind a lot, the passing down back is probably a good player to employ however.
12 Team Leagues
Dion Lewis NE 36.3% owned
The ownership numbers for Lewis are way down following the Patriots bye week. This could be the perfect time to scoop up a potential difference maker for the stretch run. Lewis is the most talented back on the Patriots, but he will share the load. There is a four way backfield share that will not be going away. When it comes to deploying a Patriots rusher, it becomes important to see who will do the most with limited touches. Lewis probably has the best chance to break off a long play on a weekly basis.
Orleans Darkwa NYG 41.3% owned
There is little doubt that Darkwa is the Giants lead rusher at this point. There is some doubt as to how valuable that title is. New York tends to be down by multiple scores in most games. Since Darkwa has not produced more than 13 receiving yards in a game, it is safe to say he is not a threat outside of rushing. Still, he should see double digit carries in most games. That comes with a chance that he reaches the end zone.
Wide Receiver
10 Team Leagues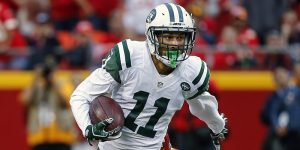 Robby Anderson NYJ 45.7% owned
Like Josh McCown listed above, Robby Anderson has been playing high level football. He has scored in 3 straight games and has been at or near double digit fantasy points in each of those games. Right now, Anderson is WR14 in ESPN standard scoring. His ownership numbers need to rise in accordance with his performance.
Corey Davis TEN 32.5% owned
The window to acquire Davis is likely closed in competitive leagues. If he is still out there, then he at least needs to be on a roster. He is a risky start until he gets up to speed, but the potential is huge. If Davis and Mariota get on the same page, then big plays are sure to follow.
12 Team Leagues
Robert Woods LAR 26.3% owned
The emergent of Jared Goff as a viable quarterback has boosted Woods greatly. He has caught at least 4 passes in each of the last four games. Touchdowns cannot be relied upon, but Woods is clearly one of the top two targets for Goff. PPR leagues are ideal for deploying Woods, but he has some utility for standard league players as well.
Jordan Matthews BUF 22% owned
The numbers for Matthews have been awful so far. This is because he cannot handle the role of number one receiver. He proved it in Philadelphia and now again in Buffalo. The arrival of Kelvin Benjamin and the return of Charles Clay will open things up for the Bills passing game. When he is not relied upon as a top option, Matthews should start to produce like one. If he and Tyrod Taylor can be in sync on passing routes, better matchups should mean better results.
Tight End
10 Team Leagues
Charles Clay BUF 20.9% owned
It may or may not be time for Clay to return in week 10. Either way, he is close to returning to the field. Tight end is so thin that Clay looks like a high end option based on his rapport with Tyrod Taylor. Kelvin Benjamin may be the top receiver on the depth chart, but there is no substitute for experience. Clay has played in this passing game for multiple seasons and should come back ready to produce right away.
12 Team Leagues
David Njoku CLE 3.6% owned
It is difficult to see in the numbers, but Njoku is starting to get more targets. He led the team with 7 targets in week 8 and is one of the better offensive options currently. The problem now is that there isn't a quarterback capable of making those targets catchable. Things should improve as Corey Coleman works his way back and things open up slightly for the offense. At this point Njoku is a very risky play, but he could be a starter by the end of the fantasy season.
Check back for more actionable fantasy advice throughout the week. If you want even more content, follow us on Twitter: @_knuckleheads and @brendancole16.