A couple of teams really stood out from the pack in terms of wide receiver play in week 10 (Pittsburgh, New York Giants, Arizona, Seattle, Washington). This has been a weekly theme and predicting the big time teams of the week can lead to a lot of fantasy points for your team. Although most of the points were big name players, there were a couple of outliers who could have been grabbed from the waiver wire (Doug Baldwin, Dwayne Harris, and Jamison Crowder). In an attempt to call the big players for week 11 and beyond, here are this week's waiver wire picks.
Week 10 Recap (Standard League Points)
• Cole Beasley DAL- 0 points
• Devin Funchess CAR - 4 points
• Robert Woods BUF - 1 point
• Stash and Save: Victor Cruz NYG - Done For Season
Well that was a rough week for the waiver wire picks. Cole Beasley laid an egg, as did the rest of the Cowboys' offense. Tony Romo should be back next week and it may be worth holding onto Beasley for the moment. Funchess was not a big part of the offense, but I would keep him for now as he is potentially the best healthy wideout on the roster. Woods had a rough week and is probably too unpredictable to deserve a roster spot. Victor Cruz announced that he will have season ending surgery; his year is done before he ever played a snap.
Week 11 Bye Week Teams: Cleveland, New Orleans, New York Giants, Pittsburgh
Waiver Wire Picks Week 11: Quarterback And Tight End / Running Back
Week 11 Picks
Danny Amendola NE
Julian Edelman is done for the year and New England's pass catching options continue to dwindle. Tom Brady likes to have a possession receiver to go to a lot during games and Amendola should fill that role for the moment. Amendola does not possess the same level of skill as Edelman or the rapport with Brady, but what he does have is opportunity. Keep in mind that Amendola has historically been injury prone, but for the moment he is a top-20 wide receiver. Pay as much of your FAAB budget as necessary to snag him for the playoff run.
Jamison Crowder WAS
Crowder has consistently been able to make catches since week three of this season. Despite the thought that the return of DeSean Jackson could cut into his productivity, Crowder has come out on the long end of that equation. Cousins appears to have a good read on his routes and the points should keep coming. Next week versus the Panthers the Redskins may struggle on offense, but after that there are some easier matchups coming.
Terrance Williams DAL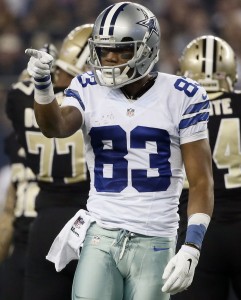 Williams was a popular candidate to have a breakout season going into 2015 and that has not happened, to put it mildly. In week 11 Tony Romo is scheduled to return and things should change for the Cowboys offense. Dez Bryant should be able to get back on track and that will open things up to take a few shots downfield to Williams. Matt Cassel never throws downfield which leaves few points for the resident deep threat. Grab Williams now that his owners have given up and give your receiving corps a boost heading into the playoffs.
Watch Or Stash: Torrey Smith SF
Smith has been putrid this season, mostly due to the horrible quarterback play for the Niners. While he does not have an all pro signal caller at the moment, he does have a more accurate qb slinging the ball around. If Gabbert and Smith can get in sync, he could break a few long ones before the season is over.