The fantasy football playoffs are looming and waiver options are dwindling. There are still some quality names out there as well as newcomers that can help your team, though. Check out the week 12 waiver wire picks and finish your playoff push on a high note.
Quarterback
Jameis Winston TB Rostered: 10%
I don't love the play or attitude of Jameis Winston, but the guy has weapons on offense. He starts for a team that features Mike Evans, DeSean Jackson, O.J. Howard and a supporting cast of receivers better than most Cowboys starters. Add in the fact that the 49ers specialize in making opposing quarterbacks look good and this is a recipe for success. Winston needs a confidence boost now that the Bucs have made him the starter (for this week).
Lamar Jackson BAL Rostered: 22%
You may be thinking that Lamar Jackson did not look like he can play the quarterback position. I would agree with you if you were thinking that. He CAN, however, score a ton of fantasy points until he gets hurt from running twenty something times per game. For the short term, he is a great play against a Raiders defense that can't stop anyone.
Check Out Past Waiver Wire Picks
Running Back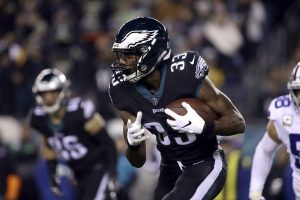 Free Josh Adams
Josh Adams PHI Rostered: 28%
There is a solution to the Eagles problems at running back on their roster right now. My hope is that Doug Pederson will recognize that and start feeding Adams some real touches. The rookie has a combined 100 yards and a touchdown over the last two weeks on just 14 carries. If he starts seeing steady touches, then his 7 ypc average over the last three games will translate to big things.
Who?!
Gus Edwards BAL Rostered: 0.2%
If you had not heard of Edwards before week 11, you aren't the only one. He is an undrafted rookie out of Rutgers and has seen just a few carries prior to Sunday. Since he was familiar working with Lamar Jackson in the zone read, Edwards saw extensive work and burst onto the scene in a big way. He piled up 115 yards and a score on 17 carries. There is reason to believe that he will keep getting work going forward as long as Jackson is running the offense. Grab Edwards and you could have yourself a late season lottery ticket.
Post Hype...Decent
Royce Freeman DEN Rostered: 49%
The Broncos backfield rightfully belongs to Phillip Lindsay, but Freeman still has a share. He is not the game breaker that many had thought him to be in the preseason, but Freeman is still a bulldozer and a solid red zone option. There are much worse pickups for standard leagues.
PPR Special
Elijah McGuire NYJ Rostered: 17%
There are not many times that the Jets hold a lead, so their running backs are not super valuable. McGuire does have a slightly more valuable role as a pass catcher, however. In the last two games, McGuire has caught 6 passes for 64 yards to go along with his modest rushing totals. He has some big play ability, so if he breaks one of these catches for a big gain he will earn flex status quickly.
Wide Receiver
Catching Fire
Anthony Miller CHI Rostered: 49%
The Bears offense has been up and down, but lately they are mostly up. Miller has been a big beneficiary of this as he gets more of Mitchell Trubisky's attention. He has scored four times in the last six games and had multiple catches in all but one of those contests. This is a stark contrast to the beginning of the season, where Miller scored a total of 20 fantasy points in the first four games. This is a player on the rise in an offense on the rise; win-win.
Boom Or Bust
D.J. Moore CAR Rostered: 6.8%
This week, a popular Twitter trend among analysts was bashing D.J. Moore. It all made so much sense, until Moore broke out for 7 catches 157 yards and a touchdown. He is certainly a raw talent, but Moore can explode in any given game. Over the last 4, he has 247 yards combined in two games and 36 yards combined in the other two. He will certainly give fantasy managers indigestion, but if you have a pretty deep team Moore can be the home run hitter to put you over the top.
Tre'Quan Smith NO Rostered: 13%
See: Moore, D.J.
One More Rookie
Christian Kirk ARI Rostered: 26%
The season is coming to a head and the rookie receivers are figuring things out. Kirk is one more from the class of '18 that can help your fantasy squad. He is fairly touchdown dependent, but also has a better target share than some of the burners like Moore and Smith. The ceiling is not as high for Kirk, but he is a nice consolation prize if you need a flex player.
Tight End
Low Ceiling, But Reliable Volume
Chris Herndon NYJ Rostered: 6%
It is probably a year or so too early to buy heavily into Chris Herndon. He still does have the potential to fill the tight end spot for the moment though. He is seeing a decent target share, it is just a decent share of a very bad offense. Given the options that are available in more than 50% of leagues, Herndon is easily the most likely to get you double digit points in a given week, even playing for the Jets.
Red Zone Threat (Heading Into A Bye
Gerald Everett LAR Rostered: 3%
The recent usage may be an anomaly, but Everett is seeing some decent looks in the red zone. Goff has been looking for his tight end and they've connected twice in the last two games. Of course, the Rams have a bye week coming up so it remains to be seen if the connection cools off over that time. At a position devoid of depth, a player that is fairly likely to see a target in the end zone could be valuable in the playoffs.
Come back tomorrow and check out the Knuckleheads weekly positional rankings before the action kicks off on Thanksgiving. Be sure to follow me on Twitter for extra insight and analysis, or just to get some lineup questions answered: @brendancole16.