Bye weeks are over and the playoffs are looming, if your team is close then the time is now to lock up a spot. Another high level QB was lost to injury in week 11 as Joe Flacco's season came to an abrupt end. His backup is not going to be worth a pickup in any league, but there are still some very solid options for the coming week. Tight end has a bit less to work with, but the matchups always lend someone to being starter-worthy. Read on and see which players owned in less than 50 percent of leagues could help you get a win in week 12.
Week 11 Recap (Standard League Points)
Quarterback
• Tony Romo DAL - 15 pts
• Alex Smith KC - 15 pts
• Recommend Against: Kirk Cousins WAS - 8 pts
Tight End
• Jared Cook STL - 3 pts
• Austin Seferian-Jenkins TB - DNP
• Vernon Davis DEN - 6 pts
Better days are ahead for Romo, who was knocking off some rust in this game. Smith underperformed and was little more than a matchup based streamer anyway. Cousins turned it over three times, but did connect with Desean Jackson on a long TD which could bode well for the end of the season. Jared Cook did nothing and is droppable. Seferian-Jenkins is still worth a stash…in case he ever plays again. Davis looks like he could become a weekly option if Osweiler keeps the starting job in Denver.
Waiver Wire Picks Week 12: Running Back / Wide Receiver
Week 12 Picks - Quarterback
Matt Hasselbeck IND
Andrew Luck's timetable seems like it is going to be on the longer side of the 2-6 weeks originally mentioned. The Colts have a very favorable schedule coming up and Hasselbeck has acquitted himself nicely as a fill-in starter. I'm thinking that as long as he can stay healthy, Hasselbeck has a floor of about 16 points for the rest of the games that he starts. If a couple turn into shootouts, he could easily work his way into the mid-twenties in fantasy points.
Brock Osweiler DEN
Osweiler played well as a fill-in for Peyton Manning and he could have the job for a while, if not permanently. Next week there is a daunting matchup against the Patriots, but beyond that the Broncos face the Chargers, Raiders and Steelers. Those weak secondaries could spell big weeks for the Denver quarterback. Whether or not that will be Osweiler remains to be seen.
Jameis Winston TB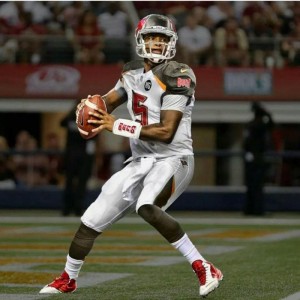 Winston is not going to repeat his week 11 performance anytime soon. He has been a steady source of points for much of the year, however. If nothing else, Winston has a game versus the Saints on the schedule and there is a good chance he will rack up points in that one.
Week 12 Picks - Tight End
Vernon Davis DEN
This is not the first time that Davis has been mentioned as a potential pickup. It isn't that I believe Davis will go back to his days of being a fantasy monster, the position is just this shallow. A player with the ability of Davis in a decent offense is worth investing in. Owen Daniels still has his share of the passing game, but the skill sets vastly favor Vernon Davis.
Jordan Cameron MIA
Cameron is not the hot commodity that he once was, and with good reason. His production has been awful this year despite Miami throwing the ball a lot. I would not recommend playing Cameron in week 12 against the Jets, but after that the schedule gets much easier. He could be a sleeper to produce in the fantasy football playoffs.
Don't Get Excited: Kyle Rudolph MIN
Rudolph had a huge game versus the Pack, but many people predicted that as a possibility. They yardage total was great, but the Packers are very generous to opposing tight ends. Rudolph is likely to go back to being a touchdown dependent player as the Vikes are a run-first offense.