There are not many surprises left among the ranks of wide receivers at this point in the season. Quarterback changes can bring about some new results, but the most skilled players have been discovered by coaches in most cases. There are still some under owned players available on waivers; these are the ones that I will try to point out for week 12 and beyond.
Week 11 Recap (Standard League Points)
• Danny Amendola NE - Game To Be Played Shortly
• Jamison Crowder WAS - 0 pts
• Terrance Williams DAL - 13 pts
• Watch Or Stash: Torrey Smith SF - 1 pt
Amendola has not played his Monday night game yet as of this writing. Crowder was suspiciously light on targets and results as the Redskins struggled mightily to get anything going against the Panthers' defense. Terrance Williams had a nice game in Tony Romo's return to action but he is still hit or miss on a weekly basis. Torrey Smith did nothing against the Seahawks, but he could be useful in the right matchup.
Week 12 Waiver Wire Picks: Quarterback And Tight End / Running Back
Week 12 Picks
Devin Funchess CAR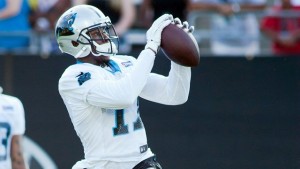 Everybody in the Carolina receiving corps put up numbers on Sunday, but Funchess is starting to see more consistent targets. The Panthers have a cupcake schedule going forward and Newton could really boost Funchess to a solid contributor if he keeps looking his way. Considering the level of competition that Carolina will encounter over the next few weeks, Funchess could be a sneaky candidate to carry teams through the playoffs to a championship.
Josh Huff PHI
While Huff is not seeing a huge number of targets, he has touchdowns in each of the past two games. Tight end Zach Ertz is probably not going to make it back for Thursday. This would likely mean more targets than normal for Huff. No player has really stepped up to be the number one guy in Philadelphia since the departure of Jeremy Maclin. This void could mean that Huff's role will continue to grow and with it his fantasy value.
Cody Latimer DEN
Latimer is probably not worth getting too excited about, but he seems to have decent chemistry with Brock Osweiler. A lot is going to depend on the playing time of Peyton Manning and Emmanuel Sanders. If either of them plays, it is going to greatly limit the appeal of Latimer. He was a player that was talked about as a sleeper heading into the season and the skill seems to be there if he can get some more opportunities. Now may not be the time to be starting Latimer, but if you wait to pick him up someone could very well beat you to the punch.
Not So Fast: J.J. Nelson ARI
Nelson had what could appear to be a breakout game on Sunday, putting up over 140 yards and a touchdown. The problem with this is that it took the absence of Michael Floyd for this to happen. Floyd seems likely to play next week and even if he does not, the Cardinals have a lot of options in the passing game. A speculative add is not out of the question, but this performance is likely an aberration.