This is it ladies and gentlemen: the end of the regular season in most fantasy football leagues. The regular season has flown by and, if you played it right, it's time to kick it into high gear with a playoff run. For some help putting the finishing touches on this one, here are the week 13 waiver wire picks.
Quarterback
Once Again
Dak Prescott DAL Rostered: 44%
This is one that I have mentioned a couple of times. Prescott has been on a very solid run since week 6, averaging about 24 fppg in that span. The addition of Amari Cooper has given Prescott a legitimate NFL caliber number one receiver. That opens up the running game as well as giving space to the other receivers. I like Dak for the rest of the season. Oh, and he faces Tampa Bay in week 16.
Baker Mayfield CLE Rostered: 42%
The Browns' young quarterback is showing the league that he belongs. He has thrown for multiple touchdowns in 5 straight games and gone over 20 fantasy points in four of those. His schedule gets tougher now, with Houston, Carolina and Denver coming up. The team will be playing from behind, but Baker is still going to do enough to warrant fantasy consideration.
Deep Pull
Josh Allen BUF Rostered: 2%
The inconsistency could be maddening, butt Allen has the talent and schedule to go on a run down the stretch. The Bills have the Dolphins, Lions, and Jets coming up on the schedule and that is good news for Allen's fantasy forecast. My concern is that a ton of his production comes from running the ball. I don't worry about his skill, he is a force on the ground. The issue for me is that he is going to get hurt, running that much in the pros is a recipe for disaster. If you have a QB emergency, deploy Allen while he can still run.
Running Back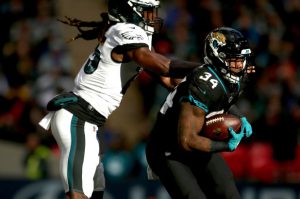 Carlos Hyde JAC Rostered: 39%
There will be a one week reprieve from the disappearance of Carlos Hyde. Starting running back Leonard Fournette lost his cool on Sunday and got suspended for a game for fighting. That means that the former Niners and Browns bruiser Hyde will carry the load for the Jags. It could be a long day with Cody Kessler starting at quarterback, but still volume is volume.
Upside Play
Rashaad Penny SEA Rostered: 26%
The only thing predictable about the Seahawks run game is that Chris Carson is the top dog when healthy. After that, Mike Davis and Rashaad Penny have both had huge impacts at times. There is generally more upside when it comes to Penny as he has explosive ability as well as high draft capital attached to his name. Two of the next three games for the Seahawks are against the 49ers and there is reason to believe that Seattle should have comfortable leads. That would mean lots of running and potential for big plays from all three backs.
He's Back
Rex Burkhead NE Rostered: 9%
For teams that plan to make a playoff run, the Patriots' Rex Burkhead could be a savvy add. He has been cleared to return to practice and will likely mix in with the other running backs. Sony Michel will remain the lead back and James White will lead the passing game. Belichick will still find places for Burkhead to contribute and there will be weeks that he has a meaningful role for fantasy owners.
Wide Receiver
Get A Piece Of The Rams
Josh Reynolds LAR Rostered: 33%
At this point in the season, it is exciting to be able to grab a meaningful piece of a high-powered offense. In most weeks, that is just what Reynolds will be. It seems like Jared Goff is very comfortable with Reynolds, who caught 6 passes for 80 yards and a score in week 11. While he may not put up those numbers in every week, the chance is always there when it comes to the LA passing attack. Certainly there will be points put up in the week 13 matchup with Detroit. If Reynolds is available in your league, be sure to pick him up.
PPR Special
Taylor Gabriel CHI Rostered: 44%
It has been tough to predict production among Bears receivers this season. Several players have had big games, but Gabriel has been the most consistent when it comes to targets and catches. He has caught at least 3 passes in 10 of 11 games this season. He has only gone over 100 yards twice and scored twice as well. This makes him a much more appealing option for PPR, where he can be a big help given his seven catches in each of the last two games.
Sky-High Ceiling; Low, Low Floor
Tre'Quan Smith NO Rostered: 42%
The recent injury to Smith has him available on waivers in more leagues than he should be. The big play ability makes him a great fantasy option; Drew Brees's ability to spread the ball tones that down some though. I recently likened his fantasy prospects to those of Devery Henderson, for anyone that remembers the latter. Still, for a lottery ticket flex play, Smith has about the highest ceiling of anyone widely available if he can get back on the field.
Receiver On The Rise
Dante Pettis SF Rostered: 1%
For those with waiver wires already picked clean, consider 49ers rookie Dante Pettis. He has been quiet for most of the season, but got a chance to start due to injuries in week 12. The response was 4 catches for 77 yards and a score. Given the lackluster state of the Niners offense, there is a good chance that this performance will earn Pettis more work going forward. Even if the starters come back at full strength.
Tight End
Gerald Everett LAR Rostered: 6%
Before the Rams bye week, Everett was on a tear. He had three straight multi catch games and three touchdowns in the last two games. Given the fact that Cooper Kupp is not going to return this season, Everett will probably continue to see more work. Jared Goff needs a red zone receiver that he can trust, and Everett is a prime candidate to fill that role going forward. Just realize that if that touchdown doesn't come, it could be slim pickings for Everett.
Chris Herndon NYJ Rostered: 10%
The war of attrition that is the tight end position continues. There are very few usable options on the waiver wire, but Herndon is emerging as one. He started out as a fringe, touchdown-or-bust type. Now the rookie is really being integrated into the offense and has the trust of his quarterbacks. In four of the last five games, Herndon has at least 3 catches. He also has three touchdowns on the season. With the Jets offense struggling, McCown or Darnold are sure to keep checking down to Herndon and that means bad things for the team, but good things for tight end needy fantasy owners.
That wraps up the waiver wire for week 13, be sure to check back tomorrow for the weekly positional rankings. Follow me on Twitter for some extras and to have your specific questions answered: @brendancole16.