Week 13 is finally upon us. The chaos from all the back and forth rulings during the Ezekiel Elliot saga seems to have finally settled down. The NFL playoff picture is starting to shape up. Hopefully, you're in the thick of the playoff race. Maybe you're a fringe team looking to make a splash and sneak your way in. Regardless, you must carefully guide the waiver wire. As an anonymous wise man once said, "Feel, don't think. Use your instincts." What I am saying is that the waiver wire is your friend. Trust me, I am well acquainted this season. I drafted David Johnson and Ezekiel Elliot and has had to scramble for replacements. Since then, I've had my fair share of trips to the waiver wire this season. It's how I stumbled on the sensation known as Alvin Kamara early in the year.
So peruse the waivers, analyze, and evaluate, and let it be your guide. By the way, that "wise man" I mentioned earlier? He's a Jedi Master. Be a Jedi, and do not let indecisiveness cloud your judgement. Here are my picks for week 13:
Running Back
Devontae Booker, RB, Denver Broncos- Devontae Booker has given the Broncos no choice but to utilize him more in their offense. In last weeks contest versus Cincinnati, Booker had a season high 19 touches for 98 yards. Compare with C.J Anderson's less than flattering 16 touches for 56 yards, and you can see why Booker's play is forcing Denver's hand to slowly increase his playing time. According to the Denver Post, the Sacramento products' confidence has only grown with each passing week. "The coaches are trusting me to go out there and make plays," Booker said. "I'm there every week to do so. I'm just going to keep working my butt off."(DenverPost.com).
Booker has outplayed Anderson over the past few games, is more adept at the passing game, and has the growing support of his coaches. Booker nearly scored a rushing touchdown for the Broncos but the call was reversed after officials determined Booker's knee was down before he crossed the plane. Look for Denver to make Booker a more integral centerpiece of their offensive attack going forward.
Austin Ekeler, RB, Los Angeles Chargers- Don't let Ekeler's stature fool you-he is a force to be reckoned with and continues to make opposing defenses pay. Ekeler hauled in 3 receptions for 55 yards and rushed six times for 15 yards Sunday. Ekeler is an elusive, versatile player, has good vision, and is deceptively powerful for his size. Due to Melvin Gordon's ongoing struggles, Ekeler has been integrated into the Chargers offense and Gordon has seen his snaps take a hit as a result. Ekeler won't supplant Gordon any time soon, but he does offer value as a dual threat, change of pace back who has provided an undeniable spark in the Chargers offense.
Familiar Face In A New Place
Andre Ellington, RB, Houston Texans- Ellington was claimed by the Houston Texans Monday after the Texans lost D'onta Foreman to an achilles injury. While Lamar Miller leads the backfield in Houston, the Texans will look to get Ellington involved early and has already proven to be a serviceable back and reliable receiver during his time in Arizona. Ellington was the odd man out once the Cardinals traded for Adrian Peterson. As a dual threat, he will be better utilized and will have the opportunity to thrive in Houston.
Wide Receiver
Zay Jones, WR, Buffalo Bills- Zay Jones has been playing the role of the Buffalo Bills number one receiver after injuries have decimated the Bills receiving core. Injuries to Jordan Matthews and Kelvin Benjamin have provided Jones the opportunity to assume a larger role and see an increase in targets. Jones may have started off slow this season but has been heating up as of late,  as he has garnered at least 50 yards or a score in 3 straight games.
His production is trending upwards, as he is the main beneficiary of an injury riddled Bills receiving core. On Sunday vs Kansas City, Jones scored a touchdown and was targeted a team high 10 times. Zay stands to benefit from Tyrod Taylor reclaiming his position as the teams' starting quarterback after the disaster that was Nathan Peterman, and is growing more comfortable in his newfound role. Jones has had more catches and yards in the last two games alone than he has had all season.
DeDe Westbrook, WR, Jacksonville Jaguars- Westbrook is averaging at least 8 targets over the last two games as he establishes himself in the Jags offense. Against Arizona, Westbrook caught 6 passes for a total of 41 yards and managed to lead the team in targets. Westbrooks' role on offense has only been increasing with each passing week. He has a good matchup against a poor Colts pass defense this week.
Deep Picks
Dontrelle Inman, WR, Chicago Bears- If you are desperately looking for help at wide receiver, look no further than Chicago's Dontrelle Inman. At only 9% ownerships, Inman can be an asset, especially in deeper leagues. The Bears acquired Inman from the L.A. Chargers in a trade October 26th with the intent of making him a focal point of their offense, and this was evident over the past few weeks.
Since his arrival, Inman has been the Bears leading receiver, and has developed a nice rapport with Mitch Trubisky. Trubisky talks admirably of his early impressions of Inman in an article from CBS Chicago- "I have a lot of confidence in him. He's got here on short notice and learned a playbook, so hats off to him for doing that." (Chicago.cbs.local). This chemistry is only certain to grow as the season rolls on, and this developing connection will ultimately yield results. Against Philadelphia, Inman was targeted 9 times, and came away with 64 yards against one of the top defenses in the league. Inman has established himself as Chicago's top receiving threat and has a friendly matchup this week against the 49ers poor pass defense.
Bruce Ellington, WR, Houston Texans- No one has benefited more from the absence of Will Fuller than Bruce Ellington. Ellington has performed well in Fullers' absence, and in Week 11, Ellington posted a line of 6 catches for 63 yards. He has quietly become a favorite and reliable target of Tom Savage over the past couple of games, and has made a series of spectacular catches this season. Ellington will look to continue his success next week.
Tight End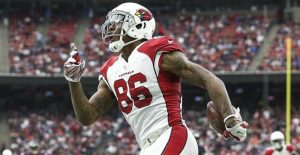 Ricky Seals-Jones, TE, Arizona Cardinals- The Cardinals may have found themselves a gem in Ricky Seals-Jones. Jones has burst onto the scene and made a noticeable impact to the Cards offense. Seals-Jones converted from wide receiver, and the switch is paying dividends for Arizona. In Week 11 versus Houston, Seals-Jones caught 4 passes for 72 yards and a touchdown. His strong play continued this week against a formidable Jaguars pass defense.
Jess Root, of Cards Wire, writes about Seals-Jones in an article, "In one half of play against the Jags, he led the Cardinals with three catches for 61 yards." (Cardswire.usatoday.com) Jones is second only to future NFL Hall of Famer Larry Fitzgerald in touchdown receptions for the Cardinals this season and is looking to be a dynamic player for the Cards.
Check Out All Waiver Wire Content
Now is the time to dig deep, and fire up that playoff mentality. Now is the time to focus and fine tune any weaknesses or deficiencies in your roster. The playoffs are right around the corner. The last thing you want to happen is for the playoffs to sneak up on you like Sheldon Brown snuck up on Reggie Bush in 2006. (We remember). I'm a firm believer in the concept behind the term "Any Given Sunday". My last bit of advice is this:
Let this Sunday, be your Sunday, and win. Good Luck.