The playoffs are here and the waiver wire is more important than ever. Injuries and roster changes have some new faces emerging in fantasy. Grab some of these guys if you need some help heading into the final matchups of the year.
Quarterback
Jimmy Garoppolo, QB, San Francisco 49ers- Garoppolo made his first start since being traded to San Francisco and did not disappoint. While the offense failed to score a touchdown, Garoppolo put on a solid outing and consistently moved the ball down the field against the Bears defense. The acquisition of Garoppolo has seemed to inject life into the 49ers previously anemic offense, as Garoppolo has the makings of a legitimate starting caliber NFL Quarterback.
Running Back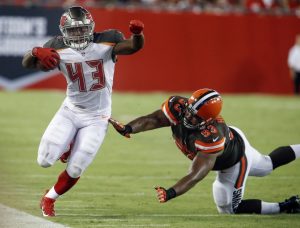 Peyton Barber, RB, Tampa Bay Buccaneers- Barber filled in nicely in place of the injured Doug Martin. He eclipsed 100 yards rushing and caught 4 passes for 41 yards in week 13. The strong performance by Barber was the lone brightspot for a Tampa Bay offense that struggled to get things going last week. The book on Barber is that he is a North-South runner that likes to punish defenders. He has amassed 68 yards after the catch.
What was more impressive is that Barber managed to run so well behind an offensive line that was marred by injuries. Barber, however, is used to overcoming obstacles. "That's something I've dealt with my whole life pretty much from PAL ball, to middle," school, to high school, and to college," Barber said. "Once I get my shot, 9 times out of 10 I take advantage of my opportunity. I don't know. I'm not the flashiest player, but I produce."(Tampa Bay Times) If Peyton Barber keeps playing at such a high level, the Bucs will have a tough decision on their hands to make at running back.
Seahawks RB Flavor Of The Moment
Mike Davis, RB, Seattle Seahawks- Some players just need an opportunity to shine. Seahawks' running back Mike Davis took that opportunity and ran with it. The former South Carolina Gamecock was a 49ers castoff, and is thriving in his new role in Seattle. On Sunday Night against the Eagles, Davis earned 101 yards of total offense, which leads all Seahawks running backs this season. What makes Davis's performances even more intriguing is the fact that he was just signed off of the practice squad last month.  "I  was on the practice squad for 10 weeks. I've been cut twice. There's always a chip on my shoulder. I'm always angry," Davis said. (TheState.com). The Seahawks will look to rely more on Davis and unleash his wrath upon the NFL.
A Veteran For The Playoffs
Matt Forte, RB, New York Jets- Forte is like a guilty conscience this season-he just won't go away. Forte has maintained value despite battling injuries and a timeshare with Bilal Powel all season. He rushed for 50 yards and caught 3 balls for 33 yards and a touchdown vs Kansas City Sunday. What you have in Matt Forte is a solid, dependable vet that knows how to make plays.
Check Out The Full Waiver Wire Content
Wide Receiver
Marquise Goodwin, WR, San Francisco 49ers- In the Red Corner, rising from the depths of Fantasy Irrelevance-Marquise Goodwin. Goodwin has a fantasy pulse after all; call it, The "Garropolo Effect." The former trackstar is benefiting from the improved play at the quarterback position. Goodwin hauled in all 8 of his targets for 99 yards, and consistently made plays all over the field. He has established himself as San Francisco's best receiving weapon, and has developed a solid chemistry with Jimmy Garropolo. This firmly reasserts Goodwin as a viable WR3 or flex option going forward.
Jermaine Kearse, WR, New York Jets- For all the attention that Robby Anderson is getting, we can't afford to overlook the recent achievements of Jermaine Kearse. Kearse exploded for a career-high 157 receiving yards Sunday and actually ended up leading the Jets in receiving yards despite a solid game from Robby Anderson. Kearse will continue to have a significant role in the Jets offense. The Kearse has been lifted.
Possible Breakout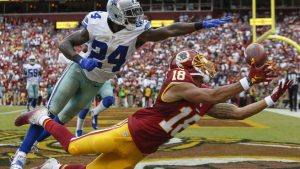 Josh Doctson, WR, Washington Redskins- Doctson has legitimate playmaking abilities and has a knack for winning jump balls and being in the right place at the right time. When the Redskins are near the redzone, Cousins frequently looks Docton's way.
Doctson's emergence as a legitimate receiving threat is causing teams to play closer attention. " I remember when the Vikings had Xavier Rhodes travel with Josh, which surprised me, really, because they had played pretty much left and right on him and yet they wanted to make sure they had their best corner on Josh throughout the entire game, no matter where he line up, " Cousins said of Doctson. (Washington Times) When the Vikings match you up with  Xavier Rhodes, it means that you are doing something right. Doctson's increasing involvement is a goal for Washington. He should continue his solid play as an emerging weapon in Washington's arsenal.
Tight End
David Njoku, TE, Cleveland Browns-The Browns tight-end caught 4 passes for 74 yards and a touchdown Sunday. The emerging rookie tight-end is starting to establish himself as a viable weapon and should see plenty of scoring opportunities even with Josh Gordon entering the fray. Not to mention, Browns quarterback Deshone Kizer is hitting his stride...
Check back later in the week for high upside picks and sleepers heading into the playoffs. For some extras, check us out on Twitter: @_knuckleheads, @Eric_theClark, @BrendanCole16, and @JakeTrowbridge.