Welcome to week 14 and the beginning of the fantasy football playoffs. For those of you lucky enough to have made it, get yourselves ready for the second season. The regular season was fun, but now it is meaningless. The waiver wire means more than ever now as the matchups come under a microscope. The right pickup in these final weeks can be the difference between a championship and "good luck next season."
Week 13 Recap (Standard League Points)
• Shaun Draughn SF - 14 pts
• David Johnson ARI - 17 pts
• Brandon Bolden NE - 2 pts
Draughn looked very good in week 13, particularly in the passing game. I see no reason not to play him down the stretch as the Niners match up against the Browns, Bengals and Lions. Johnson looked even better and he is also a potential difference maker in the fantasy playoffs. I said that Bolden was a desperation play and he did not pan out. That will probably be the case in most weeks as New England is really banged up.
Week 14 Waiver Wire Picks: Quarterback And Tight End / Wide Receiver
Week 14 Picks
David Cobb TEN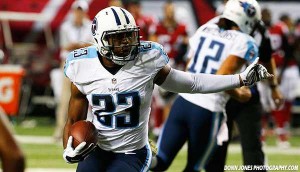 Cobb has a couple of matchups against strong defenses including the Jets and Pats along with the improved Texans. He seems to be gradually getting a larger share of the rushing load for Tennessee, however. On Sunday he had 13 carries, showing that the coaching staff are going to give him a chance to get out on the field. After missing much of the season, the rookie should be fresh and will have the potential to produce, even against stout defensive fronts as they will focus on Mariota.
James White NE
All of the hype and hope that swirled around White after Dion Lewis was injured began to come to fruition on Sunday. White was not a factor in the running game, but he had over 100 receiving yards. With the Patriots severely lacking in options, Brady will probably continue to lean on White down the stretch. While Patriots running backs are largely dependent on game plan, the pass catching specialists on the team always seem to have a role. If I had to gamble on one lightly owned Patriot, it would definitely be James White.
Ameer Abdullah DET
The Lions have been enjoying more success on offense over the last few weeks because they have committed to the run. Their running game is not a prolific one, but there are a fair number of touches to be had and Abdullah is getting the most at the moment. This is going to be a RBBC for the remainder of the season, but it does look like Abdullah could get around 15 touches per game. In a league that is full of committee style backfields, this could turn out to be a valuable commodity. While he certainly remains a matchup play, Abdullah is worth having on your roster even if it is just in case of an injury. If he catches fire down the stretch, the Lions will undoubtedly increase his carries.