As the fantasy football playoff picture crystallizes in your league, the title is so close that you can almost feel it. A couple of more insightful roster moves will put your team in position to humiliate the opposition a few more times and take home the gold. Keep an eye on the matchups and try to roll out the guys who will be involved in late season shootouts.
Week 13 Recap (Standard League Points)
• Kendall Wright TEN - 2 pts
• Doug Baldwin SEA - 21 pts
• Dontrelle Inman SD - 1 pt
I was a bit surprised that Mariota had such a massive game and Wright was not more involved. I would still hold on to Wright, but he is a gamble to start at the moment (not exactly a ringing endorsement when it is playoff time). Baldwin and Russell Wilson are really locked in right now, he could pay some big dividends down the stretch for a team without Jimmy Graham or really any other viable receiving threat. Inman did nothing this week and that will be a possibility going forward as well. The opportunity is there for the second year receiver, but the skill level is not.
Week 14 Waiver Wire Picks: Quarterback And Tight End / Running Back
Week 14 Picks
Marvin Jones CIN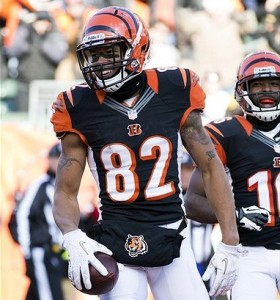 I have been saying this since the beginning of the season and I will take this chance to say it again, Marvin Jones is useful. This week, the Bengals will take on the Steelers and the points will be scored in bunches. Jones should find room to operate and I would expect Dalton to get him the ball as he has in many of the Bengals games this season. He is still out there in a little more than half of standard leagues and this is not a guy who should still be on the waiver wire.
Markus Wheaton PIT
On the other side of the Cincinnati vs. Pittsburgh matchup will be Wheaton. He is a bit of a wild card as the third receiving option for the Steelers, but Ben will have to sling it around the yard to keep up with the Bengals. Wheaton struggled early on, but has touchdowns in two straight games and seems to have finally earned the trust of his quarterback. This may be more than a one week pickup as well, since the Steelers take on the Ravens in week 16. Just remember to keep Wheaton on the bench for the week 15 game versus the Broncos.
Carolina Receivers
Cam Newton should be the league MVP this season and the ROS schedule for the Panthers is not scary. It is tough to say who will be the beneficiary on a week to week basis (I would go with Ted Ginn first then Funchess), but it is worth owning a share of Carolina's offense. With two games against a faltering Falcons team and one versus the Giants, Newton should finish the year strong. Although it will be hit or miss, rolling out a Panthers receiver in your flex spot could pay huge dividends most of the time.