Congratulations to everyone that made it into the fantasy football playoffs. You can now revel in your accomplishment for five minutes and then get back to prepping for your next matchup. The playoffs are a weird time because you have to worry about stud players being rested for the real playoffs and other unusual practices. Time to build that roster depth with the week 14 waiver wire picks.
Quarterback
Josh Allen BUF Rostered: 4%
Many of you are saying, "Allen is a matchup dependent rookie on a bad team". All of that is true, and that is why you should pick him up. His matchups are tremendous down the stretch (Jets, Lions, Patriots). There is also no limit to his upside because he is asked to do everything for the Bills anemic offense. There are going to be leagues won by Josh Allen, and that was not something that I ever thought I would type.
Baker Mayfield CLE Rostered: 47%
Last week was a dumpster fire, but Mayfield still put up 18 fantasy points. This guy is not afraid to chuck the ball around no matter how many bad outcomes he runs into. In the end, his skill and preparation are going to win out on the stat sheet the majority of the time. He faces beatable defenses down the stretch and the Browns do have playmakers.
Running Back
Injury Replacements
Jaylen Samuels PIT Rostered: 4%
There is very little that is special about Samuels (aside from TE eligibility in some leagues). His situation is very special though, because he is going to be the starting running back for the Steelers. James Conner was diagnosed with a high ankle sprain and could miss multiple weeks. This coming week, Samuels faces off against the Raiders "defense" and that should mean a nice stat line.
Jeff Wilson Jr. SF Rostered: <1%
It seems that there is a hex on the running back position in San Francisco. Jerick McKinnon went down for the season, then Raheem Mostert, and now Matt Breida finally cannot make it back from his weekly injury. All of this sets the stage for a start by Jeff Wilson Jr. He could find it tough sledding against a Denver defense that has been tough on running backs of late. Still, a starting back is worth having on your team.
Deep Pulls
Kenneth Dixon BAL Rostered: 4%
In his first game back from IR, Dixon went for 37 yards on 8 carries. He has the skills to be a three down back but keeps getting derailed by injury, suspension, etc. Now that the Ravens are dinged up at running back and emphasizing the run with Jackson at QB, Dixon could take on a bigger role. He would be a scary start right now, but in deep leagues there could be some flex utility.
John Kelly LAR Rostered: <1%
The Rams are Todd Gurley's show and Kelly has not seen any action at all this year. That would make this seem like an awful pickup, and I'll admit that it probably won't pan out. If it does though, the payoff could be tremendous. The primary backup to Gurley, Malcolm Brown had to undergo surgery and will miss some time. Assuming Gurley stays healthy, that would relegate Kelly to a garbage time cleanup role. However, if the Rams decide to rest their starters late in the season, you could have the starting running back for the best offense in the league.
Wide Receiver
Playoff Breakouts
Adam Humphries TB Rostered: 41%
Those of you that have been paying attention might say that Humphries has already been breaking out, but next week is the one that will stick. He has averaged about 12 points per game over the last three weeks and next he takes on the Saints. They are not what you would call daunting to pass catchers (8th most points allowed over the last 5 weeks). There is a good chance that Humphries goes for at least 75 yards and a score.
Zay Jones BUF Rostered: 2%
While the stats for last week could look like a fluke, Jones has a real connection with young quarterback Josh Allen. The Bills offense is in it's infancy, but it is obvious that Jones is their top pass catching option. Particularly with the release of star-turned-scrub Kelvin Benjamin. I mentioned earlier that Josh Allen has a very nice playoff schedule, and of course Jones shares that same schedule. The tandem of Allen and Jones could be very fruitful in the fantasy playoffs.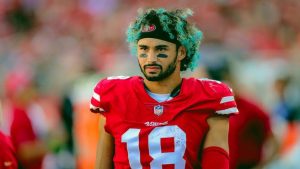 Dante Pettis SF Rostered: 3%
While the performance of Nick Mullens has been up and down, he clearly loves throwing to Pettis. The two have connected 13 times in the last three games. Over the last two, it has been good for 9 catches, 206 yards and three scores. That looks like more than a fluke and Pettis should be picked up right away.
Deep, Upside Based Option
Michael Gallup DAL Rostered: 6%
The NFC East leading Dallas Cowboys, suddenly have a viable offense and that means good things for all members. There has been little consistency for Gallup this year, but teams are keying on Amari Cooper and Ezekiel Elliott. That should open up space for secondary options including the talented rookie Gallup.
Tight End
The tight ends available in over 50% of leagues are a dumpster fire. God help you if you don't have one of the top few players here. I'm going to leave a list of five players (in order of preference) that I would stream if absolutely necessary.
Mark Andrews BAL
Jonnu Smith TEN
Christopher Herndon NYJ
C.J. Uzomah CIN
Gerald Everett LAR
I wish the best of luck to everyone in their playoff matches and be sure to check back tomorrow for the positional rankings for week 14. Follow me on Twitter for some extras:@brendancole16.