It's the semifinals, so a big congratulations to you if you've made it this far. I don't want to waste your time getting cute this week with a lengthy (though no doubt extremely entertaining) introduction. You know what this column is about by now, so let's start talking names...
Quarterback
Joe Flacco, BAL (vs. CLE)
"Don't start Jay Cutler. Don't start Jay Cutler. Don't start Jay Cutler..."
That's my mantra for the week, and it should be yours, too. Don't let Smokin' Jay lure you into starting him in the playoffs after a couple of good games. I promise you won't like the result. Instead, look to a man who folks continue to sleep on, despite my earlier warning that he could easily win you a fantasty championship. After two straight weeks with exactly 269 yards and 2 touchdowns, Flacco seems like an extremely safe bet against Cleveland. It would be nearly impossible for him to do worse than that stat line against the 29th-ranked pass defense. Don't overthink this one, people. Flacco can get you into the championships!
Running Back
Corey Clement, PHI (vs. NYG)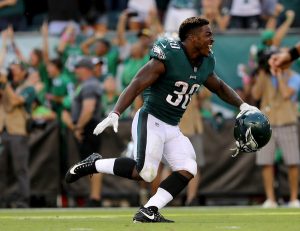 The Eagles just lost their all-star QB and will now have to rely on Nick Foles to keep their Super Bowl hopes alive. Which means they'll really be relying on their backfield. I expect all three running backs to get plenty of work in a game that should have them playing with a gigantic lead against a Giants team that's most definitely looking ahead to next season.
Try not to let his lack of production the last three weeks scare you away. If you're in a pinch at the position -- and especially if you're the underdog in your matchup -- Clement's upside is tempting. He doesn't get a lot of touches, but he doesn't need more than a few to light up your fantasy stats. Clement's also become more involved in the passing game lately, making him worth at least a dart throw for the desperate among you.
Check Out The Rest Of The Sleeper Content
Wide Receiver
JuJu Smith-Schuster, PIT (vs. NE)
Back from a one-game suspension, JuJu has a date with the Patriots defense that just got absolutely gashed by the Dolphins. That should give you bunches of confidence in just about every Steeler that goes out onto the field. With an improved (but still wildly beatable) New England secondary having to focus their attention on Antonio Brown just to have a chance at slowing down Big Ben, expect JuJu to see more looks than usual, provided his hamstring injury doesn't end up hindering him.
Before his suspension, Smith-Schuster had a touchdown in three of his previous five games. Don't expect the otherworldly production he put up against Detroit in Week 8 (193 yards and a touchdown), but he's an intriguing flex play in what should be a very high-scoring game.
Tight End
Benjamin Watson, BAL (vs. CLE)
I'm not going to lie to you. The tight end landscape does not look great this week. It's hard to trust any of them -- even the studs -- given that pretty much everyone at the position laid a big, filthy stinker last week. But if you need to take a swing at someone, go back to the old "start your tight ends versus the Browns" mantra. (Man, there are a lot of mantras in this week's article. Is there too many mantras? Now I'm worried I've over-mantraed. Oh well, moving on...)
Cleveland's given up less than double digit fantasy points to tight ends just twice all season, and once was last week against the Packers, who aren't exactly stacked at the position. Play the matchup odds and roll with Watson.