Fantasy football can be a rough game, as the owners of Thomas Rawls found out this weekend. For those of you who lost a great running back and are still alive in the playoffs, no doubt you will be looking for some help. It is safe to say that nobody on the waiver wire will be up to the task of replacing a top ten option, but there is still help to be found. Combing through the leftover players and the tasty matchup brings up several possibilities to give your team a little boost as we come down the home stretch.
Week 14 Recap (Standard League Points)
• David Cobb TEN - 0 pts
• James White NE - 9 pts
• Ameer Abdullah DET - 4 pts
Cobb has been a complete disappointment this season and any hope that I had for him is gone at this point. White is definitely a useful player, although he is a bit scary on a week to week basis as his workload is uncertain. Abdullah remains a talented player in a bad situation, this limits his potential.
Week 15 Waiver Wire Picks: Quarterback And Tight End / Wide Receiver
Week 15 Picks
Tim Hightower NO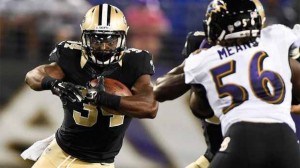 Here is a blast from the past; a true fantasy zombie rising just in time for the playoffs. Hightower has gone from vulturing touchdowns in the desert with Arizona to being close to a feature back in the bayou. Tampa Bay does not have an elite defense, but Hightower still did a lot with his chances against them. The Lions are similarly average on the defensive side which should mean another week of solid stats from the veteran back. If he is still available in your league, grab him now as he will help down the stretch run.
Bilal Powell NYJ
Powell has been in double digit point territory for three of the last four games. An impending matchup with the Cowboys should mean more good things for the Jets third down back. Powell is a reliable receiver in an offense with a lot of weapons. He is a tough matchup for a safety or lineback and you can bet that the corners will have their hands full with Marshall and Decker. Powell carries a bit of risk depending on the flow of the game, but if you play in a PPR format he is almost automatic.
Jonathan Grimes HOU
There are a lot of factors going against Jonathan Grimes as a fantasy factor. He is in an unproductive backfield and also a member of a committee. While these make him less than appealing for a playoff start, he does have an easy matchup with the Colts in week 15 and the backfield is wide open in Houston. Grimes narrowly edged out Polk for the most snaps in week 14 and had an impressive 37 yard run. While he is not going to be mistaken for an upper echelon back, he could very well have a productive game as he is facing the team that just gave up 51 points to the Jaguars. Temper your expectations if you utilize Grimes, but keep in mind that he could help out in a desperation scenario.