The fantasy football playoffs are underway and no doubt your league has a favorite to win already. If you are that team or one of the lucky few to compete against them, keep an eye out for more players that can help. Even the best teams have a weak spot and there are some unexpected players who can become major contributors. That is the way to take a great team and turn it into a championship team. If you feel a bit thin at wide receiver or just want another option or two based on the matchups, read on and see who could be a good fit for a one week start or the whole stretch run.
Week 14 Recap (Standard League Points)
• Marvin Jones CIN - 6 pts
• Markus Wheaton PIT - 6 pts
• Carolina Receivers - Ginn - 24 pts Brown - 5 pts Funchess - 2 pts
Jones had a fair showing, considering his starting quarterback was knocked out during the game. Wheaton was not exciting, but his stat line did not kill anyone who started him. Ginn was outstanding (I did say that he would be my first choice among the Panthers receiving options). The rest of Cam's receivers were not particularly exciting despite the lopsided score.
Week 15 Waiver Wire Picks: Quarterback And Tight End / Running Back
Week 15 Picks
Tyler Lockett SEA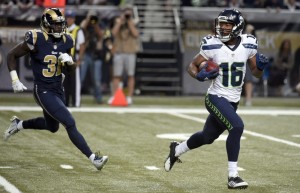 The Seahawks passing game has come alive over the last few weeks. While it is a bit surprising that Jimmy Graham had no part of this, the receivers that Wilson is throwing to now are appealing starts. Doug Baldwin is without a doubt the leader of this receiving corps, but he is not likely to be available in a lot of leagues at this point. Lockett can still be had in many cases and he has been productive in his own right. Three of Lockett's last four games have resulted in double digit fantasy points and he has had two touchdown grabs twice in that time. While he will not always put up a big number, it is difficult to find a waiver wire player with a higher ceiling.
Dorial Green-Beckham TEN
Speaking of players with a high ceiling, Green-Beckham has the natural talent to be a true number one receiver. New England is no pushover on defense, but Mariota has been solid over the last few weeks and he should be able to take a couple of shots at his big wideout. Green-Beckham has only had a couple of truly solid outings this season and they were against the Jaguars and Saints. The Titans are making an effort to see what they have in their young receiver so he will likely have chances, it is just a matter of whether or not he can take advantage of them.
Malcolm Floyd SD
The Chargers passing game has been struggling, in large part due to a rash of injuries. Floyd has not been doing much over the last few weeks, but he has as much of a proven track record as any player on the Chargers offense aside from Rivers and Gates. The Dolphins do not defend anything well and it is likely that San Diego will have opportunities to make some big plays. Floyd looked shaky versus Kansas City last week, but Rivers will still look to get him the ball at home against the Fins.