Championship week. This is what you've been preparing for all season long. All the waiver wire obsessing, all the agonizing over who to flex, all the trips to that online thesaurus to help churn out some primo trash talk...it all culminates this week.
And if you've made it to the final round, you may feel tempted to go "ride or die" with the roster that got you there. You have no intentions of benching your studs in this, the most important game of the year, in favor of some guy you've barely heard of. But take it from me, a guy who unfortunately rolled with A.J. Green last week, a decision that escorted me out of the playoffs in one league: Never stop trusting the matchups, and never underrate the power of a good sleeper pick.
Quarterback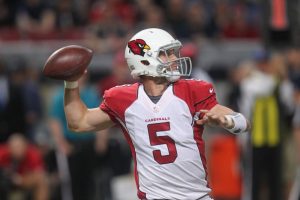 Drew Stanton, ARI (vs. NYG)
Playing Drew Stanton is like going to the dentist: It's not going to feel good, but sometimes it's necessary, and you're going to appreciate the results. The two games Stanton started under center didn't exactly wow anybody, but he did put up a solid stat line of 474 yards and 3 touchdowns. And one of those games was against a still booming Seattle defense.
This week, he'll be licking his chops before stepping onto the field against the Giants, who are currently ranked dead last against opposing QBs this year. There's simply no world in which Stanton, with Larry Fitzgerald by his side, doesn't get you 20 points. He has one of the safest floors of any QB this week, so if you need to leverage some high-risk players on your roster, slide Stanton into your lineup.
Running Back
Kerwynn Williams, ARI (vs. NYG)
It might feel like I'm not giving enough credit to the Giants' defense this week by doubling down on the Cardinals, but to be fair, that's only because the Giants are straight up dookie. And not just against certain positions, but against NFL players in general.
With Peterson out, Williams has fully absorbed his role as the lead dog in the Arizona backfield, securing at least 16 touches in each of the last 3 games. You can't argue with that kind of volume this time of year, and the only reason he's had somewhat meager numbers is because he hasn't gotten into the end zone. Expect that to change this week.
Take A Look At All Of The Sleeper Content
Wide Receiver
Kendall Wright, CHI (vs. CLE)
Although it looked for a hot minute as if Dontrelle Inman was about to break out in Chicago, his target share swiftly transferred to Kendall Wright over the last couple of weeks. And while that probably makes it sound like you're chasing points, it's also important to note that Wright's sudden prominence came about because the Bears have nothing to lose at this point and are allowing their rookie QB to sling the ball a lot more.
Over the last four games, Cleveland's defense has given up 4 touchdowns and an average of 160 yards to wide receivers. If Wright gets 6-8 targets — which seems like a lock — he could put up WR2 numbers.
Tight End
Jesse James, PIT (vs. HOU)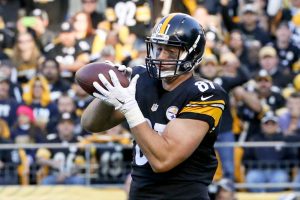 While everyone in your league undoubtedly rushed to the waiver wire to pick up Martavis Bryant once the news of Antonio Brown's injury swept through, you shouldn't overlook the increased value of Jesse James. The Pittsburgh tight end was one shockingly overturned touchdown away from posting another double-digit fantasy performance last week against New England, who are usually quite stingy against the position this year.
The fact is, James is now the 2nd-best red zone target in Ben Roethlisberger's arsenal (behind Le'Veon Bell), so you should expect him to get more scoring opportunities this week against Houston, who have allowed the 3rd-most TDs and 6th-most points overall to the position.
It has been a fun ride this season, good luck in the finale. Check out the rest of our exclusive content if you need some extra help with lineup decisions. Check us out on Twitter as well: @_Knuckleheads and @JakeTrowbridge.