Quarterback play in the fantasy football playoffs has been a tricky thing to predict this season. Cam Newton terrorizing the Giants was a no-brainer, but I doubt that anyone knew the next three in total points would be Kirk Cousins, Teddy Bridgewater and Brock Osweiler. Newton continues to amaze this season, even with scarce talent surrounding him. This is a waiver wire article though, so Newton is out of the discussion. Let's move on and see what quarterbacks are available for what is the championship week in many leagues.
Week 15 Recap (Standard League Points)
Quarterback
• Ryan Fitzpatrick NYJ - 17 pts
• Alex Smith KC - 13 pts
• T.J. Yates HOU - 1 pt (season ending injury)
Tight End
• Jacob Tamme ATL - 0 pts
• Eric Ebron DET - Plays Later Tonight
Fitzpatrick is a pretty solid bet each week, but he was not amazing versus the Cowboys. Smith was underwhelming, a bit of a surprise there. Yates suffered a season ending knee injury early (I'd like to think that he could have topped 1 point if he had not been injured). Tamme outdid Yates by scoring zero points. Ebron has not played as of this article being published.
Week 16 Waiver Wire Picks: Running Back / Wide Receiver
Week 16 Picks - Quarterback
Jameis Winston TB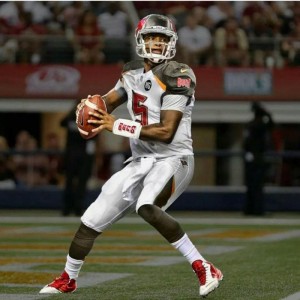 I have recommended Winston more than once this season and here we are again. He is not a player that is universally owned, because he will not blow up for a ton of points very often. If you are solid at other positions however, he is a player who will not implode and ruin your week. He played very well against a solid Rams defense and now gets to go up against the Bears. This should mean a nice week for Jameis.
Kirk Cousins WAS
Cousins has been coming on over the last few weeks, in large part due to the increasing contributions of DeSean Jackson. This coming week brings a matchup with Jackson's former team, the Philadelphia Eagles. Like many former Eagles, Jackson was unhappy with the way that he left the team and would love to get some revenge. Philly is bad against the pass and should leave plenty of room for Cousins to make plays and potentially carry his team to the promised land. The only downside here is that unlike Winston, Cousins always has the ability to torpedo your week with an awful score. High ceiling; low floor.
Jay Cutler CHI
Just like Winston has a good matchup with the Bears defense, Cutler gets the Bucs and their own awful secondary. There should be some points scored in this game, possibly quite a few of them. Cutler has not been a top option this season, but he always has the ability to go off for a big game. Just like Cousins, he is always a risk to break your heart but the skill is there. If you are feeling desperate, Cutler at least has the possibility for a high total.
Week 16 Picks - Tight End
Heath Miller PIT
It has been a long time since Miller has been a good option on a weekly basis. At this point he is not a top option, but he is part of a high-powered passing attack. The Steelers will get a matchup against the Ravens and their awful pass defense. This will mean good things for the Steelers offense and hopefully Miller will get in on the scoring. With a division game like this, there is always a chance for a surprise low-scoring affair. That seems unlikely in this case though; someone on the Steelers will be rolling up a ton of points.
Will Tye NYG
Tye was never intended to see the field as much as he has this season, but injuries necessitated his presence. The Giants are not a great team, but the passing game has some big weeks. Tye has scored in each of the last two games and is getting some looks from Eli Manning in the red zone. With Odell Beckham Jr. taking up the majority of the defensive attention, look for Tye to keep getting chances. He is not going to have a huge yardage total, but the odds are very good that he could score another touchdown or two this week.