There is one week left of regular season football and most fantasy leagues have already wrapped up. For you die-hards that dare to take on week 17 in fantasy, we're still here to help. There were some lopsided scores last week which led to some serious fantasy points (Blake Bortles, Kirk Cousins, Etc.). As we try to pinpoint some of the available players who will have big time performances this week, be sure to keep an eye on the status of any stars that might be rested heading into the playoffs.
Week 16 Recap (Standard League Points)
Quarterback
• Jameis Winston TB - 21 pts
• Kirk Cousins WSH - 34 pts
• Jay Cutler CHI - 13 pts
Tight End
• Heath Miller PIT - 4 pts
• Will Tye NYG - 2 pts
Winston had a big play late to salvage an average fantasy day. Luckily, points scored late in games count just as much as those scored on the opening drive. Cousins went nuts and he will be playing in the playoffs this season (likely for one game). Cutler was pedestrian and at this point he is risky even as a matchup play. Miller and the rest of the Steelers aside from DeAngelo Williams were quiet this week. Tye did not get much done either as his quarterback forgot which team to throw the ball to.
Week 17 Waiver Wire Picks: Running Back / Wide Receiver
Week 17 Picks - Quarterback
Teddy Bridgewater MIN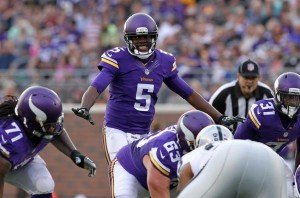 Bridgewater has very much been an up and down player this season. His production has been putrid at times and he has had a couple of very respectable totals. One of the games where he played well was against the Packers in week 11. Although Minnesota was at home for that game and playing at Lambeau this time around, I still think that Bridgewater will have a good showing. He has been playing fairly well of late. Last week against the Giants he did not do much because he did not need to. I think that if the Vikes want to beat the Packers they will need to air it out a bit more.
Brandon Weeden HOU
I don't feel great about this pick, but Weeden is better than the quarterback that we saw in Dallas earlier in the season. The Cowboys are a dysfunctional team which put Weeden in a bad situation. I am not ready to declare him a first round pick next season or anything, but at home taking on the Jaguars I think that Weeden can put up some points. It never hurts to be throwing the ball to DeAndre Hopkins either.
Week 17 Picks - Tight End
Kyle Rudolph MIN
I was already picking Bridgewater and he is going against a team that ALWAYS allows points to the opposing tight end. It makes a certain amount of sense that I would then recommend his tight end. There is also the fact that Rudolph shredded the Packers D earlier this year to the tune of six catches for 106 yards and a score. I think that Kyle Rudolph is one of the safer bets among tight ends to put up a useful stat line this week. Go grab him if you need a little help.
Zach Miller CHI
Miller is one of the only players on the Bears roster that has been playing decent ball recently. He has not exactly been on a hot streak, but he is consistently productive when he is the starting tight end. "Consistently productive" sounds like a foreign language when describing tight ends, which means that he will probably play better than whoever you are getting ready to roll out there this week.