The fantasy season keeps rolling for another week in some leagues. Those of you that finished in week 16, congratulation if you had a successful season. Everyone else can read on and see what players may be able to help close out the season. There have been some big successes coming off of the waiver wire this season and hopefully that trend will hold up for one more week. Check out how last week's recommendations fared and then read on for some fresh bodies to put in your lineup.
Week 16 Recap (Standard League Points)
• Karlos Williams BUF - 15 pts
• Mike Gillislee BUF - 16 pts
• Christine Michael SEA - 1 pt
• Cameron Artis-Payne CAR - 4 pts
The Bills are very good at running the ball no matter who they have in the backfield. Williams and/or Gillislee may be worth a flex play again in week 17, but be careful against that Jets defense. Christine Michael was disappointing…this should just be the epitaph for his NFL career. Cameron Artis-Payne was not able to get much going against the Falcons, but neither was anyone else on the Panthers.
Week 17 Waiver Wire Picks: Quarterback And Tight End / Wide Receiver
Week 17 Picks
Chris Thompson WSH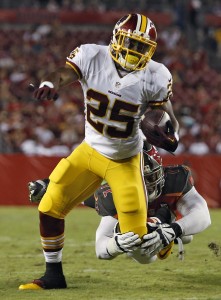 This is not as numbers based as I normally like, but it looks like a big opportunity brewing. The Redskins are supposedly planning to rest many of their starters and to me that would include Alfred Morris and banged-up Matt Jones. If Chris Thompson is close to a full workload, that could mean some decent numbers. This is particularly true since Thompson is already handling many of the passing downs. I think that we can all agree that trusting the word of NFL coaches is a dangerous game, but if you believe that the Redskins are resting starters, Thompson could come up big.
Donald Brown SD
Brown has a decent size share of the rushing game in San Diego with Danny Woodhead as really the only other healthy back worth mentioning. Woodhead is obviously the player to own, but Brown has a decent track record of NFL success. He has not been given a lot of chances, but there have certainly been some nice moments in his career. The downside is that the Chargers are going to be taking on the Broncos which will severely limit the chances for big plays. Still, Brown should see enough chances that he could sneak into the end zone. If you are feeling lucky, Brown could pan out as a usable flex option in week 17.
DuJuan Harris SF
Harris had a nice game in week 16 versus Detroit and their mediocre defense. Week 17 may be a bit of a wakeup call as the Rams come to town. St. Louis has been difficult to run on this year and DuJuan Harris is not a guy who has proven himself matchup proof, or proven himself anything for that matter. Even relying on Harris getting a decent workload is in large part speculation, but he did show decent burst last week and the 49ers will likely stick with the hot hand as they have a dearth of talent to work with. If this ends up meaning that Harris sees most of the carries, he will probably be good for 8-10 points.