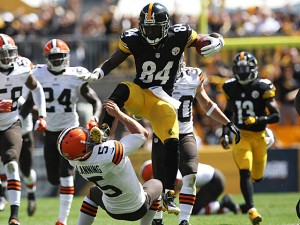 Face it, you were let down on Week 1. Odell Beckham Jr. AJ Green, CJ Anderson, Dez Bryant, Adrian Peterson all wrecked your weekend. I personally love it when this happens. It allows players who stumbled to have a lower ownership in week 2 which moves them up my rankings. This is a week where we will look to target these players. While I'm not looking at some of the aforementioned players in this article, that doesn't mean you shouldn't be. If you are building multiple lineups picking some of those guys will be key. Pro-tip: Don't draft Dez Bryant. (I sincerely hope you picked up on the sarcasm.)
Week 2 DraftKings Picks
Quarterback
Drew Brees, Quarterback, New Orleans Saints ($7800)- Let's state the obvious. Drew Brees is a better quarterback than Marcus Mariota. The Tampa Bay Defense is, in the words of Charles Barkley, "Hurrible." There is a reason he is expensive and he really won't differentiate you from the crowd, but he is worth paying up for. Nawlins is a different team at home.
Carson Palmer, Quarterback, Arizona Cardinals ($6700)- Arizona's offense isn't full of big name stars, but that doesn't matter. Palmer distributes the ball as well as anyone and he gets to face a Bears defense who is awful. I think Palmer tends to get overlooked a lot on cash games and tournaments because he isn't the sexiest quarterback as far as star power is concerned. Palmer gets it done and shouldn't be an oversite. His matchup is just as good as Brees and you get a lovely $1100 discount.
Running backs
Carlos Hyde, Running Back, San Francisco 49ers ($5100) - If you weren't passed out by halftime you missed, what was an incredible performance by Hyde. The Steelers are in the middle of the pack against the run and are ranked 32 against the pass. A lot of that is due to Captain Tom and the Patriots. Hyde's price on DraftKings is too good to pass up. He will be in most of my lineups.
Chris Ivory, Running Back, New York Jets ($4700) - Another running back who is improperly priced. Ivory gets the goal line works and all of the touches he can handle. Sure there is Bilal Powell, but we don't care. Indianapolis is ranked 22nd against the run and if the Jets want to win this game they better run the dang ball.
Wide Receivers
Antonio Brown, Wide Receiver, Pittsburgh Steelers ($8800) - I put Antonio Brown in every week. I get double digit points every week. 10 catches on 11 targets last week. A wonderful garbage time touchdown last week. Antonio is my main man in all of my DFS lineups, including last week.
Julio Jones, Wide Receiver, Atlanta Falcons ($8900) – Matt Ryan's BFF, Julio Jones was money on Monday night and we look for more of the same. The Giants were shredded by the Cowboys and they didn't have Dez for parts of the game. Julio is going to destroy the Giants this week and thanks to the price savings from Hyde and Ivory we can fit him in easier than a hotdog down a hallway.
Brandon Coleman, Wide Receiver, New Orleans Saints ($3300) - Here is your stack. A low owned player against a shady defense. While everyone will be paying up for Brandin Cooks and Marques Colston, you will get a receiver that is cheap, allowing you to pay up for our studs Julio and Antonio Brown. Did I mention the Bucs stink on defense?
Tight End
Crockett Gillmore, Baltimore Ravens ($2500) – This is a crazy low price for a tight end who has the chance to go off. Maybe he's not much of a cash game play, but after watching Tyler Eifert destroy Oakland I'll pay the table minimum for a tight end, both in real life and in fantasy.
Flex
Justin Forsett, Running Back, Baltimore Ravens ($6200) - Hey, look at this, it's another guy going against the Raiders. Here is a great example of a player who disappointed last week and may be low owned. Remember, Denver has a good defense and it showed last week. Oakland's defense is nowhere near as talented as Denver's. Side note-Marc Trestman will be back in Oakland and he will be thirsty to run up the score after he wasn't hired for the offensive coordinator in Oakland.
Donte Moncrief, Wide Receiver, Indianapolis Colts ($4600) - I know the Colts get the Jets this week, but don't forget, and really how could you, the Browns are not the Colts offense. If you are looking for a nice tournament play, I really like Moncrief. I expect Revis will shadow Johnson and this will open up Moncrief who last week had 11 targets. T.Y. Hilton is expected to be out and that should open up things for Moncrief.
Defense
Philadelphia Eagles ($2700)-The Eagles are cheap, they are at home. I know the game should be high scoring, but I don't really like a lot of other defenses this week. They do seem to get a lot of turnovers so that makes them dangerous. It's going to be extra loud in that stadium as Dallas is coming to town.
Kansas City Chiefs ($2900)- This is the only thing I want from the Thursday game. Let everyone else load up on this game and use it to your advantage. The Chiefs are stout against the run and last year they were the 3rd best team in points allowed at the quarterback position.
I know you would like some Thursday picks in this column, but this is a week I let other people waste away their money. If I like anyone it's the Chiefs Defense, as I don't quite trust Peyton, yet. Although, he would make for a sneaky ol' tournament play, but I just can't. So, take some solid advice and let everyone else go balls out on this game. I will enter in lineups for it, but I'll let someone else overpay for Kelce and Demariyus. If I get burned so be it. I'll gladly beat you with Jones and Brown.
If I did well please follow me on Twitter. If I did not do well my name is Matthew Berry.
Be sure to check out our optimal lineup calculator which is filled with stats to help you build money making teams, seen below.