Week one was a shocker in many ways. Players that were not on the radar played out of their minds, while established veterans were entirely contained. The key at this point is fishing through the available players to see which can help you going forward. Recency bias should be discounted as a rule. With the first week of the season, however, recent play is all you have.
Quarterback
Jacoby Brissett IND
The young quarterback that took over for Andrew Luck was widely and rightfully panned as "not Andrew Luck". On the other hand, Brissett has a unique and useful skill set of his own. He is working with a much better group of supporting players than the last time he started for the Colts, particularly on the offensive line. This is a guy that can start for teams in leagues of 12 teams or more.
Watch and/or Grab
Case Keenum WAS
This team eventually belongs to Dwayne Haskins, but we have all see Keenum have unexpected success in the past. He threw for 380 yards and three TDs on Sunday and looked great doing it. Washington does not exactly have a who's who in the receiving game, but the players that are there looked like a well-oiled machine. The situation is at least worth watching.
Running Back
Malcolm Brown STL
The Rams came out looking a bit rusty overall, but the big takeaway was Brown splitting carries with Gurley. The backup apparent achieved two rushing touchdowns, both on carries from inside the 5 yard line. It was still Gurley ending up with the most yards in this game, but Brown appears to be a big part of the plan for 2019.
Ronald Jones TB
I know, a lot of you never want to see this name again after last season. Jones was historically bad in his rookie year, but it seems to have lit a fire under him for his sophomore season. In the first game of the season, the Bucs were awful, but Jones was one of the few bright spots. He had close to 100 total yards and out touched the other running backs (by 13-8 vs. Barber) in the running game. There may be some value to be found here.
Carlos Hyde HOU
The Texans suffered a heartbreaking loss at the hands of the Saints, but there were bright spots. One of them was the apparent resurgence of Carlos Hyde. He ran with authority and generally looked the part of the early down back. This was good news as Duke Johnson did not. Go grab Hyde for free and enjoy a useful matchup play.
A Bit More Than A Handcuff
Alexander Mattison MIN
The Vikings came out ready to run the ball on Sunday, starting with a dominating performance by Dalvin Cook. His primary backup, Alexander Mattison, also had a couple of nice runs though. The rookie ripped off long gains of 23 and 17 yards, getting pushed out at the one yard line on the latter. While his usage will be up and down while Cook is healthy, Mattison is worth having on rosters.
Wide Receiver
John Ross CIN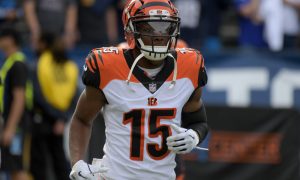 The Bengals did not look like they had a receiver to start opposite Tyler Boyd. In week 1 they may have found one in John Ross. The burner that holds the unofficial 40 yard dash record (4.22 seconds) got free early and often to huge results. He ended the day with 7 catches for 158 yards and two scores. This is a guy that needs to be on a team just based on potential.
Marquise Brown BAL
This is a tricky one, because the potential is off the charts for Brown, but his team played a Pop-Warner level opponent. The Dolphins are beyond abysmal and Lamar Jackson picked them apart at will throughout their matchup. Brown was in on 12 plays Sunday; he was targeted on five of those plays. Out of those five targets, he brought in four for 147 yards and two scores. This was all while he was labeled questionable with a balky foot. He needs to be picked up, but it could be a roller coaster ride based on his usage.
Terry McLaurin WAS
The Redskins did not have a true number one receiver heading into week 1, or did they? McLaurin was a monster in his NFL debut, catching 5 of 7 targets for 125 yards and a score. He looked to be Keenum's surefire go to guy and it will be interesting to see how he acquits himself in week 2 versus a stout Cowboys defense. Like Brown, McLaurin warrants an immediate pickup. I don't know that I'd slot him right into those lineups yet, though.
Grab The Veteran
John Brown BUF
The Bills are not a prolific passing team necessarily, but Brown fits well into Josh Allen's style of play. He is taking the place of Robert Foster as the deep threat and Allen loves to chuck it downfield. The benefit here, is that Brown is a more complete receiver than Foster as long as he can stay healthy. He should be a steadying veteran presence for the young quarterback that suddenly finds himself surrounded by better talent.
Backups Unite
D.J. Chark JAC
The Jaguars lost their starting quarterback to a broken clavicle in week 1. That means a lot of bad things, but one good thing is that it gives D.J. Chark a chance to show what he can do. He has a relationship with backup quarterback Gardner Minshrew and that showed on Sunday. The duo combined for the better part of 146 yards (Chark also caught a 28 yard TD from Foles).
Deon Cain/Parris Campbell IND
The Colts offense is already missing Andrew Luck and now they will be without number two receiver Devin Funchess. He left the game with a fractured clavicle a la Nick Foles and will not be back for most of the season at best. This means that either Cain or Campbell will need to step up and fill that spot. Cain certainly has more experience, but Campbell probably has the edge in pure talent. This one is more of a speculative add, so pick your poison.
Tight End
Darren Waller OAK
This has been the buzz around the league since preseason, but for once it was actually accurate. Darren Waller is a player. The Raiders went to him early and often in this contest and he should be a big part of the AB-less offense. Things looked natural for the talented Waller, catching 7 of 8 targets for 70 yards. Go get him right now, if you need tight end help or not.
Rookie Tight End?!
T.J. Hockenson DET
The rules for deploying rookie tight ends are hard and fast, but T.J. Hockenson is a special player. He seems to have an early rapport with Matthew Stafford and the Lions are going to need that as they'll be playing from behind often. He is not a plug and play grab, but I would certainly take him over most other waiver wire tight end options.
Be sure to check back for more waiver wire picks next week and in the meantime, enjoy the rest of the content on FK. Follow me on Twitter for more @brendancole16.