Waiver wire options at quarterback are pretty slim and you need to plan for your starters bye-week in the first couple games of the NFL season. The waiver wire is hands down the best tool at your disposal to dominate your league. The team manager that wins the waiver wire war usually makes it to the fantasy playoffs. Looking at the week 2 waiver wire options I can tell already there's going to be a battle for the top spot from now until week 4 when we have a good sampling. Whomever makes the right pickup is priming their team for a solid fantasy run. Here's my top waiver adds listing in order from best to worst below.
Andy Dalton
Nick Foles
Marcus Mariota
Jay Cutler
Ryan Fitzpatrick
Alex Smith
Tyrod Taylor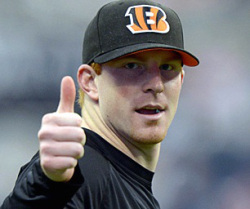 Andy Dalton, Bengals
The Bengals were up 24-0 at the half so Dalton just managed the game clock in the second half. Dalton looked crisp and his new toy Tyler Eifert was a beast catching two touchdowns. Not to mention A.J. Green dropped a would be passing TD, oh well. Dalton has it all, a good defense, a great WR and a more than solid TE. Look for Dalton to surpirse this year and be very consitent making him my top waiver wire pickup at quarterback.
Nick Foles, Rams
Foles' debut was impressive against the solid Seahawks defense. He passed for 297 yards, one touchdown and one pick. It's only week 2 but he gets a lighter matchup in week 2 and may have Quick back.
Marcus Mariota, Titans
I'm not 100 percent on the bandwagon yet, but you can't pass up his pure waiver wire stud potential. 13-for-16 passes for 209 yards and four touchdowns without even touching the field in the fourth quarter. But despite how good he looked it was against the Bucs, so settle down junior. I could be oh so wrong, but history tells me this guy just had a good game in a perfect scenario. Nevertheless, he's worth picking up in all leagues, we didn't even see him use rushing ability which is where his value could really shine in the future.
Jay Cutler, Bears
While I wouldn' start Cutler in week 2 against the Cardinals, he's a solid option at least as a back up and I can't believe how under owned Cutler is this season. If your starters bye-week lines up with a decent matchup for Cutler you might want to pick him up now.
Ryan Fitzpatrick, Jets
179 passing yards and 2 touchdowns against the lowly Browns. New York has weapons at WR, seriously. Marshall and Decker are the real deal, to name a few. While Fitzpatrick isn't a freak at the position I think he's going to be a very solid QB especially in 2 quarterback leagues. He could eventually pass Cutler, wouldn't that be ironic?
Alex Smith, Chiefs
Alex just did this - 243 yards passing with 3 touchdown - He's still at the bottom half of my waiver wire list but if he continues on this path I'll be moving him up my waiver wire rankings. Stand pat in all leagues smaller than 14 teams.
Tyrod Taylor, Bills
Want to know how Taylor will do this year? Look at Kaepernicks' previous season stats under OC Greg Roman. Leagues starting 2 quarterbacks might want to take notice but Buffalo is a run first team and Taylor probably isn't winning you any fantasy cash.
I'm not picking up: Johnny Manziel or Ryan Mallett
Here's the week 2 waiver wire pickups at tight end - running back and wide receiver.