With a week of games in the books, many fans and fantasy players are in overreaction mode. This is understandable, but it can also block you from shoring up the holes in your roster. Take a deep breath and a long look at what you have. Now, let's move on to the best week 2 waiver picks in fantasy football.
(All recommended waiver pickups are available in at least 50% of Yahoo leagues)
Quarterback
Case Keenum DEN Rostered: 25%
There is still not a franchise quarterback in Denver. On the bright side, Case Keenum can hold down the fort for a year or two with decent play. Fantasy players can trust Broncos receivers again, as they finally have a competent signal caller. Despite turning the ball over three times, Keenum still racked up 329 yards and three TDs. With a matchup against the Raiders looming, I like the odds of an even better game in week 2. 
Tyrod Taylor CLE Rostered: 13%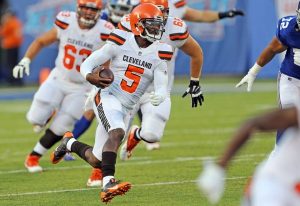 It was an ugly game in ugly conditions for Taylor on Sunday. As usual, he managed to put up a solid fantasy score, though. The Browns offense proved that they are at least competent and brighter days should be ahead. This week, Taylor gets to face a Saints defense that was absolutely eviscerated by the Buccaneers. With Josh Gordon presumably back at full-speed, the Browns and Tyrod Taylor should feast in week 2.
Don't Buy It
Ryan Fitzpatrick TB Rostered: 3%
I think it's safe to say that everyone has seen this routine from "Fitz-magic". Every year he has an enormous game or two, but it is a mirage. This should be more of a caution to Saints fans than a signal that the Bucs have a great starting quarterback. Next week Fitzpatrick and the Bucs face the Eagles defense and…things will go differently.
Running Back
Austin Ekeler LAC Rostered: 17%
The low roster numbers on Ekeler are surprising considering the decent stats from last season. He does take a back seat to Melvin Gordon most of the time. He is also a rare player that does not need a lot of touches to put up fantasy points, though. In week 1, Ekeler had five rushes for 39 yards. He also caught all 5 of his targets for 87 yards and a touchdown. He is a versatile weapon out of the backfield and should be on your fantasy team, especially in PPR formats.
Phillip Lindsay DEN Rostered: 5%
The outlook for Royce Freeman was rosy going into week 1 and then…out of nowhere, IT'S PHILLIP LINDSAY! I don't know if my wrestling announcer voice carries over to print, but yes, out of nowhere. Aside from deep dynasty leagues, Lindsay is probably not owned. Nevertheless he put up 71 rushing yards on 15 carries while adding 31 receiving yards and a score. His stats were basically identical to Freeman, but with a touchdown on top. This looks like a two headed backfield with Devontae Booker watching from the wings. Lindsay is a wild card, but worth a pickup and potentially a flex start.
T.J. Yeldon JAC Rostered: 15%
Once upon a time, the Jaguars had high hopes for Yeldon. Then some guy named Leonard came along and T.J. was no more than a handcuff. While that is still the case, Leonard Fournette is banged up and his status for week 2 is up in the air. After Yeldon came in to finish up the game in the opener, he is a guy that needs to be added, especially for those that invested in Fournette's services. Yeldon's stat line in week 1 was a solid 14 carries for 51 yards along with 3 catches for 18 yards and a touchdown.
Check out last week's waiver wire picks to see how I did.
Wide Receiver
10 Team Leagues
Quincy Enunwa NYJ Rostered: 7%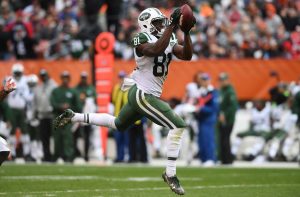 For fantasy purposes, Enunwa is a weekly starter. He managed 66 yards and a score in a game where the Jets did not need to pass much. He is clearly Sam Darnold's favorite target and the catches will come in bunches. I recommended him in my preseason waiver pickups and now I'm doing it again. If Enunwa is still available get him now.
Phillip Dorsett NE Rostered: 5%
Everyone knows that New England's offense can be tough on fantasy owners. One week's star might not score a point a week later. Dorsett certainly has the ability to produce; he was a buzzy player coming out of college. A couple of lost years in Indianapolis had him mostly off the radar for fantasy players though. Time to dust off this post-hype sleeper after a week 1 line of: 57 of 75 snaps played, 7 catches on 7 targets, 66 yards and a touchdown.
John Brown BAL Rostered: 20%
The only question for Brown throughout his short career has been health. For the moment he is healthy and ready to produce at a high level. His quarterback being Joe Flacco may cap his ceiling a bit, but he still had 3 catches for 44 yards and a score in week 1. This guy being free for a waiver pickup is ridiculous, go get him.
12 Team And Larger Leagues
Chris Godwin TB Rostered: 30%
The Bucs have a lot of mouths to feed when their passing game is clicking as it was in week 1. Despite my belief that Fitzpatrick can't keep up a high level of production, Tampa's receivers are still great. It looks like DeSean Jackson will be unavailable for week 2 as he is in the concussion protocol. That should elevate Godwin to nearly every down status. After starting the season with 41 receiving yards and a touchdown, the future could be even brighter for the young wideout.
Brandon Marshall SEA Rostered: 8%
A 34 year old coming off season-ending ankle surgery? Give me some of that guy! I'm as skeptical as you, but the Seahawks are really hurting for receiving help. Doug Baldwin looks like he could be out for a while and Jimmy Graham is in Green Bay. Even though Marshall is not the top flight receiver he used to be, he is a big body and an experienced red zone threat. His week 1 line (3 catches 46 yards 1 touchdown) is probably close to his ceiling. I think that ceiling is achievable in any week though.
Geronimo Allison GB Rostered: 13%
It is hard to go wrong with a piece of the Green Bay passing game when Aaron Rodgers is at the helm. The Packers (excluding Jimmy Graham) looked dynamic and dangerous in week 1. Allison was a clear number three option behind Davante Adams and Randall Cobb. On most teams that is a bad thing, but being Aaron Rodgers number three can lead to numbers like Allison had on Sunday (5 catches 69 yards 1 touchdown).
Tight End
Ben Watson NO Rostered: 35%
There was nothing special about week 1 for Ben Watson, but he still ranked in the top 10 tight ends. He put up 44 yards on 4 catches, but there will be much better weeks. The rapport is there with Drew Brees and that tends to mean good things for receivers. There is not league where Watson should not be on a roster.
Will Dissly/Nick Vannett SEA Rostered: 0.3%/1.6%
The Seahawks do not exactly have a who's who of tight end talent on their roster. Nick Vannett is supposedly the receiving tight end while Will Dissly is a blocking specialist. Well, someone forgot to inform Dissly of that in week 1 as he had 3 catches for 105 yards and a touchdown. Most of that came on a 66 yard catch and run. I still like Vannett better as a receiver, but Russell Wilson is notorious for spreading the ball around (except when Baldwin is playing, which he likely isn't). In deeper leagues, either of these guys may be worth a speculative add.
Check back tomorrow for the positional rankings and get ready for a wild week 2. For more advice and random nonsense, follow me on Twitter @brendancole16.