The NFL has been turned upside down following week 2; particularly at the quarterback position. Drew Brees is out, Ben Roethlisberger is out, Eli Manning was benched. What is a fantasy owner to do? That is the question that we're here to answer, so read on and don't panic.
Quarterback
Josh Allen BUF Rostered: 30%
I like Josh Allen and the Bills as a whole this year. They aren't a flashy team, but they have the ability to make a big play at any given time. John Brown is already clicking with his young quarterback and Allen is also a constant threat to put up points on the ground. I would feel very comfortable with Allen as my starting quarterback.
Mason Rudolph PIT Rostered: 1%
The Steelers would like to be starting Roethlisberger right now, but this is still not the end of the world for them. They drafted Rudolph to be their eventual starting quarterback and he knows the offense. This may not even be that big of a downgrade at this point in Roethlisberger's career. So far, it looks like Rudolph is going to rise to the occasion as the new starter.
Be Patient
Daniel Jones NYG Rostered: 2.1%
Everyone knew that it was time for Eli Manning to take a backseat, but Jones should not be starting for your fantasy team yet. I could be sold on rostering him in dynasty, superflex, 2QB, etc. Aside from formats like that, give Jones time before you worry about him being an option for fantasy.
Running Back
Raheem Mostert SF Rostered: 11%
The Niners have an up and down offense, but they seem to always manage to get their RB some fantasy points. Breida and Mostert have a pretty even split in the backfield currently. That makes both players valuable, but only Mostert is available in most leagues. He is coming off a game where he put up almost 200 total yards with the struggling Steelers on the horizon. Mostert is worth a pickup and potentially a start as well.
Carlos Hyde HOU Rostered: 44.9%
There is not much chance that Hyde will develop into a league winner for anyone this year, but he needs to be on rosters. So far, Carlos Hyde has averaged over 5 yards per carry this year and has been running like a man with something to prove. He has only scratched the surface of his value if he can continue to get opportunities at the present rate. Touchdowns are sure to come at some point and then he will sprint up the RB ranks.
Jaylen Samuels PIT Rostered: 25%
The current word is that James Conner just got a bit dinged up in the last game. Still, it seems likely that Samuels is going to see increased touches going forward. Conner has been only moderately effective and Samuels is more of a threat in the passing game. He still has an outside shot at starting in week 3, depending on how Conner and his knee are feeling.
Wide Receiver
Terry McLaurin WAS Rostered: 41%
The Redskins are going to be a bad team this year, but that may be good news for McLaurin. He is clearly the number one receiver on this team and a lot of his production comes in garbage time. With Washington set to be trailing often, the looks are going to be there for this unheralded rookie.
Deebo Samuel SF Rostered: 12.8%
Last week was a big offensive week for SF and they won't all be. On the other hand, Samuel is clearly one of the go to guys for Jimmy G. Things may be a bit up and down for the rookie this year, but as a matchup play he should still be a high end WR3.
Demarcus Robinson/Mecole Hardman KC Rostered: 1.1 and 38.3% respectively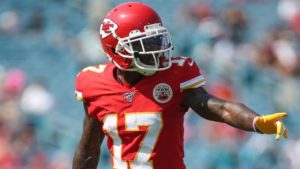 The Chiefs passing game is something that everyone should want a piece of. Patrick Mahomes is breaking football and any receiver that can get on the field with him is worth a start. In this case I would slightly favor Hardman for dynasty leagues, but otherwise just grab whoever is available.
PPR/Streamer Pick
Nelson Agholor PHI Rostered: 4.3%
There is not much depth left in the Eagles passing game. Alshon Jeffery is dinged up as always and Desean Jackson is dinged up...as always. As a result, Nelson Agholor may well take on a starting role in week 3. If this comes to pass, he will be a valuable commodity as he is well acquainted with Carson Wentz. During the Eagles' Super Bowl run, Wentz and Agholor formed a wildly successful connection. If that chemistry can be revived, then Agholor is going to be a great pickup.
Tight End
Jason Witten DAL Rostered: 18%
The days of Witten being a prolific pass catcher are in the rear view. What he still can be, is a touchdown dependent low end tight end. While this does not seem like a very appealing option, the tight end pool is not deep enough to offer much more from waivers.
Vernon Davis WAS Rostered: 12%
Another in the category of tight ends from yesteryear; Davis can provide some value as long as Reed is on the shelf. The floor is nonexistent for Davis, but his ceiling is as high as almost any option at the position.
Be sure to check back next week for more in the realm of waiver wire pickups. For some extras, follow me on Twitter @brendancole16.