Now that the NFL season is a couple of weeks in, it's time to take stock of your roster. Just about every teams will have a hole or two that need to be shored up. More importantly, look ahead to where holes could appear. For instance, if you deploy James Conner, when will he stop being useful? There is no way to say, so be sure to have the next man up ready to go. Time to make that happen with some help from the week 3 waiver wire picks.
Quarterback
Ryan Fitzpatrick TB Rostered 23%
I can admit when I was wrong, even if I'm still not convinced that it is true. There is no denying that Fitzpatrick has been amazing through the first two games of the season. He has thrown for 819 yards and 8 touchdowns in 2 games. There is reason to believe that he will continue his strong stats for at least one more week as the Steelers defense has been getting pushed around. With the firepower of the Bucs offense, Fitzpatrick is an appealing pickup at the very least as a plug and play for week 3.
Blake Bortles JAC Rostered 28%
In week 2, Bortles put up a performance that shows how he always ends up in the top third of QB scoring. He went for 377 yards and four touchdowns against the Patriots defense. Of course, this cannot be expected every week, but the Jaguars do have some exciting receivers. Bortles should be on a roster in all leagues and starting based on matchups.
Check out my past waiver wire picks
Running Back
All League Sizes
Giovani Bernard CIN Rostered 28%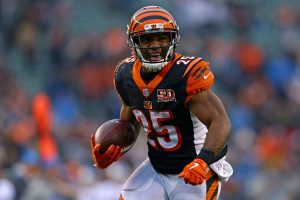 This one should be a no-brainer. The Bengals starting back Joe Mixon will miss at least 2 weeks to injury. That leaves Gio Bernard as THE guy in the backfield. He has excelled in that role in the past and should do so again. We're talking about a top-15 caliber starting running back out there on the waiver wire in many leagues.
Austin Ekeler LAC Rostered 44%
The main man when it comes to Chargers running backs is clearly Melvin Gordon. However, over the last season and a half, it is clear that Ekeler has a significant place in the Chargers offense as well. Through 2 weeks, Ekeler over 200 all purpose yards and a touchdown. Now it looks like Gordon may be dinged up and that would mean even more work for the lightning quick Ekeler.
12 Team And Larger Leagues
Corey Clement PHI Rostered 22%
Clement may be the most all-around talented back on the Eagles roster. Doug Pederson does not care about that and will continue to use a many headed backfield monster. For the moment, Jay Ajayi is nursing an injury and Darren Sproles is still old. That leaves Clement as the most likely back to see some extra work. He is worth a pickup as evidenced by his 85 total yards and a score in week 2.
Javorius Allen BAL Rostered 8%
Despite the common knowledge that Alex Collins is the best back on the Ravens, Buck Allen still gets his points. The eye test says that Collins should be touching the ball 25-30 times per game, but that is not in the Ravens game plan. Javorius Allen will continue to get plenty of chances to score points for fantasy owners, especially in PPR formats. Grab this guy and make him a staple at your flex spot.
Wide Receiver
All League Sizes And Formats
DeSean Jackson TB Rostered 50%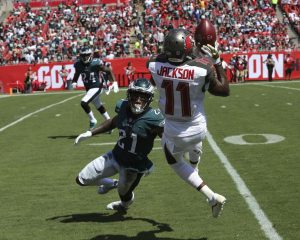 I have no doubt that Jackson is already unavailable in competitive leagues. If he is available for some reason, go get him right now. As long as Fitzpatrick is running the show, Jackson has major value. If Winston reclaims the starting job following suspension that could change on a dime though.
John Brown BAL Rostered 25%
This name has been mentioned in waiver wire columns since the preseason, but he is still out there in most leagues. Joe Flacco and the Ravens love John Brown and he should continue to put up nice numbers. He is a go to player for his team's offense and the numbers bear that out. Through 2 games, Brown has 136 yards and 2 touchdowns scored
12 Team Or Larger Leagues
Calvin Ridley ATL Rostered 22%
Coach Dan Quinn said that he wanted Ridley more involved in the offense after a nearly invisible week 1 performance. That happened in a big way in week 2 as Ridley went for 64 yards and a score on four catches. Going forward, it looks like Ridley should have value, but Julio Jones is still the top dog in Atlanta.
Antonio Callaway CLE Rostered 7%
The Browns have cut ties with Corey Coleman and traded Josh Gordon so far this season. That leaves Jarvis Landry and Antonio Callaway as the highest upside wide receivers in Cleveland. Callaway showed what he can do in week 2, scoring on a 47 yard touchdown catch. The volume should be there going forward.
Keep An Eye On Him
Tyler Boyd CIN Rostered 2%
The Bengals have some big names on offense, but Boyd is not one of them. He is playing like he wants to see the field a lot more though. In week 2, Boyd caught 6 passes for 91 yards and a score. He was a frequent target of Andy Dalton and should be moving ahead of John Ross on the depth chart. Boyd is not a flashy name, but he has the eye of his quarterback and that is worth a lot.
Tight End
Jesse James PIT Rostered 10%
For anyone that has not been watching football, the Steelers aren't so good on defense. The good news for fantasy players is that means lots of opportunities for the offense. One of the most surprising beneficiaries of that has been Jesse James. Although James has been a bye week fill in at times, he is largely irrelevant to fantasy players. Until now that is. James had 60 receiving yards in week 1 and followed it up with 138 yards and a score in week 2. As long as the Steelers can't stop anyone, James could be a top tier tight end.
Be sure to check out all of the positional rankings as the week goes on and follow me on Twitter for some extras: @brendancole16.