The second week of the fantasy football season is coming to a close and more waiver gems are emerging. It is too early so see patterns, but trends are starting to happen. If you don't like what you see from your roster, check out some of these guys for a bit of a boost.
*(Waiver Picks are meant for long term investment, but for fun I list the 1 week returns on my last batch of picks)*
-Fantasy Points Based On Standard League Scoring-
Week 2 Pick Recap Quarterback
Carson Wentz PHI Week 2 Stats: 25-46 333 yards 2 touchdowns 1 interception - 28 Fantasy Points
Tyrod Taylor BUF Week 2 Stats:17-25 125 passing yards 55 rushing yards - 12 Fantasy Points
Deshone Kizer CLE Week 2 Stats: 5-31 182 yards 3 interceptions 1 fumble 26 rush yards - 3 Fantasy Points
Watch: Deshaun Watson HOU Week 2 Stats: 15-24 125 yards 67 rush yards 1 rush touchdown - 19 Fantasy Points
Week 2 Pick Recap Tight End
Austin Hooper ATL Week 2 Stats: 2 Receptions 7 Yards - 0 Fantasy Points
Charles Clay BUF Week 2 Stats: 3 Receptions 23 Yards - 2 Fantasy Points
Jesse James PIT Week 2 Stats: 4 Receptions 27 Yards - 2 Fantasy Points
Feedback: Wentz is a stud in the making and should continue to produce; the Giants are a tough matchup though. Taylor probably had his worst game of the season in week 2. Kizer is a rookie and games like that are to be expected, he was also affected by a migraine. Watson looked good on the ground and bad through the air; tough description for a quarterback. Hooper will have to fight for touches in the Falcons offense. Clay was affected by Tyrod Taylor's brutal afternoon. Like Hooper, James will not always be a big part of the game plan in a diverse Steelers offense.
Picks Must Be Under 50% Owned In ESPN Standard Leagues
Week 3 QB Picks
10 Team Leagues
Carson Wentz PHI Ownership: 45.8%
Wentz and the Eagles passing game are looking good early in the season. Back to back 300 yard 2 touchdown efforts have Wentz looking like an every week starter. He is still available in many leagues but that situation won't last long.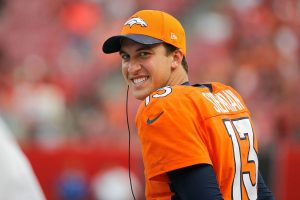 Trevor Siemian DEN Ownership: 10.4%
The Broncos settled on Siemian as their starter in the preseason. So far it is paying some major dividends as the young QB has been on fire. Siemian has 6 touchdown passes in the first two games of the season and Demaryius Thomas has not even gotten into a rhythm yet. Denver plays the Bills and Raiders in the next two weeks so chances are Siemian will keep the nice stats coming leading into the bye week.
On The Comeback Trail
12 Team And 2 QB Leagues
Joe Flacco BAL Ownership: 11.1%
The stats have not been impressive for Flacco, but it is obvious that he is rounding into form. He doubled his numbers from week 1 in his second start. The Ravens still have enough targets in the passing game for Flacco to put up nice stats many weeks. There are some tough defenses on the horizon, but Flacco is a good fill in or injury replacement.
The Rest Of The Waiver Wire Picks
Week 3 Tight End Picks
10 Team Leagues
Austin Seferian-Jenkins NYJ Ownership: 0.4%
The Jets have relied on Jermaine Kearse almost exclusively in the passing game. There are not many NFL caliber receivers on the roster, Kearse himself barely qualifies. Seferian-Jenkins has a lot of question marks, but ability has never been one of them. There is a good chance that he jumps into a large target share as soon as he takes the field.
Benjamin Watson BAL Ownership: 0.4%
The number one target for Flacco in week 2 was veteran tight end Ben Watson. The quarterback has a nice rapport with Watson and that should mean good numbers moving forward. The run game and intermediate passes have carried the ravens so far. There is every reason to believe that Watson will continue to factor into that type of game plan.
12 Team Leagues
David Njoku CLE Ownership: 1.6%
There are not many good options in the Browns receiving corps, but Njoku looks like one of them. Deshone Kizer just lost his favorite target Corey Coleman to a broken hand. Those targets will have to go somewhere and a good portion should go to the rookie tight end. Njoku has plenty of ability to be an impact player, he just needs to adapt to the pro game.
Evan Engram NYG Ownership: 9.9%
Offense has not been a strong suit for the 2017 Giants squad. In spite of that, Evan Engram has looked like an impact player. He scored the Giants only touchdown so far this season and it will not be his only one. Engram looks like the best tight end to wear a Giants uniform since Jeremy Shockey. Grab him while he is still on the wire, but temper expectations because most of the offense is awful.
Check back often for more exclusive content on Fantasy Knuckleheads. As always, follow us on Twitter for more insight and analysis: @_knuckleheads and @brendancole16.