If ever there was a time for waiver wire quarterbacks, this is it. Week 2 saw the quarterback position decimated as Tony Romo, Drew Brees, Jay Cutler and Matthew Stafford all sustained injuries. Never fear, there are some tasty options out there for those of you who lost a starting quarterback.
Derek Carr    Oakland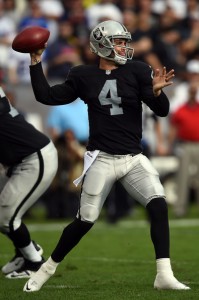 I kind of feel dirty recommending a Raiders quarterback, but Carr has the weapons and the skills. Amari Cooper is going to quickly develop into a legit number one receiver and Michael Crabtree is a solid veteran. Week 3 could be tough as the Raiders fly cross country to face a fairly stout Browns defense, but I'd still give Carr a shot in a pinch.
Waiver Wire Picks - Wide Receiver
Colin Kaepernick  San Francisco
Week 2 was a nice showing for Kaepernick and it came against a decent defense. The team was down big almost right from the start, but that is good news for fantasy. Those garbage time points count just like any others. It looks like the Niners may have to throw a lot again in week 3 as the Cardinals will probably jump on them early. The other benefit that Kaepernick offers is the potential for rushing yards and touchdowns.
Tyrod Taylor  Buffalo
Speaking of dual-threat quarterbacks, there is another decent option in Buffalo. The Bills won't be getting thrashed by the Pats every week, but Taylor will be an integral part of this offense through the air and on the ground no matter what. Week 3 versus Miami may not be a high scoring affair, but Taylor's rushing ability gives him a very high ceiling as well as a reasonably high floor.
Andy Dalton  Cincinnati
This is a pick similar to Carr where the weapons are just too good to be ignored. A. J. Green is obviously one of the best in the league, but now he is joined by a healthy Eifert and Marvin Jones as well. Dalton cannot always be trusted to make the correct read, but even if he makes a mistake these receivers can cover for him. In week 3 Dalton faces a Ravens defense that was just torched by the Raiders and looks very beatable.
Potential For Epic Failure - Jameis Winston  TB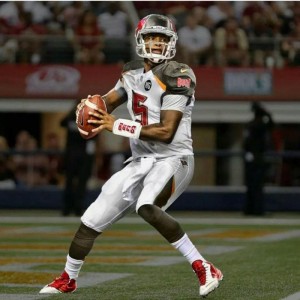 I know that Winston seemed to show significant improvement from week 1 to week 2, but I'm not buying yet. He still has trouble getting the ball to his wide receivers and relies too much on short passes to the running backs. If you have room on your bench and want to stash him for later, have at it. However, if you plan on starting Winston now in a one quarterback league, be ready for disappointment.
Each of these players should have significant value for the rest of the season, but I have them listed in order of expected performance. For teams that lost a starting quarterback last week remember, when in doubt, look for a dual-threat. Tim Tebow was an awful NFL quarterback, but he had value because he was a runner. Get out there and hit the wire hard and good luck in week 3.