Kirby had to step aside this week so I'm going to start my take on the week 4 DFS landscape a week sooner than normal. Here are my best Fanduel and DraftKings stacks, value picks, heatmap and players of interest. I'll even throw in my personal GPP optimal lineup for Fanduel. The first week was amazing for me, pulling down over $4,500 on $1,000 waged. Since then it has been a mixed mag of results. But you know what, that doesn't stop me from getting a piece of every single GPP tournament available. I'm not a grinder. I don't like cash games. Go big or go home!
Fanduel and DraftKings Value Picks
Matt Forte has been ruled out this week. Bilal Powell faces the Jaguars, which sounds scary. But according to our heatmap the Jags can't stop the run at all. Start Powell on the cheap with confidence.
Wendell Smallwood is now "the man" in Philly. Do I really need to go over how bad the Chargers are against the run? See heatmap below. Enjoy your week 4 plunders as Smallwood brings you exceptional value at his current price.
Devin Funchess faces an abnormally bad New England defense. At some point this season the defense is going to play up to snuff and this could be the week the Patriots defense finds their rhythm. But if they don't, Devin Funchess will have every opportunity to try and catch the Cam Newton "high ball". With Kelvin Benjamin less than 100% and Greg Olsen out, he's the best wide receiver the Panthers have. He saw 10 targets in week 3.
Jason Myers is a kicker, bet you didn't know that. He's super cheap and has been extremely productive averaging 10.7 Fanduel points per game. Another little tid-bit is the Jacksonville Jaguars' offense ranks 4th in the NFL with 29+ points per game.
Mike Gillislee (Fanduel) is going to be low owned because of his match-up against the 5th best run defense in the NFL. But he is going to see the red zone a lot. The Patriots are home favorites by nine points and the Panthers defense will not be able to hold up an entire 4 quarters. Time of possession for New England is going to be out right embarrassing as the Panthers fall further into obscurity. He is a cheap GPP picks with 2 touchdown upside. Very high risk/reward so adjust your exposure accordingly.
Andre Ellington (DraftKings) has outproduced CJ on every level. Eventually the coaches will have no choice but to sacrifice Ellington to the rigors of touching the ball 15+ times. They say they're giving CJ one more week to "knock the rust off" so he'll get his opportunities. However, if San Francisco can make it a competitive game (man it was hard typing that) we could see a lot of Ellington sooner than planned. Vegas has the Cardinal as a 6.5 point favorite which should result in more RB touches for AZ. Another low owned high risk/reward running back so adjust your exposure accordingly.
DFS Stacks
Jason Myers and/or Leonard Fournette and/or Jaguars Defense
Jacksonville has a solid defensive unit, especially against below average offenses like the Jets. Fournette is averaging 22 per contest and is "the man" in the red zone. The Jets have allowed the seventh-most fantasy points per rushing attempt this season even after shutting down a gimpy Ajayi last week. And my kicker Mr. Myers, he's cheap and has been outstanding so far this season. I don't see anything but production out of all three this week.
Charles Clay and Tyrod Taylor
This is a money stack if there ever was one. Tyrod keeps putting up fantasy points while going unnoticed by DFS prices. Meanwhile, Charles Clay has 18 targets this season and his 23% market share ranks 5th best for a TE. And don't worry, this will not be a conservative game plan against Atlanta. Vegas has the Bills as a 8 point underdog.
Phillip Rivers and Keenan Allen
After Rivers week 3 bed wetting versus the Chiefs I look for him to bounce back strong in a game Vegas knows is going to be close. I'm going to call it now, this game goes into overtime. But even without OT, the Chargers are facing a secondary that is dealing with a difficult amount of injuries. Keenan Allen should have an absolute field day as well as Rivers.
Players of Interest
A.J. Green versus the Browns. The Browns have conceded  32 fantasy points to Antonio Brown, 11 fantasy points to Jeremy Maclin and T.Y. Hilton went off for 31 fantasy points. Green is a lock and load in all formats.
Dalvin Cook isn't a sexy pick yet, so hopefully he's less than 10% owned. The Vikings are without Bradford in week 4 and should smartly lean on their great run blocking to keep their defense fresh. The Lions are middle of the road versus running back which I hope keeps the field from noticing the great match-up.
Chris Carson is now "the man" in Seattle and he faces the Colts. If he wasn't on your radar so here's your sign.
Week 4 Fanduel Optimal Lineup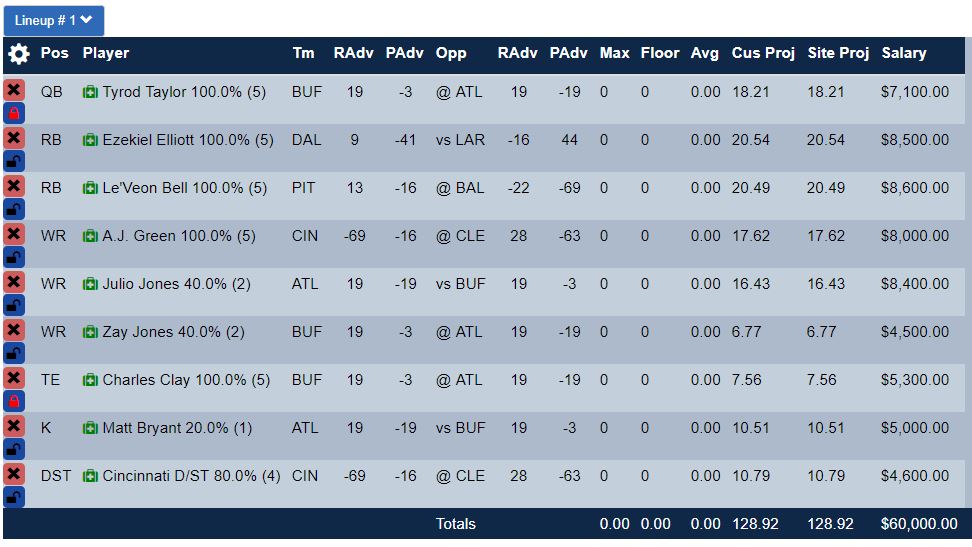 Week 4 DFS Heatmap
This is my bread and butter guys. I'm giving it away free this week! Green is good and red is bad. Orange is hot and blue is cold. Good luck this week!